GODEMICHE Adam Dildo Halloween Edition Review
Pleasure Panel review by Scandarella
When a friend pointed this GODEMICHE Adam Dildo Halloween Edition out to me, I was past myself with want. I literally panicked that it would sell out before I got a chance to buy one. I mean, I hate spiders in a smash the little ones with the nearest (longest) object I can find, and run screaming from the big ones kinda fashion, but the goth girl in me loves a bit of terror, and I needed to have this dildo in my life. So as soon as I realised they were available for sale, I snapped one up.
When I first set my greedy little eyes on the GODEMICHE Adam Dildo Halloween Edition I was delighted. I had three spiders, and they were so close to the surface at the front of the dildo they stood out like a sore thumb. I honestly loved the horrible little bubble of fear this made me feel in the pit of my stomach. But on closer inspection, I discovered that two of my spiders were too close to the surface, and there was a leg poking out from beneath the silicone.
I contacted GODEMICHE straight away, and a few days later I had a replacement in my hands, so thumbs up for their super-efficient customer services.
But this GODEMICHE Adam Dildo Halloween Edition had only two spiders, and they were around the back. As the lovely woman I spoke to promised, the dildo was flawless, but in this case that meant the spiders were so deep in they'd become almost indistinct. One looked like it had two legs amputated below the knee, while the other looked like it had two missing altogether. I was a little disappointed by the reduction in visual impact, but I reminded myself that a good quality, hand poured silicone dildo is for life, not just a novelty for Halloween. The most important thing was, how good is Adam in bed?
As I've said before in other reviews I've done, I'm becoming a fan of girthy toys. I crave thickness over length, and the GODEMICHE Adam Dildo Halloween Edition certainly offers plenty of what I need! But at 5.5" circumference, it's not actually the girth that gives me that satisfying, filled-to-the-very-edges feeling. It's the silicone. The silicone used is unbelievably firm, and it has pretty much zero squish and very little flex. It makes my body yield to it, and this has almost as many cons as it does pros.
Pros
I'm forced to feel totally stuffed, no matter what angle I'm in/put in. I can squeeze my muscles around it and it retains its rigidity, the outcome being longer lasting orgasms because there's something solid and massive I can work against.
The length – 6" – is just a nice size, and depending on where I am in my monthly cycle, the dildo hits my cervix. Softer silicone doesn't really have much of an impact when this happens, but again, the GODEMICHE Adam Dildo Halloween Edition is so firm I can really feel it. This provides the perfect balance of pleasure and pain for me, and I enjoy it immensely.
Final pro? Anal use. I absolutely love using this dildo anally. My husband's eyes kinda water as he inserts it inside of me, but the stretch feels amazing, and one of the vaginal cons I'm about to address is a godsend here…
Cons
The coronal ridge, and the foreskin beneath it. Though this feels amazing popping in and out during anal use, it's a nightmare when used vaginally. It catches on my pubic bone, and the rigidity makes it feel like it's literally scraping out my insides. For this reason, I can't thrust with this dildo. Too many catches like that totally put me off, and I've called time on four or five occasions. I expected blood every time, but thankfully there was none.
Another con is, I can't use the GODEMICHE Adam Dildo Halloween Edition for G-spotting, and though that's not the end of the world, I do have a preference for toys that reach this spot because it makes even clitoral orgasms more intense. But although the head is huge, its widest point is just short of the hotspot, and as the flex is so miniscule, angling it to reach is impossible.
In a nut shell, I have a love/hate relationship going on with the GODEMICHE Adam Dildo Halloween Edition. It gives me so much of what I need in some ways, while falling short in others. But it looks amazing, those spiders give me delightful chills, and it's fantastic for anal use (for me), so I'm happy to forgive it its few failings.
8/10
– Scandarella
---
Thanks to Pleasure Panel reviewer Scandarella for this contributed review of the GODEMICHE Adam Dildo Halloween Edition.
Shop the GODEMICHE dildos range at g-silicone.com. You can also find some of the GODEMICHE range at UberKinky.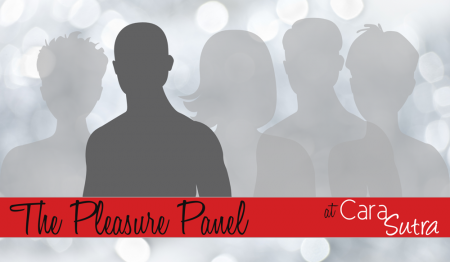 Find the best Halloween Sex Toy Shopping Offers. Save money while sexy shopping this Halloween!
This review contains affiliate links