Gläs Pure Indulgence Glass Anal Dildo Review
By Pleasure Panel reviewer Petra Pan
I have a few glass dildos; I love glass due to its solid texture and it's ability for temperature play. This particular dildo, the Gläs Pure Indulgence Glass Anal Dildo, appealed due to the large, wide head and the steep curve. It's an anal dildo but I bought it with the intention of using it for g-spot play.
Buy from Lovehoney UK or Lovehoney USA. Image courtesy of Lovehoney Group
First Impressions
The Gläs Pure Indulgence Glass Anal Dildo comes in a very large box. When it arrived I thought to myself; 'Just how big is this thing?!!' – but on opening the box, most of the space was taken up with thick polystyrene wrapping. Phew!
There are no instructions on the box or inside it, but it's pretty straightforward to use! It doesn't come with a storage bag either. For the price I wasn't really expecting one and I bought a little satin bag separately to store it in.
The Design
The dual ended Gläs Pure Indulgence Glass Anal Dildo is extremely large at one end with a tapered tip, with the other end bearing a round ball/bead. The glass is seam-free and heavy, with a steep curve. Due to the curve it is ideal for p-spot and g-spot stimulation.
The large end is the size and shape of a lime / small lemon, so pretty big!! The other end is smaller with a round bead. Although the Gläs Pure Indulgence Glass Anal Dildo is designed for anal, I quickly determined there was no way I would get the large end in my bum!
Play Time
I absolutely smother this in lube as it's so big. The first time I used it, I couldn't get all of the large end inside me despite warming up. So I decided to use the smaller end first time around.
I held onto the larger end and pumped the small beaded end against my g-spot. Although small, it felt good and I enjoyed the pinpoint stimulation. The lube made the large end keep slipping out of my hand so I wrapped it in tissue! You really get a sense of how heavy the larger end is when using it this way; it's incredible. The curve is very steep so it very easily finds your g-spot. There's no way of being able to go hands free, not even for a few seconds as the heavy end turns the Gläs Pure Indulgence Glass Anal Dildo around and points the curve away from your g-spot. I enjoy using the smaller end, but really I bought this for the wider part and I just wanted to get it inside me! Sadly, that's where the problem lay…
The Larger End
You know when you order too much food and then realise your eyes were too big for your belly? Well, in this instance my eyes were too big for my lady bits!! No matter how much I warm up with a clitoral orgasm and a smaller dildo, or how much lube I smother it in, I just can't get that end of the Gläs Pure Indulgence Glass Anal Dildo inside me!
It gets about halfway in and it just seems to get stuck. I've tried pushing in different ways, curving it up more, straightening it out, turning it upside down, laying down flat with my knees bent, sitting up more, standing, squatting… I just can't get that big bulbous end inside me! So disappointing. I didn't give up straight away either; I thought to myself, if women can push a baby's head through there, why can't I get my dildo in?!!
So I tried using a mirror to help me get it in, which was interesting – as the glass is totally clear and without texture, you can kind of see through it which looks quite erotic! But sadly, after much trying, the large end just didn't fit my anatomy so I'm unable to comment on how amazing it undoubtedly feels!!
Anal Play
When being used for anal play, the smaller end really comes into its own. This is my preferred way of using the Gläs Pure Indulgence Glass Anal Dildo.
The smaller round end 'pops' into my bum with a small amount of pressure, and then I like to push the stem so the dildo goes all the way inside me. I like to twist and grind the large end, and as the big end is now the 'handle', it's very easy to use as you have something large to grip onto. It feels absolutely incredible when I slowly pull the entire Gläs Pure Indulgence Glass Anal Dildo out of my bum, as it feels warm on the way out. Then pushing it back inside my bum again, the cold glass makes me catch my breath – wow! The alternation of temperature is an immensely arousing feeling!
Features
Being glass, you can use this Gläs Pure Indulgence Glass Anal Dildo with any type of lubricant and, of course, it's waterproof. It's has 7.5″ insertable length and 6.25″ circumference, and is temperature responsive. It's super easy to clean too.
Recommendations
Although I've not been able to use the Gläs Pure Indulgence Glass Anal Dildo fully, that's not to say others won't be able to enjoy it. It's a lovely, good quality, heavy dildo with a beautiful shape. It hasn't made me come on it's own, but the small end has helped me reach orgasm combined with other toys.
If you're used to girth, particularly with solid glass or metal toys then you'll probably love this! Perhaps check the dimensions out first – the Gläs Pure Indulgence Glass Anal Dildo has a max 6.25″ circumference.
7/10
– Petra Pan
---
Where To Buy
Thanks to Pleasure Panel reviewer Petra Pan for this review of the Gläs Pure Indulgence Glass Anal Dildo.
Buy yours from Lovehoney UK or from Lovehoney USA.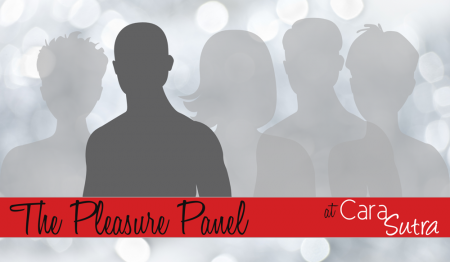 This review contains affiliate links.