Give Lube Noir Gel Lube Review
By Pleasure Panel reviewer NatandTom
As lovers of lube we get through our fair share of the stuff. We use it during every sexual encounter that we have, be that alone or together, so we like to mix things up and try new brands and products on a regular basis so that we always have numerous options to choose from. I spotted the Give Lube Noir Gel Lube (Silicone Lubricant) on October's Pleasure Panel listing and thought that it would be perfect for my partner. It's the first lubricant that I've seen that has been designed with black skin in mind and I couldn't wait to surprise him with it and see what he thought.
The presentation of the Give Lube Noir Gel Lube bottle is minimalistic. It's just black all over with the brand and product name on the front, key features and ingredients list on the side and a product description with some directions for use on the back. It comes shrink wrapped for assurance that it hasn't been tampered with and to prevent leakages. It has a flip cap lid to prevent further leaks and it dispenses via a pouring nozzle. We prefer pumps as they give you better control of how much product is released but that's just personal preference and something we can look past.
So why is the Give Lube Noir Gel Lube marketed specifically towards black skin? Well, black skin has different properties to white skin and therefore has different needs. This product has been created to fill a gap in the market and meet those needs. It was made and designed with the help of a focus group that was made up of men and women of African/Caribbean origin. We are an interracial couple so we have different requirements. I look for lubes that are free from parabens and glycerin whilst he looks for lubes like this one that contain aloe barbadensis (aloe vera) and/or tocopherol (vitamin e).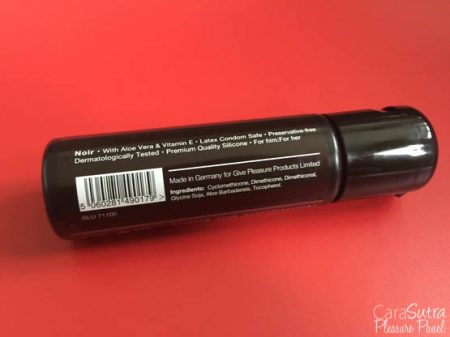 Give Lube Noir Gel Lube is a silicone based product that contains none of the ingredients I like to avoid and both of the ingredients my partner likes included so we were on to a good start. Upon arrival I discovered some other positive things about the product such as it being latex compatible and odourless. We don't use condoms often but it's nice to know that we could use this lube with them if we needed to. I like lubes that don't have any odour to them (unless they're flavored and designed for oral sex) so this was wonderful for me. It would be a great candidate for people who are scent sensitive too. The bottle says that it's tasteless but I'd disagree as I think dimethicone has a particular taste to it and it's not fun to come into contact with. I would not give oral sex with a silicone based lube involved.
For us, the Give Lube Noir Gel Lube works best for three purposes. The first is for masturbation. It is not limited to black skin so I can use it too but my partner gets most of the intended benefits. The second use is for lubricating glass or metal sex toys. My partner has just started using a small glass plug and this lube keeps the plug well lubricated and comfortable during his use of it. It lasts much longer than water based options and helps insertion with its easy-going, smooth glide. The third thing we use it for is penetrative vaginal sex.
The consistency of Give Lube Noir Gel Lube is thinner than I thought it would be. It runs a little bit although it's not excessive or off-putting. For that reason I wouldn't use this for anal sex. I need more cushioning and support back there for intercourse than this could offer so it's better for vaginal sex. It might be thick enough for other people to use this way for me personally it wasn't. I did however enjoy it for vaginal use as my partner could slide in comfortably and thrust without me needing to stop him every five minutes to top up on lube. It's clear in colour and massages into the skin beautifully. It leaves behind no residue and is not at all sticky upon application.
The benefits for my partner became apparent after just one use. The added ingredients add nourishment to the skin which smooths and soothes any rough or ashy patches. Dry and ashy skin is very common for my partner and it even affects the intimate locations unfortunately. That was until he started using this Give Lube Noir Gel Lube for masturbation and sex. The rough patches can now be instantly hydrated with an application of Noir and prevent the kind of vigorous itching that leads to scarring. He absolutely loves the formula of this product and how it softens his skin so is very excited that it exists. I don't know if I'll ever be able to convince him to try anything else.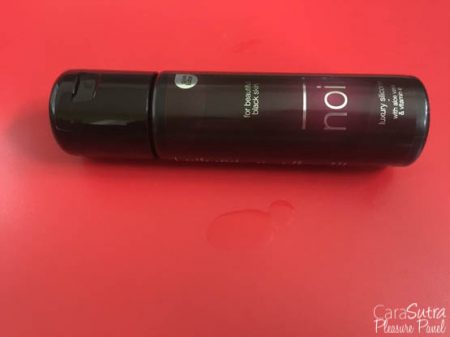 Overall, I'm really happy with the way my partner reacted to this Give Lube Noir Gel Lube and I love that the needs of black skin are now being well catered for. It works well for me too so we put our heads together to think of some constructive criticism and the worst thing we could come up with was the method of dispensing. We would prefer a pump function for practical purposes and to avoid waste. Aside from that, there's nothing we disliked. The Give Lube Noir Gel Lube works for the things we wanted to use it for, tames frizzy manes, soothes chafing and can even be used as a shaving lotion.
This multipurpose product is one of the best lubes we've tried in a long time and he will definitely be getting himself more of it.
10/10
– NatandTom
---
Where To Buy
Thanks to Pleasure Panel reviewer NatandTom for this review of the Give Lube Noir Gel Lube (100ml bottle).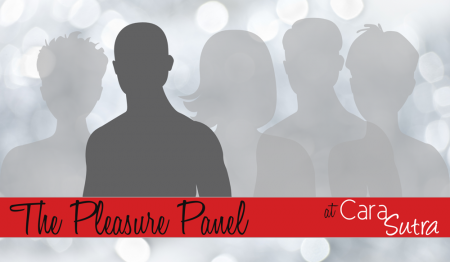 This review contains affiliate links.