Give Lube LubeTube Aqua Gel Mini Review
I have received the Give Lube LubeTube Aqua Gel Mini (buy yours here) as part of the Pleasure Panel reviewers program by Cara Sutra in return for my honest review.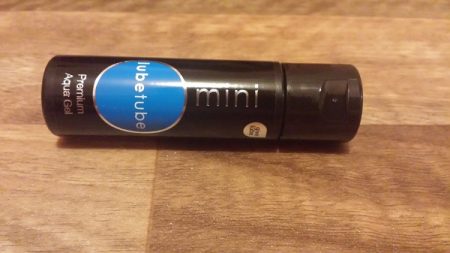 The Give Lube LubeTube Aqua Gel Mini is a great size ideal for travelling. It can be popped into a bag or pocket for on the go. And it is not much bigger than your average lipstick. It has a flip top cap to help with easy access to the lube when you're in a heated up mood it also allows you to apply the lube without it dripping. The lube tube mini tube is made from a hard plastic so it isn't likely to get squashed and have lube squirting out.
The Give Lube LubeTube Aqua Gel Mini has about 3 uses depending on how much lube you use. It is a 30ml bottle considering the average sample packet of lube is around 5ml you do get a lot of lube in this tiny bottle.
Ingredients:
Aqua
Butylene Glycol
Propylene Glycol
Hydroxyethylcellulose
Panthenol
Aloe Barbadensis Leaf Juice
Lactic Acid.
From the ingredients list you can tell there isn't any nasty chemicals in this lube. It is Paraben free, Glycerin Free and is safe to use alongside condoms. The Give Lube LubeTube Aqua Gel Mini is also ph-optimised and contains Aloe Vera. Give Lube Aqua Gel is also condom safe.
The Give Lube LubeTube Aqua Gel Mini is a nice and thick consistency I proffer this with my lubes as thicker lubes tend to last longer. Being water based it means it can be used with silicone toys it will not corrupt your silicone toys like silicone lube. I tend to use water based lube as an essential and I proffer t over silicone due to its versatility. The Aqua Gel also washes off nicely and doesn't leave any stick residue like some water based lubes I have tried.
The Give Lube LubeTube Aqua Gel Mini is a great little tube of lube that can be used anywhere which means with this little guy in your back you're always ready for action. My experience with the Give Lube Aqua Gel has been great it is smooth when applied to a dildo and does its job effortlessly. It leaves no sticky residue and washes off nice everything I look for in a good lube and the fact it is of a portable size is even better.
I recommend getting the Give Lube LubeTube Aqua Gel Mini if you are thinking having a weekend away or are traveling as the size is great and doesn't take up much room in a handbag or overnight bag.
– Kinky Kitten Kim
---
Thanks to Pleasure Panel reviewer Kinky Kitten Kim for this guest review of the Give Lube LubeTube Aqua Gel Mini 30ml bottle (buy yours here)
This lube was sent free of charge, in exchange for a fair and honest review by the Pleasure Panel, by Give Lube / Give Pleasure Products. Thank you! 🙂
This review contains affiliate links