Fun Toys GBalls 2 Review | FT London GBalls 2 With Magic Kegel App
This is my second review for FT London – this time I'm sharing my thoughts on the Fun Toys GBalls 2 with App. Many thanks to Fun Toys for sending some of their toy collection for me to try out and review.
Packaging
I do like the cylindrical packaging that FT London use for their products. They're clearly labelled with the toy name, a few details and an image, but there's an artistic flair which gives the impression of creativity and uniqueness.
It's a refreshing change from the oblong and clam-shell packaging that I'm used to seeing sex toys packed into. It's worth noting that despite the Union Jack on the lid, and the fact that FT London are a UK company, the products themselves are manufactured in China.
Inside The Box
Inside the cylinder, as well as the FT London GBalls 2, I received:
Jackpin charging lead
Instruction leaflet
Storage pouch
Very pleased that they come with a storage bag, so many sex toys don't. Having a storage option with my sex toy makes me feel reassured that I have a good quality product in my collection. it also keeps the toy nicely tucked away in my drawer.
First Impressions
Historically I've not got on that well with jiggle balls, kegel balls and the like. I was hoping that the Fun Toys GBalls 2 would amaze me with their wondrous fabulousness.
When I tipped the GBalls into my hand from the tube I didn't feel overly confident that this would be the case. Still, I didn't want to prematurely judge, the proof would be in the testing.
Despite the Fun Toys GBalls 2 being the only pink toy from the range I received (my GPlug and GVibe Mini are in lush dark blue), I was happy with the presentation. It's also covered with a velvety smooth silicone material which feels lovely.
Charging Up
Unlike my other FT London sex toys, the FT London GBalls 2 charges with a white lead, not a red, branded one. It's also a jackpin style, not a magnetic connection. The jackpin end is pushed through the silicone area next to where it says DC on the base of the balls. The other end into a USB port of your choice.
At first glance it looks like you might be able to push the jackpin into an indent above the power button area on the back. Hint: don't do that – it's not the right place. This seems to be some sort of reset button instead.
A red LED lights up as the FT London GBalls 2 is charging. It's a steady glow, This turns off once they are completely charged.
Downloading the App
Yep, the Fun Toys GBalls 2 come with an app for Apple or Android. I've got an Android phone, so I headed for the Play Store and looked up Magic Kegel; following the leaflet's instructions. The app was downloaded no bother, and by switching on BlueTooth and the GBalls I was able to connect them up ok.
As you'll see in the little video clip coming up, sometimes the connection falls over. I doubt this is any fault of the toy, it's probably my connection. In any case it doesn't take too much to get it hitched up again.
There's all sorts of options on the app – from modular training exercises to fun modes and more. It's quite a lot to take in for a sex toy Luddite like me; I must admit I prefer simple push button sex toys. If you're a sex tech geek then you'll probably love what this app has to offer.
Operation & Functions
The FT London GBalls 2 are switched on by the little power button on the back of the bottom ball. Press it and it lights up to let you know it's on standby for app connection/squeeze-and-vibrate setting, or press again to activate the usual vibration.
I do find the power button quite small and finicky I'm afraid; I have to dig my nail into it to get it to activate. The G-Balls 2 are quite small though and I guess there's only so much room. Also they are enveloped by my vagina during use, so I have to choose my setting before inserting them anyway. Once they're in, they're in – I'm not digging about in there trying to find a button as well. Well – not that button, anyway.
Video
As you can see in this short video, the Magic Kegel app offers a broad spectrum of play and kegel training possibilities. It's easy to use and looks unintimidating and friendly.
No, I didn't test it in my hand the whole time 😉 
The FT London GBalls 2 themselves are a lovely toy on their own. With a smooth silicone material covering it and well defined vibrations, they are enjoyable to use even without the aid of the Magic Kegel app.
What I Like
Well, the Fun Toys GBalls 2 are never going to be my top choice for a quick wank-fest – but, to be honest, revving you up to orgasm isn't what they're about. I found the shape of the GBalls works very well for me – and not just the shape but the fact they vibrate. So many kegel balls and jiggle balls out there are either static or have the 'internal balls' or weights. They don't do much for me at all.
With the addition of vibration, I can finally begin to understand what people get from kegel balls. On top of all that, I have the reassurance of knowing I'm inserting a sex toy which is coated with a body-safe, non-toxic and hygienic material: silicone.
Even the long loop which is left outside the body is made from a washable material (I think soft plastic; doesn't feel like silicone, which would be at risk of snapping in any case). The loop is great for easy retrieval – and for those who worry about their kegel balls becoming lost inside the vagina.
I must say at this point that (unlike the anal area) the vagina does have the cervix neck at the top. It's not possible for your sex toys to travel up into your body – but a retrieval loop is useful if you find removing toys difficult for whatever reason.
During Use
As I've mentioned, the FT London GBalls 2 feel lovely due to the soft silicone material, while the internal workings are firm enough to grip with my vaginal muscles. This means that while I'm working my pelvic floor I can enjoy the delicious vibrations transmitted by the GBalls 2.
While the Fun Toys GBalls 2 don't make me orgasm, they definitely get me in the mood for more. More to the point, using the GBalls 2 makes me feel like I'm going above and beyond my daily pelvic floor muscles – you know, those squeezes we all do when we remember. Especially the mums out there. You're doing them now, aren't you?!
Techy Personal Trainer
With the Magic Kegel app it's like having your very own personal kegel trainer – which is fab if you don't have the time, dedication or concentration to stick to a daily or even semi-weekly routine. The app keeps your stats and so you can track where you're at and what you've been up to.
Although I don't have the worst pelvic floor in the world (I hope), it will take me a while to feel 'tight' enough to wander about the house or even outdoors with the G-Balls 2 inside. They're definitely quiet enough to use on a busy street – a quiet waiting room may be another matter. In the privacy of my bedroom though, I really love that I can have my own little internal workout, whether I supplement that with some external sex toy pleasure, some pervy porn viewing or just work my way through an app routine while I'm watching the soaps.
Note: the retrieval loop is also the antennae for the app (it's BlueTooth connection) so I found it worked when I was on top of the bed not under the sheets. It is also hard remembering to keep legs apart enough to retain connection! The GBalls 2 can be used without the app too, happily enough.
Material & Specs
The FT London GBalls 2 are covered with body-safe, non-toxic and non-porous silicone. It's my opinion that the retrieval loop is made of flexible plastic, which is strong and resilient (and washable).
By my measurements, the Fun Toys GBalls 2 are 3 inches in overall length (just the balls bit). The kegel balls measure 4.25 inches in circumference for the bottom one and 3.75 inches in circumference for the top one. The retrieval loop measures 4.5 inches in length.
Instruction Booklet
Summary
If you're looking for a technologically cutting-edge marvel of a kegel trainer, then this might be it. The FT London GBalls 2 has really surprised me with how good kegel balls can be. Forget those £10 plasti-nasties, this is the real deal.
Ok sure- you'll pay a hell of a lot more for the Fun Toys GBalls 2. But look at what you're getting: body-safe material, waterproof/completely washable/non-porous build, versatility with app use or solo, and vibrations on top of the shape and weight of the balls themselves.
The Magic Kegel app is a wonder in itself – and I say that as a person admittedly wary of sex toys with apps. They can often be complex, intimidating and more of an intrusion than a benefit to the experience. But the Magic Kegel app seems easy, intuitive, friendly and more like a game you want to play than a difficult app or a dictatorlike training instructor.
The FT London GBalls 2 is like the kegel trainer for people who don't like kegel trainers – but wish they had a fun way to get the tight pelvic floor of their dreams. I'm definitely going to be using mine at least semi-weekly for the foreseeable.
Many thanks to FT London for sending the Fun Toys GBalls 2 with App for me to test & review.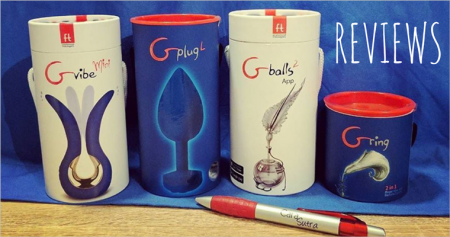 Sponsored review