Fetish Collection Leather Dog Hood Review
My review of the Fetish Collection Leather Dog Hood: Have you noticed that I'm a little bit kinky? I was idly tweeting from my FemDom Mistress Twitter account one night and happened to mention that I'd love a puppy play hood. I find the puppy play fetish – and related BDSM community – so alluring. It's cute and has all the qualities of traditional Domination and submission for me, even though I'm not much of a dog person in 'normal' life. I guess it's a case of the cat teasing the dogs.


Enjoy all our UberKinky reviews & BDSM gear reviews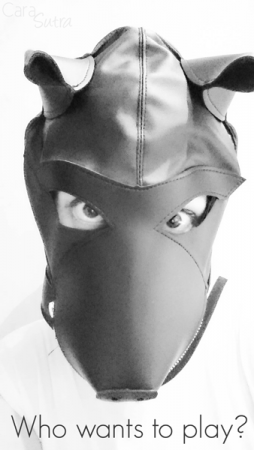 Time for a gratuitous hot pic.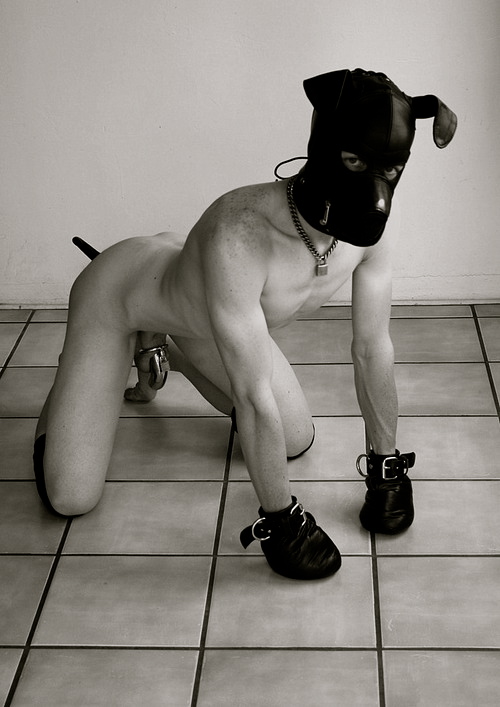 -sigh-
Anyway, the wonderful UberKinky noticed my less than subtle tweets and let me know they could send a puppy play hood to me free of charge in exchange for a review. Brilliant! Soon I was ripping open the discreetly wrapped parcel, inside which was contained the Fetish Collection Leather Dog Hood which costs just £26.99. Cheap, huh?
UberKinky also sell the Strict Leather Ultimate Leather Dog Hood which costs just a *little* extra, at £119.99.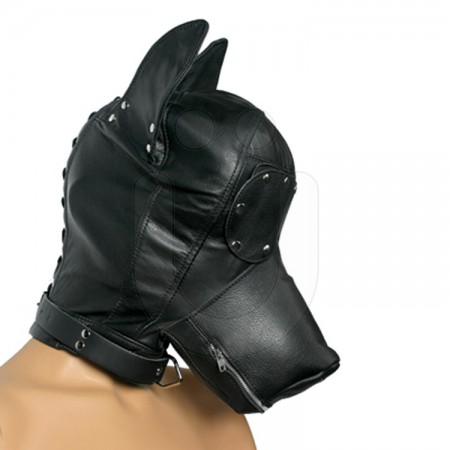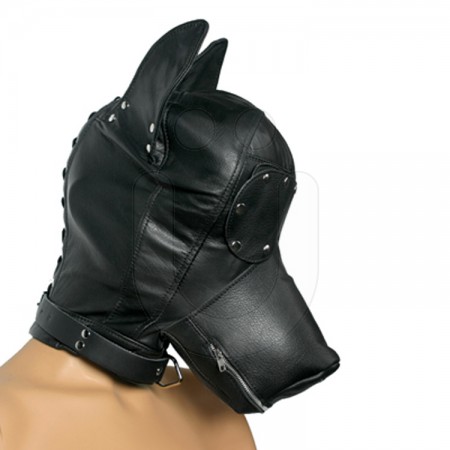 Packaging
 
The Fetish Collection Leather Dog Hood is presented nicely enough, in a glossy cardboard box with images and info. It's not simply in a cellophane wrapper, or with just a swing tag attached. It feels like a deluxe, professional item from the off.
Wanting to own a puppy play hood for so long, I had high hopes – sadly, they weren't to last.
During Use
The first sign that something about the Fetish Collection Leather Dog Hood may not be quite so perfect for my needs came when I tried to put it on my slave. He's not got a massive head, but the hood was simply too small. I had to remove all the lacing from the back of the hood completely before trying to ram it on over his head, then the eyes were in the wrong place and it was all just, well, wrong. I couldn't realistically use it as a hood for him; the back wouldn't even lace up. It's just too small for him.
After waiting a suitable amount of time for it to air out from that frenetic ramming experience, I tried the Fetish Collection Leather Dog Hood on myself. I have a smaller head than the slave – not shrunken head or pin head, you understand, just my own usual head.
The Fetish Collection Leather Dog Hood is still pretty small, but I can fit it on. I do have to take all the lacing out before I can get it on my head, which means that I need someone else there to put the lacing back in and do it up. This isn't ideal if you want to play with the hood on your own, but I guess most people into puppy play are after someone else being present at the time.
Once the Fetish Collection Leather Dog Hood is on, I need to pull it down quite a bit so that I can see out of the eye holes. They're not exactly in the right place even then, as you can see from the photos. When I was wearing the hood it was clear that this wasn't the top quality hood I'd been hoping for. The material is stiff rather than soft and flexible – not cardboard stiff, just cheap material stiff – and the edges of the eye holes are roughly cut and I got some of the dust from them in my eyes while readjusting. The hood is 'faux leather' and labelled on the box as 100% polyester. The muzzle zip feels like it could use a drop of WD 40 or a pencil rubbed over it, so obviously I added a tiny drop of silicone lube to ease it a bit. It's still not running perfectly smoothly but it's better than it was.
Then we get to the ears of the Fetish Collection Leather Dog Hood. They flop about and mostly fall backwards making me look more like a sick donkey than a frisky puppy, which is the look I was going for. Well, the look I was going for on a slave, not on myself, but I was willing to compromise. Sick donkey isn't a sexy look for me. In the photos I've made attempts to get the ears sticking up but this was achieved by careful head tilts – one small nudge and they fall back again. Disappointing. Perhaps some pipecleaner or some-such inside future hood ears so they can be positioned and stay up?
The Fetish Collection Leather Dog Hood feels like a cheap factory line production, made by people who will never wear this hood. It's certainly not sized correctly for larger (usually male – no additional comment) heads, especially if you want to leave the lacing in while you fit it, or if you want to be able to put it on and do it up by yourself. Replacing and doing the lacing up when fitting this hood on someone else could be seen as part of the bondage/hooding experience but if you're impatient or in a rush to be getting on with other things it's just going to be frustrating having to spend so long on it.
I can't even give the Fetish Collection Leather Dog Hood to the kids to play 'cats and dogs' with as it's quite obviously a BDSM accessory, not fancy dress…
Summary
I'm feeling a bit guilty about really not rating this hood, as UberKinky were so quick off the mark and kind to send the Fetish Collection Leather Dog Hood to me free of charge in exchange for this honest review. That's what this is though – an honest review. I think we (read: slave) will just have to save up for the Strict Leather Ultimate Leather Dog Hood and hope that it's much better.
The one positive thing I can say about the Fetish Collection Leather Dog Hood is that it's a brilliant price for people who aren't quite sure about the whole puppy play thing and just want to experiment without breaking the bank. That's essentially what this item is: a budget-friendly introduction to this particular kink. Under £30 for any BDSM hood is a bargain, and there's a D ring on the collar area to which a leash can be attached.
Buy Yours
Find this and many other superbly kinky toys over at UberKinky through the links below.


This review contains affiliate links.