Fantasy By Cara Sutra Beginners Bondage Kit Reviews
Enjoy these reviews of the Fantasy by Cara Sutra Beginners Bondage Kit (in black or red) by members of our reviewing team
Minxy Mischief's Review
I'd like to thank Cara for sending me the Fantasy By Cara Sutra Beginners Bondage Kit (Black) to test and review.
The Fantasy By Cara Sutra Beginners Bondage Kit comes with everything you need to delve into the world of bondage. The 8 piece kit comprises of wrist cuffs, ankle cuffs, collar and leash, blindfold, breathable ball gag, 10 meters of bondage rope and a flogger. Also included is a print out of hint, tips and advice from Cara to help you on your way to some amazing fun! The kit is designed with beginners in mind but that doesn't mean those who are already into bondage can't get full use from the kit too.
The Fantasy By Cara Sutra Beginners Bondage Kit comes in a nice sturdy box that you can use to store the items when not in use. Each piece in the set matches and there is some lovely attention to detail with the buckles. The quality of each piece is really nice. I checked the box to see if it was real or faux leather but it doesn't say and you would be hard pushed to tell the difference. The quality of the faux fur that lines a few of the items is really nice and very soft against your skin. Very little of the fur shed, some is always expected with new fur items. Each piece of the kit has a specific purpose. They can be used individually or together. The only thing you need to add is some imagination and some scissors but more about those later.
The wrist cuffs are made from a nice soft, supple leather-like material lined with nice quality faux fur. I really like the buckle detail on them. I have very small wrists and often find normal sizes for wrists are too big. I didn't have too much if an issue with these. Fastened on the last hole which makes the cuffs about 7 inches which made them nice and snug on me. I was able to wriggle free of the cuffs but I do have small wrists. They didn't just slip out, I did have to try. Good to know I could wriggle free in an emergency if I had to. The cuffs do have several holes so you can get a snug fit no matter your size, I measured they could go up to around 10 inches. The wrist cuffs come with a fully detachable short chain with spring clips on each end. The chain including the clips measures around 6 inches. You attach these to the D rings on the cuffs. I found the wrist cuffs super comfortable to wear, the fit was snug and the fur lining made sure I didn't chafe at all while wearing them. At no point did they dig in at all and they left no marks on my wrists. I felt restrained and never uncomfortable. The possibilities are endless when playing with the cuffs.
The ankle cuffs are identical to the wrist cuffs except the ankle cuffs are slightly longer, the smallest size they go is 8.5 inches which is on the last hole up to 12 inches on the largest size. Also included is the same chain that comes with the wrist cuffs and it attaches them together also measuring 6 inches. Again the ankle cuffs were a great snug fit, I had them as small as they could go. Again no chafing or marks left on my ankles. Very comfortable with the faux fur lining, I happily wore them for quite a while. I don't want to repeat myself as they are the same as the wrist cuffs, only slightly longer.
The collar is very similar to the wrist and ankle cuffs, only a slightly more chunky fastening and each hole is reinforced with an eyelet. It features a nice sturdy D ring in the middle of the front of the collar that you can attach the matching leash or some rope if your imagination should take you there. Again it is lined with the faux fur making it extremely comfortable. I have a small neck, 14 inches and the collar on the 2nd last hole (couldn't get it to fasten on the end hole) was snug and comfortable. The collar goes up to about 17.5 inches so will fit a range of people comfortably. Having my partner place the collar on me made me feel very submissive which got me into the right head space for some bondage fun . The detachable leash is made from the same leather like material as the rest of the kit but it does feel thinner and slightly flimsy in quality compared to the rest of the kit however It really doesn't need to be more heavy duty than it is. It attaches to the D ring on the collar with a swivel trigger snap hook clip and including the clip measures about 41.5 inches long which provides plenty of length for your partner to lead you around as they like.
The blindfold is sturdy and well made. Lined with the same faux fur as the other items and an elastic band to go around the back of the head, it provides a comfortable fit. The elastic band measures around 13 inches. It does stretch a little but I found it a great fit. The blindfold is one of the better blindfolds I have had, it blocks out about 99% of light which is great. Using the blindfold you are able to heighten the other senses making it an essential part of the kit. I found it was also a great blindfold to get a good nights sleep!
The ball gag is in the same matching leather like material and has a matching buckle like the rest of the items. The hard plastic breathable ball measures about 5.5 inches in circumference. I was unable to wear the ball gag for any length of time due to risk of dislocation but this is down to my medical condition and not down to the quality of the item. I had the gag on at the smallest fitting possible. There is a 7 inch difference in adjustment from the shortest to the longest fitting. I was disappointed I wasn't able to test the ball gag out further as it is very well made and sturdy too.
The bondage rope measures approx 10 metres. It comes with small pieces of tape on the ends to stop it fraying but I took these off and whipped the ends of the rope with some cotton thread which is easy to do. The cotton rope is great quality and long enough to do a range of different ties on your partner. If you have never used a piece of rope to tie your partner before then you can easily find lots of how to videos online. Always make sure you have a pair of sharp scissors on hand in case of an emergency. A pair of EMT shears are ideal and not expensive. The cotton rope feels fantastic against your skin. It is a great activity on it's own and I felt like it was ideal for some bonding time as there is a lot of communication in rope work. It doesn't have to be hard or complicated and it's very easy for a beginner to do some simple ties and knots. It's a lot of fun! I also really enjoyed the sensation of the rope being removed, I found it very erotic and it can leave some pretty rope marks on your skin.
Finally the flogger! Again in the same leather like material it is extremely well made with a generous sized ring at the end so that you can hang it up if you so wish. The flogger is quite light weight which we think is ideal for a beginner. The handle is wrapped in the leather like material making it very comfortable to hold. It measures approx 6 inches and the falls, of which there are 15, are approx 13 inches long. Combined with the blindfold sensation play with the flogger was great, the blindfold really helps to heighten the senses. Feeling the soft falls trailed over your body feels great, very erotic. I enjoyed the sensation of random flicks with it too. We also tried the flogger with a bit more force on my bottom and it had a nice sting to it but not too much that it would put a beginner off. I think if it had been more heavy duty then someone without experience could possibly do some unintentional damage. For beginners the flogger is perfect.
Overall the Fantasy By Cara Sutra Beginners Bondage Kit is a fantastic set for beginners. It gives you a taste of lots of different aspects of bondage and because you can use each item on it's own or a number of items combined it makes it ideal to get you started and enables you to explore what you like and maybe don't like about bondage. None of the items are scary or off putting at all. It is a tasteful kit that has been well thought of. All that is needed is some imagination and a pair of scissors! My partners favourite items were the matching wrist and ankle cuffs and my favorites were the collar and the rope. It is lots of fun trying each thing in turn and then thinking of ways to combine different items. Countless hours of fun can be had with this kit.
The Fantasy By Cara Sutra Beginners Bondage Kit is well made and well put together but there are a few very, very minor things that we feel would have made the kit even better and given it the full 10/10. Matching eyelets on the wrist and ankle cuffs like the collar has to prolong the life of the cuffs, studs on the edge of the eye mask to reinforce where the elastic attaches, the leash being slightly heavier possibly similar to the strap on the ball gag and the ends of the rope whipped instead of the tape it does have. These are personal opinions and feel like we are being extremely picky with these things. Compared to similar bondage items and kits on the market the quality is far superior and definitely more high end.
8/10
– Minxy Mischief
Kali Rose's Review
The Fantasy by Cara Sutra Beginner's Bondage Kit 8 piece set includes: wrist cuffs, ankle cuffs, collar and attachable leash, blindfold, breathable ball gag, bondage rope and flogger.
Wow what a delight it was opening this up! Double thanks this time Cara; firstly for having created such a great product and secondly for offering it for review!
I first noticed it has a good solid weight but isn't scarily or overwhelmingly heavy for beginners. The box itself is glossy and beautifully presented and the kit is packaged neatly in a clear re-sealable bag. So neatly in fact that I was worried about getting it all back in the box for storing but it's not been a problem whatsoever. It's travel friendly. I mean, I probably wouldn't take it backpacking but I was happy to sling it in my bag and catch a train to London.
A couple of A4 pages of instructions and tips fall out upon opening (as well as a few bits of harmless red fluff) and the information is perfect for a beginner. Straight to the point it delivers all the basic 'need to knows' when entering into a bondage experience. From emotional safety to physical safety, language, techniques and tips, this is obviously more than a passion for Cara Sutra, she clearly wants to ensure everyone gets the most out of their experience, so much so that she offers her direct email address for any questions, concerns or feedback (now that's customer service!) I think for a newbie the sense of trust in the equipment and its creator's intentions is paramount to a healthy and even therapeutic or transformational fun experience.
I opted for the kit in red, which I love because it's vibrant and gorgeous but my man said he would have preferred it in black, which is lucky because that's the other colour it's available in! The faux red leather contrasts beautifully with the chrome buckles and studs.
The red fluff I mentioned earlier came from the luxurious feeling and super comfortable cuffs, collar and blindfold, all lined with red faux fur eliminating any chances of rubbing or chafing where they sit against the skin.
Collar and Leash
The collar itself is quite wide and super luxurious feeling. I have a long thin neck and really appreciate it as I find some collars too thin, but I wonder if it may feel too thick for some lesser-necked individuals. We didn't really use the leash but it seems pretty standard, it's a lot thinner and flimsier than the collar, has quite a small hand loop and quick release clip.
Ankle and Wrist Cuffs
I have nothing but good things to say about these little beauties. They're super soft and comfortable to wear, however I might try to make an extra hole for my tiny wrists to feel properly snugly restrained. I'm very impressed with the quality; they are well made, feel sturdy and very durable. Even the chains, that don't feel incredibly strong, took a lot of my weight from a suspension point. No I didn't put all my weight on them, as that would have been pushing it!
As the chains are detachable on both sides it means the cuffs can be worn independently just for pottering around the house and doing sexy hoovering up.
The Flogger
It has a really beautiful light tingly bite perfect for teasing and caressing and while it has a small sting if you really put your back into it, there is certainly no danger of a beginner getting carried away and doing too much damage with this. It's different to the one on the picture, which is full red; this one has a red leather (grip-able) handle and black tail and the contrast makes it more athletically pleasing. It also has an o-ring for easy hanging up.
The Ball Gag
The ball itself is a good size, it's quite rigid and has plenty of breathing holes (Or drainage holes for copious amounts of droolage… Very sexy!) The straps are thin, soft and comfortable around the face but with no fur. I take massive issue with the free sliding ball though. While it may work well for some people I couldn't see the point, it makes it feel less secure and every time I moved my lips (and I moan and groan plenty) they got caught in the openings creating a non-sexy pinching pain which left a tingling on the corners of my mouth even the next day. I'm going to see if I can pad them out somehow as I won't be using it again until it hurts less. Plus I'm not massively keen on the plastic so I think this is the only piece that lets the kit down. But also super exciting to have in a beginners kit!
The Rope
Yum. This beautiful soft red cotton rope is quite thick and the vibrant red looks and feels gorgeous against the skin. It doesn't feel particularly strong and I wouldn't try suspending on it, but then it wouldn't be in a beginners kit if that's what it was for. At 10 metres there is plenty for a newbie to play with. The ends of the rope are only loosely secured with tape so I may dip them in some red wax or tie a knot in them to avoid any fraying.
The Blindfold
This is also lined with fur and is ultra soft and comfy against the skin. It has a one size fits all elastic band and is excellent at blocking everything out. It looks great as it matches the chunky and substantial cuffs and collar.
So in conclusion…
With eight pieces of mostly good quality, thoughtfully designed and ascetically beautiful equipment you get a lot of kit here for your buck! Individually most items in the Fantasy by Cara Sutra Beginner's Bondage Kit would be worth well over £10 a piece so it's a massive saving when bought together, not to mention a beautiful matching set! Overall the whole thing is amazing however I think she sells it a bit short with her potential customers; while great for beginners there is stuff in here that I would consider intermediate to advanced, such as the ball gag and rope. I introduced it to one of my lovers who is a beginner and he was pretty intimidated though not as intimidated as he was when I forced him down on all fours blindfolded and gagged 😉
I was not expecting such quality products and overall high standard and have been super impressed with what's been achieved here. All of the above coupled with her personal touch makes the Fantasy by Cara Sutra Beginner's Bondage Kit a product I would definitely recommend, not just for beginners, and I look forward to getting plenty more use out of mine!
9/10
– Kali Rose
Edn's Review
The Fantasy by Cara Sutra Beginner's Bondage Kit is an eight piece collection which covers most of the basics. In it you will find ankle and wrist cuffs, a collar and leash, a length of rope, a blindfold, a breathable ball gag, a flogger and (heaven be praised!) a set of safety instructions.
I'll look at each part separately:
The ankle and wrist cuffs.
The cuffs are of the soft buckled type, held together with chain. Each cuff is very robustly made of thick material with plenty of re-enforcing rivets to hold it together. They are lined on the inside with a furry material. Whether you like this or not is purely personal choice; I prefer a smooth surface but taste vary. Whatever your taste they are very comfortable to wear and feel firm; I can't see anyone breaking them easily. The chains are probably the weak-point of the cuffs. Each cuff has a D-ring and the chain is attached to them via a column bolt. I have a history with column bolts; I don't think I've had one yet that hasn't sheared in use. If the person using them is a serious struggler you might be better removing the chains and using the rope in the Fantasy by Cara Sutra Beginner's Bondage Kit to lace the cuffs together.
The Collar and leash.
The construction of the collar follows the design of the cuffs: big think and chunky. Again the fur lining makes it comfortable against the skin. The collar itself is about two inches (about 5cm) wide so certainly not a skinny and insubstantial thing. In fact if you're on the small side it's getting close to being a posture collar. The leash was a bit of a disappointment. Next to the solidity of the collar and cuffs it looks very thin and fragile, but the leash attaches using a d-ring on the collar so if you want something more solid it's an easy job to swap in.
Rope.
You get a nice long piece of woven cotton style rope, which while it won't please the purists (what no jute?) it is comfortable in use and easy to clean if you need to. There's not much you can say about rope; it's a useful length not too thin or thick and takes a knot without slipping. You may find it stretches slightly in use but that shouldn't be a problem.
Blindfold.
The blindfold is cut from the same material as the collar and cuffs, though perhaps slightly thinner and more flexible. It uses a piece of elastic to hold in place which is pretty standard. It uses the same fur backing as the collar and cuffs and it does tend to moult while new so it's worth giving it a good brush before use to remove any loose pile and stop it ending up in anyone's eyes.
Breathable ball gag.
The ball gag feels a little less robust than the rest of the Fantasy by Cara Sutra Beginner's Bondage Kit so far. The straps are thinner and lack the fur backing. It doesn't feel shoddy by any means, just not as impressively solid as the collar and cuffs. If I do have any concern over the construction of the gag it's that the rings that hold the straps to the bit are not welded so there is a potential for them to be deformed and present an edge. This is extremely unlikely to happen but worth keeping an eye on. In use I found the ball of the gag is slightly too large for long term use, but if you're only planning on short term use it's absolutely fine for the job.
Flogger.
If there is a weak spot in the kit it's the flogger. It doesn't feel anything like as well constructed as the rest of the contents. It does the job for light sensation play and has a very mild sting but it just didn't feel very robust in use. That being said it's still in one piece, so it's not going to fall apart on you!
Safety Instructions.
I cannot begin to tell you how much I appreciated the simple addition of a couple of pages of instructions! Many toys, even beginner's toys, come with nothing and you have to work it out for yourself. The instructions give a brief overview of the Fantasy by Cara Sutra Beginner's Bondage Kit but also cover the essential elements of consent, safe words and safe use. The watch words of bondage play are safe, sane and consensual and it's wonderful to see them in a beginner's kit.
Before I give a mark for this set I just want to point out clearly how I've assessed it. This is a beginner's bondage kit not for those who have been playing for a long time. That's not to say there aren't things that a more experienced player couldn't use but I'm looking at it on the basis that, for its target market, it's an experiment rather than a lifestyle. That proviso out of the way I would have to say that for its purpose this is an excellent set. It's much more robustly put together than a lot of stuff I see sold and I wouldn't hesitate to recommend it if you've been thinking about trying some light bondage. On that basis I would give the Fantasy by Cara Sutra Beginner's Bondage Kit an 8/10.
– Edn
Louise Lace's Review
I have lusted after the Fantasy by Cara Sutra Beginner's Bondage Kit since Cara released it, I remember seeing her launch party tweets and following the success of the launch through her blog. So when I spotted the kit on Cara's February Pleasure Panel product list, I jumped at the possibility of receiving a kit of my own to review. I nervously awaited the update as to which Pleasure Panel reviewers would be sent which items.
Disappointingly, when the update news broke I was in my local McDonald's and their wifi connection felt that Cara's site was "deemed offensive" Oh the horror! Thankfully, another of the Pleasure Panel reviewers (such a friendly community BTW) updated me of my approval to review via Twitter. I do confess to squeaking out loud and doing a little jig in my seat in excitement, this didn't arouse the suspicions of my fellow diners at all 😉 My very own Fantasy by Cara Sutra Beginner's Bondage Kit *Squeak*
My Fantasy by Cara Sutra Beginner's Bondage Kit arrived a few days later in a plain brown wrapped package, a simple address label on the front and a return address sticker which features the discreet 'CS' of Cara's logo, on the back. There is no mention of what the product contains. Inside the brown paper, the Fantasy box was snugly wrapped in bubble wrap.
The Fantasy by Cara Sutra Beginner's Bondage Kit cardboard box is around the size of an adult shoe box, the front of which has a list of the contents and a lovely image of a lady bound in some of the kit products draped over a white and red wing chair. Those familiar with Cara will know this chair features throughout the Cara Sutra brand, this adds a lovely personal touch from Cara.
The reverse of the box has a picture showing all of the items contained within the kit, the image shows the red version however, a black option is also available and that's what I requested. It also lists the products individually again, not sure why this is required as the list is clearly displayed on the front of the box. A note from Cara teases the reader with a hint of what can be achieved with the contents of the kit, "…Feed the anticipation by binding them with luxurious, strong restraints…"
I cannot begin to explain how excited I am about this review, frustratingly, I had a few days to prepare myself for the first play session as my kit arrived mid way through school holidays and I had kids pestering me every five minutes. Oh how I wished I could have tried the ball gag on my youngest – just for five minutes, honest 😉 Finally Gran arrived and the kids were whisked away, I was at last able to break open the Fantasy by Cara Sutra Beginner's Bondage Kit. In the box there was an information sheet which gave helpful tips on first time use which included thorough advice on safety during bondage sessions. It ends with a variety of methods of how to contact Cara should you require, I love the transparency Cara has with her brand, she really puts herself out there for her products.
The Fantasy by Cara Sutra Beginner's Bondage Kit is neatly contained within a resealable plastic bag, my first thought was that getting it all back in the bag may be an issue but I'll worry about that later. There are 8 items in all; Wrist cuffs, Ankle cuffs, Collar and leash, Blindfold, Breathable ballgag, Bondage rope and Flogger. There are so many possibilities with this kit, I'm not quite sure where to start, having already had experience being cuffed and blindfolded we I figured we'd start with those and see where that leads us.
Both the wrist and the ankle cuffs are made from a luxury leatheresque material with a thick faux fur inner lining, sturdy silver buckles fasten the cuffs around the wrists/ankles securely, there is a silver D-ring in the centre of each cuff which is surrounded by decorative, flat silver studs. The cuffs join together with a 2″ chain, I would have liked the ankle chain a little longer so I could balance better when standing but I'm willing to suffer a little discomfort as part of our play.
The chains have a snap hook clasp on each end, which are then attached to the D-rings on the cuffs. I like that the chains remove completely, gives me the opportunity to wear a cuff with my jeans and a band T-shirt during the day 🙂 I have really skinny wrists and ankles, even on the tightest fitting I am not able to remove the wrist cuff without loosening the buckle and the ankle cuffs aren't budging either. They feel amazing against the skin and I love the padded fur lining. I was already beginning to feel restrained and I wasn't tied to anything…. Yet!
The blindfold is made from the same materials as the cuffs but is slightly more flexible, it fastens to the head with an elastic strap, similar to a flight sleep mask, the faux fur is slightly flat on first opening the kit but fluffed up really well with a quick brush. Once on the mask sits securely over the face and covers the eye and cheek area exceptionally well, peeking is not possible. My other senses heighten as my sight is lost to the comforting darkness of the Fantasy Beginners Bondage Kit blindfold.
To begin with we used the metal rungs on our head board to trap my wrists above my head and the same with the foot board and my feet, I'm a little shorty, I was quite stretched in this position and this meant that I didn't have much room to move my legs apart restricting access which was a little frustrating. Moving on, we unclipped from the bed frame and then clipped my wrists to my ankles on each side and lay back, this meant my knees were completely apart and he had access all areas. Surprisingly, being unable to straighten my legs felt more restricting than when they were tied down to furniture. I am funny (peculiar not haha), when it comes to lying on my front during scenes, so we didn't attempt any of those positions but I'm sure there are possibilities.
Apparently I looked rather pretty tied in my cuffs and blindfold, so we decided to enhance the vision further by adding the collar, minus the leash to begin with. The collar, like the other pieces in the Fantasy Beginners Bondage Kit is made from a leatheresque material and faux fur, unlike the cuffs does not have the silver flat stud decoration, it has a simple but poignant D ring in the centre. The buckle fastening is sturdy and unlike the cuffs the buckle holes have silver rivets to strengthen and decorate, this is a very pretty touch to the design.
Sadly the collar I received had a slight scuff to the leather just above the buckle 🙁 The collar is around 2″ wide and completely covers my neck restricting how far I can dip my chin, fit wise, I have a small neck and I struggled to get the collar tight enough, I found that the smallest two holes could not be used because of the over lap of leather at each end of the collar, which was a little disappointing. We settled on the third smallest hole and that meant was enough room between my neck and the collar to fit 4 fingers, it certainly wasn't restricting my breathing or affecting my swallowing, the collar could be turned so the ring was at the front or the back with ease and the luxurious fur ensured the collar didn't rub.
By now my anticipation was rising, losing my mobility, my sight and having something around my neck was rousing every nerve ending in my body. In my mind, I was screaming for a touch to my skin, begging to have some stimulation to take my mind away from trying to predict his next move (funny how losing a few senses does that to you) I daren't utter a word, I knew the ball gag was waiting patiently for its debut and I knew he would take the opportunity to silence my whining given the chance. I felt the clasps of the cuffs being loosened and my arms and legs received a gentle but firm rub down to keep the blood moving. I was placed in a kneeling position on the bed and my left wrist was positioned behind my back and attached to my right ankle and the right to left ankle, hog-tied on my knees, this I liked, my heart rate escalated. I heard the words "I am not going to gag you….yet" How did he know that was what I was thinking? Confused, I wracked my brain to think of what else was in the kit, the flogger, how could I forget the flogger?
The flogger is a beautiful piece in the collection, 15 soft tails joined together by a firm handle of twisted leather, finished off with a silver hanging ring. It is a decent weight and sits firmly in your grip without chafing the skin. Floggers are very versatile and can deliver anything from caressing strokes to hard stings with a flick of the wrist, so, what does the Fantasy Beginners Bondage Kit flogger feel like? I relaxed into the soft feel of swishing leather across my upper body, gently tickling my skin, he lifted the tails and lightly tapped them across my breasts, I flinched from surprise rather than pain, there was no pain, just a tingling sensation, gradually he built up the intensity of the lashes until they were delivering a sharp sting to my skin and bringing the blood to the surface giving my breasts a rosy glow. I couldn't hold back on my moans, of delight not agony, this prompted the introduction of the gag, knowing I was a little nervous of this we paused for a brief discussion and some reassurance. It's worth noting that communication is key in any bondage scene, all parties must be fully consenting to any activities. As this was my first time using a ball gag, we agreed that I would try the gag for 1 minute to begin with, one of my wrists was released so that I could raise my hand should I need to stop earlier, a safeword is not possible with a gag in your mouth.
The Fantasy by Cara Sutra Beginner's Bondage Kit includes a breathable ball gag, this means the ball has holes in it to enable the wearer to breathe through their mouth or nose, non breathable gags are more breath restrictive. As a complete newbie, I was pleased the gag in the kit was breathable. As advised in the information leaflet, we gave the ball a quick rinse with cool water to remove any packaging particles and then with a reassuring pat on my head, the ball was placed between my teeth, Cara had previously advised in a twitter conversation to ensure the gag is fastened tightly for the best results so that's what we did, the ball sat snugly between my teeth and although my mouth was open, it was by no means at full stretch. It is a smooth, solid plastic ball which has several round holes cut into it, I found it very easy to breathe whilst holding it in my mouth. This was reassuring *deep breath* Two silver rings sat snugly against my cheeks and leather straps pulled behind my head to fasten with a silver buckle, there were no issues with the fit and the smallest hole provided a tight fit. Once on, the flogging restarted, quickly progressing to more firm lashes, not being able to cry out was a novel experience and I'm still not sure how I felt about that, crying out is part of the release for me. I survived my first gagging and I surprise myself when I say that I would be happy to try it again for a longer period, provided I don't drool, drooling is not a good look for me and having a gag in your mouth certainly seems to get the saliva glands working.
Unfastening my breathable ball gag, and removing the chain clasps from both sets of cuffs, I was then rewarded with a brief kiss as he attached the leash to my collar, the leash is a thin strip of leather effect material which feels a little plasticy compared with the other items in the kit, it is a reasonable length with a well stitched handle to one end and a silver snap hook clasp at the other. With a firm tug downwards, I sank to my knees and as gracefully as I could I walked on all fours behind him through the house to the couch. We took note of Cara's information leaflet which advised us that Cara Sutra "…cannot be held responsible for any legal or moral issues which arise from their (the kits contents) use in public areas…" and stuck to indoor play. Once he was seated in his favourite chair, I was able to thank him properly for helping me with this review 😉
I was conscious that we had not yet unravelled the extensive length of silky black rope from the Fantasy Beginners Bondage Kit, I have never desired rope play in any of my relationships, the idea of being suspended from the ceiling terrifies me. However, I have seen some beautiful images online of people bound in rope which raises my curiosity.
Whilst I enjoyed being tied down with the cuffs, I knew in the back of my mind I could be unclipped and released in seconds, with rope this isn't so easy. I am well aware that he cant even open a packet of bourbon biscuits, goodness knows what he'll be like with knots! Cara even recommends having a pair of safety scissors handy when indulging in rope play *gulp* I knew this would be something I had to research and build myself up to, if I'm going to do this I want to be a bit more adventurous than just wrapping the length around my wrists or ankles. We kept in mind that I am very uncomfortable at the thought of being fully bound and unable to move and researched our options, we finally settled being bound for decorative purposes rather than restraint for our first scene and after watching a few instructional videos online we decided on a supposedly simple Ringbolt Hitch on my legs.
There is 10 meter length of rope included in the kit, each end is capped with a small piece of sticky tape, I fear this will fall off fairly quickly, I would have liked something a bit more sturdy than tape, a leatheresque finish perhaps to prevent the rope from fraying. The rope itself is silky smooth and is not too dissimilar to a very long shoe lace, it doesn't scratch the skin when fastened but would leave a pattern on the skin if tied tightly. Knowing that this was going to be a bit fiddly, I started at my ankles and slowly made my way up to my knees, twisting, weaving and aligning the rope, I confess to having my instruction video playing in the background as I worked. Within around 10 minutes my lower legs were bound together with a slightly 'wonky' but very pretty plait. My hubby loved how this looked on me and as only my lower legs were bound, I felt comfortable that I wasn't going to freak out. The rope felt amazing on my legs and I loved how it looked on my skin, the ringbolt hitch was a perfect beginner knot as it just popped open with a single tug from the loose end at my ankle. I will definitely try more decorative designs in the future.
I did some secret research and found a simple bodysuit design 'how-to' video and decided to surprise my hubby and his friends on 'Lads Night' with a home made rope outfit 😉 It really is surprising how easy it is to complete a simple but attractive design on your own, the silky rope just glides through the twists and doesn't knot itself so with a little patience you can manoeuvre it as you wish. I received a round of applause and a cheer from the lads and they were all very impressed with how it looked and that I had done it myself. I'm still not too confident but I intend to work on my fear of being rope bound during a sexual scene, for now I am going to keep practising my DIY rope outfit skills 🙂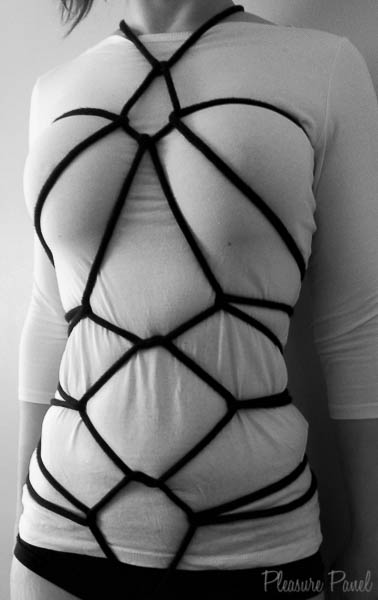 I ended our sessions having been bound, sated and quenched. Despite my initial concerns, fitting all of the products back into resealable bag was not akin to getting a sleeping bag back into its storage bag, the kit just slipped back in without any trouble – providing you unfasten the cuffs and collar and wind up the rope tight.
We tried the fit of the cuffs, blindfold, ball gag and collar on my hubby and there were sufficient buckle holes to enable a secure fit on all of the items so it will be his turn next!
I absolutely loved the Fantasy by Cara Sutra Beginner's Bondage Kit, I was rather intimidated by the rope but that just gives me something to work up to. I admit I was a little disappointed with the scuff on the leather and my struggles to fasten the collar, and with the sticky taped ends of the rope. That said, I would definitely recommend this product to both beginners and intermediates and will be using this kit many more times myself. I would rate this item 8.5/10
Thank you so much Cara for allowing me the pleasure of reviewing your Fantasy by Cara Sutra Beginner's Bondage Kit free of charge in return for a fair and honest review, it was an honour.
Louise Lace x
Hella Rude's Review
As a retired *cough* dominatrix and a woman who's partial to a bit of kink, I'll rarely pass up the opportunity to review a promising new bondage kit. This set in particular is especially exciting for me as it's the baby of fellow sex blogger and Lifestyle Domme, Cara Sutra. To those aspiring to make a living out of their passion for writing, multi award-winning journalist Cara is a source of knowledge and inspiration. Now she's putting her money where her red lipstick lives and has created the first of a range of products under The Cara Sutra Collection Ltd brand. Welcome to the Fantasy by Cara Sutra Beginner's Bondage Kit.
Her Cara Sutra Fantasy range is a vegan-friendly, beginner-friendly range of bedroom bondage accessories designed to give an authentic experience. The collection comes in two colours – red and black – and she's been kind enough to give me a red Beginner's Bondage Kit for an impartial review. It contains wrist cuffs, ankle cuffs, a collar, a lead/leash, bondage rope, a flogger whip, a blindfold and a breathable ball gag.
I've taken a slightly different route with this Fantasy by Cara Sutra Bondage Kit review due to the number of components, so here are my need-to-knows in a shorter style:
Bondage Rope
Smooth and soft with slight stretch and easy to tie. The ends are cut and taped and will need maintaining over time but this is standard with any kind of bondage rope. You get 10 metres which is enough to create a cute body harness (link NSFW), so ideal for use with the collar and cuffs. Simply create your harness and use the removable clips on the cuffs to bind the hands or ankles to the rope. Incorporate the collar by threading it through the D-ring at the front – a safer option than tying the rope around your sub's neck.
I gave the rope a machine wash at 30 degrees and it came out beautifully clean. The ends were still in tact, there was no noticeable colour run and it was just as soft and pliable as before it went in. Marvellous!
10/10 – Plenty of length, soft on the skin and easy to use and maintain.
Ball gag
A simple, stylish design with an adjustable buckle at the back. The ball itself is 5.5 inches in circumference but it does have air holes to improve comfort. It's mounted between 2 O-rings on a sliding mount that allows reciprocal but not rotational movement. I found this gag was a little on the large side for a beginner but that certainly does create the desired submissive effect.
The plastic has no taste and is firm enough to be bitten without shattering in the mouth. A good range of holes on the back buckling meant there were no problems with fit on either a small or a large head. The construction is very solid and will withstand plenty of play. I personally would have preferred a smaller ball so the gag could have been worn for longer, jaw ache is only sexy to a point.
7/10 – The ball was a little on the large side for a beginner but the quality and fit was good.

Wrist and Ankle Cuffs
I have nothing bad to say about these wonderful bedroom bondage restraints. The combination of PVC and faux fur is gloriously lightweight and comfortable to wear. The hardware lives up to its name and stands up to plenty of resistance, they are a surefire winner. They connect with chain/clips combo that can be released by the wearer if desired, making them perfect for first-time play.
The fit for both wrists and ankles was generally good for both slender and larger, muscular physiques. You'll notice that the ankle cuffs are slightly bigger in size than the wrist cuffs. The cuffs measure 8.5-inch to 11.5-inch for the wrists and 10.5-inch to 13-inch for the ankles.
Unfortunately the ankle cuffs were too big for me. I have Skinny Minnie legs (someone once derided me for having 'photoshopped ankles' that looked like 'chopsticks' – Cheers, that person!). Just as well I'm not too inclined to switch. 😉
10/10 Attractive, comfortable to wear and incredibly strong. If the cuffs are a little large they still function well and feel comfortable to wear.
Blindfold
Simple in style and reasonably effective. You may notice light peaks in under the nose bridge and if you tip your head back, you're able to see through the little gaps. Thanks to the soft faux fur lining, you'll be compelled to close your eyes during wear and this makes it a little more effective. The classic elasticated style means minimal slippage and maximum comfort during the throes of passion.
The fit was a little tight on a larger head but the elastic will loosen with stretching. Not one to wear as a sleep mask, its a little rigid when fresh out of the box but will relax with time. This blindfold will certainly see some use as it's a great visual to complement the set but I personally prefer to wear silk satin blindfolds.
I was also a little disappointed with the way it looked on. It's not the most attractive blindfold I own and the shape is unflattering on even the most chiselled features.
7/10 – Let in a little light and allowed peaking but better worn with eyes closed. Good fit, slip resistance and comfort but a touch too rigid. Not the most attractive blindfold.
Flogger
Lightweight, well sized for the hand with fine tails and a short spread. I really like the addition of an O-ring to the handle for repetitive swinging motions or storage, it's the little touches that go a long way. The appearance is lovely, especially the wrapped handle. If you had to gripe, it would be for the exposed acrylic backing on the tails.
This flogger whip unfortunately came out as being a little much for a beginner. There's something to be said for a softer thud when you're acclimatising newbies to whips, unfortunately this was a little too stingy. Even when used softly, sensation had a tendency to build too quickly for some. I'd definitely recommend giving this flogger a go if you're a fan of spanking canes or riding crops, the sting is very similar. For the rest of us, you need to take a very gentle approach perhaps with some stroking of the buttocks and thighs in between reps.
8/10 – Beautifully made with attention to detail. Tails produced a fantastic sting that required a very gentle hand that's difficult to achieve for newbies.
Collar & Leash
At some point between being a goth and becoming a domme I got rid of all of my collars. I used to have (and wear) a tonne of them. I was thrilled to find a collar and leash in this pack as it's a duo so often overlooked in other bondage sets. #win
The collar is really imposing, it's wide with a large buckle and has a front-mounted O-ring for connecting the clip on the leash. It's also lined with faux fur which makes it incredibly comfortable to wear. The fit again was great on both a small and a large neck.
The leash itself looks quite flimsy but I'll assure you it's not. It's fitted with a swivel clip for superior maneuverability. Having played tug-of-war with a very burly chap, I can confirm that both collar and lead are still in tact. I however need to hit the gym because I failed to pull him over.
Cara's collar will fit necks measuring between 15 and 18.5 inches in circumference and is perfectly effective and usable if worn a little loose.
10/10 – Excellent fit, attractive design, incredibly comfortable and stands up to  some serious abuse. Ideal for use during sex and for directional play.
Summary: Should You Buy the Fantasy by Cara Sutra Beginners Bondage Kit?
Absolutely. This is one of the most adaptable and comfortable bedroom bondage kits on the market. It contains and amazing array of items, making it exceptional value, and they've all been thoughtfully produced to be both attractive and effective.
You will need some practice with the flogger, ball gag and bondage rope and that makes it a great gateway into other BDSM play and trying new gear. With a little patience and some practice, you'll be able to create some impressive fantasy scenarios at home – especially once you master the art of making rope body harnesses. The removable clips allow you to create a real array of body restraints. Hogtie, anyone?
Overall Score 9/10 – High quality, great value and plenty to experiment with. The Fantasy by Cara Sutra Beginner's Bondage Kit would make a great gift for your partner or something exciting to try on your next weekend away.
– Hella Rude
---
Buy Yours
Buy your Fantasy by Cara Sutra Beginners Bondage Kit directly from me, in your choice of black or red and with full instructions, through the Paypal links below. Usually priced at £69, you can get it direct from me for just £50 plus p&p!