Eyes Wide Open by Lucy Felthouse – Erotic Book Review
By Pleasure Panel reviewer Poppycat22
When a saw a book available to review for the Pleasure Panel, I jumped at the chance and was lucky enough to be sent a copy of Eyes Wide Open by Lucy Felthouse (available from Amazon) in exchange for an honest review.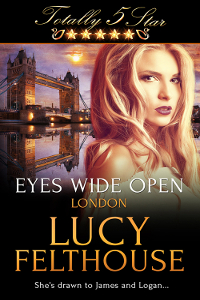 The book starts with the central character Fiona. She's just finished university and is living in London. Living in a busy house share and working in a traditional pub, the Birmingham girl is seeking more but lacking direction. Fiona applies for a fantastic new career opportunity in public relations for the Totally Five Star Hotel… and that's where it started to go wrong for me.
The name of the hotel felt like something from a trashy T.V program, certainly not an exclusive location. I found it really hard to keep reading, the descriptions are so lengthy and left very little detail to the imagination. I hoped that once the story line had been established that the descriptiveness would lessen. The hotel (I can't bring myself to type the name again) was very luxurious but the frequent reminders that celebrities, footballers and business people frequented it, got more than a little irritating. It's like a star struck teen that can't stop waffling.
The sex interest (I don't want to define it as lust, crush, love or anything else because I really want to preserve the story line) is the clichéd rich, suited, kinkster. It took a long time to get the first sexual encounter, including a ridiculous strop, and once you make it past being told about the room, it was quite good. The dynamic between characters felt right and I found myself interested for the first time since the very start.
I loved that the story was trying to introduce different sexual themes for beginners but in places it felt like a self-help section, browse internet, research etc
It's hard not to recount every scene where, as a reader, I felt like I was wading through treacle to the next bit that flowed more freely.
The story improved towards the end (and not just because it was towards the end) the writing was more focused on the characters and not on the hotel décor or the road layout (seriously!) The emotions and sexual tensions felt more natural and enjoyable.
So in summary of Eyes Wide Open: I found Fiona to be stroppy and immature in places, I really, really dislike the connection that great sex can only happen with people that have luxurious lives (not just an issue in this book though) for an erotic story it took a long time to get going and oh my word those descriptions of absolutely everything were tiresome. It had some really good plot lines, a good introduction to safe ways to start playing and I enjoyed the character dynamic at times.
2/10 for the fact that it wasn't so bad that I couldn't finish it.
– Poppycat22
---
Thanks to Pleasure Panel reviewer Poppycat22 for this review of the erotic book Eyes Wide Open by Lucy Felthouse (buy here at Amazon – £10.99 paperback version, e-book also available)
Eyes Wide Open was provided free of charge, in exchange for a fair and honest review by the Pleasure Panel, by the author Lucy Felthouse. Thank you! 🙂
Useful Links
This review contains affiliate links.