EXSENS Pure Aqua Water Based Personal Lubricant Review (70ml)
By Pleasure Panel reviewer Louise Lace
A girl can never have enough lube.  Sexual activities, for me, are always better with a little dollop of a good quality lube, so when I noticed the EXSENS Pure Aqua Water Based Personal Lubricant from EXSENS in the Pleasure Panel round I couldn't stop myself from volunteering for it.
My parcel arrived super quickly and I couldn't wait to get started with my review.
EXSENS had sharpie-penned the word 'Tester' on the front of the packaging… this wont be on any purchased bottles but it did hinder the photographing element of the review process. I do apologise.
The EXSENS Pure Aqua Water Based Personal Lubricant comes in a flip-top tube, similar to many beauty products such as hand cream.  The tube had a perforated plastic seal to prevent leaks when in transport, handy.
The packaging is fairly inconspicuous, while it does have the words "Personal Lubricant" on the front, it isn't in a huge font and the tube in no way screams SEX. The Pure Aqua  Lubricant tube should blend in with other beauty items I have on my dressing table.
The reverse of the tube has the intended use; a water-based intimate lubricant intended for penile and/or vaginal application.  The directions; apply as desired and repeat if required.  The warnings; not suitable for polyurethane condoms, not a contraceptive, avoid contact with eyes and discontinue use if irritation occurs.  This information is printed in English and if my high school memory serves me correctly, in French too.
The ingredient list includes:
Glycerin
Aqua
Propylene Glycol
Hydroxyethylcellulose
Sodium Benzoate
Potassium Sorbate
Sodium Saccharin
Citric Acid
Some of these ingredients are known to irritate some people so please exercise caution if you are known to react to any if the ingredients listed above.
As an added bonus the EXSENS Pure Aqua Water Based Personal Lubricant is vegan.
Dispensing the EXSENS Pure Aqua Lubricant is super easy and mess free, simply flip open the cap and squeeze a drop or three out.
The lubricant is clear in colour, has a gel like consistency and is odour free.  Taste-wise, the EXSENS Pure Aqua Lubricant is very sweet with a hint of citrus. I wouldn't want to pour it over ice cream but I dont mind licking any residue off my other half.
The gel-like consistency makes application easy, it takes a while to dribble off my fingers and created very little mess.  So transfer from tube to genitals was without issues.
The EXSENS Pure Aqua Water Based Personal Lubricant feels very silky on my lady parts and I didn't have any reactions or irritation when I tested a small amount on my body.
During penis in vagina sex the EXSENS Pure Aqua Lubricant lasted well and didn't require any additional applications.
When used with a variety of sex toys, as it is water-based it is compatible with most toys, the EXSENS Pure Aqua Lubricant again lasted well.  It was only when used with my 'grabby' silicone toys did I need to add an extra drop during play time.
The tube contained 70ml of product and after several uses still feels very full.  I think this tube may last a while.
All in all the EXSENS Pure Aqua Water Based Personal Lubricant is a nice, silky, gel formula and providing you don't have any issues with the ingredients, should be a welcome addition to any bedside table.
The EXSENS Pure Aqua Lubricant retails at $12 which I believe is good value for money for the quantity and quality.
I'd rate the EXSENS Pure Aqua Water Based Personal Lubricant a full 10 out of 10.
Thank you to Cara and EXSENS for sending me a tube free of charge as part of the Pleasure Panel.
Louise x
---
Where To Buy
Thanks to Pleasure Panel reviewer Louise Lace for this review of the EXSENS Pure Aqua Water Based Personal Lubricant.


This lube was sent free of charge, in exchange for a fair and honest review by the Pleasure Panel, by exsens-usa.com. Thank you! 🙂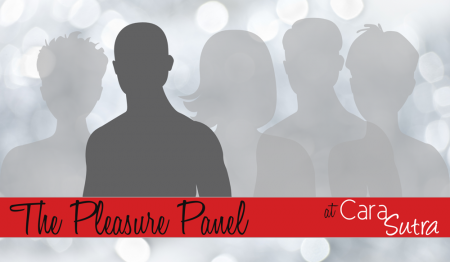 Unaffiliated