EXSENS Crystal Garnet Argan Massage Oil Review (100ml)
By Pleasure Panel reviewer Married2Sexy
Twice a month, Mrs. Sexy and I pamper each other with massages.  For this month's massages we thank Cara Sutra's Pleasure Panel, because we got to try out EXSENS Crystal Garnet Argan Massage Oil from EXSENS for an unbiased review.
EXSENS Crystal Garnet Argan Massage Oil is a product of a French based company, Neo Cosmetique.
The outer packaging of the EXSENS Crystal Garnet Argan Massage Oil is a thin disposable cardboard box that has a small cut out to show off the burgundy crystals inserted into the oil.
Covering the packaging, there is multi-language text providing usage information and the ingredients of the oil: sunflower seed oil, sesame seed oil, orbignya oleifera seed oil, argania spinosa kernal oil, fragrance, tocopherol, limonene, linalool, coumarin, and citral.
They also highlight that the product is produced from 100% natural origin, of which 94% are from organic farming.  The oil is housed in a cylindrical plastic container with a black twist off cap.
Rather than using a flip-top or press pump to dispense the oil, Neo Cosmetique decided to use a single-holed plug, similarly found on soy sauce bottles.  From use, I learned that I do not prefer this design.  Though it is useful to prevent spillage if the bottle is ever knocked over, getting the product out is more difficult than it should be.
I would describe the scent to be spicy -almost a musk- making it more masculine than the fruitier scent of the EXSENS Crystal Amethyst Sweet Almond Massage Oil.  Also, the taste is less bitter and more spicy compared to the Amethyst Sweet Almond version.  Not that I want sugary-sweet, but our sensual massages include kissing.  Therefore, an unpleasant taste is not desirable.  I am unclear the make-up or purpose of the submerged burgundy crystals, but they do look fancy.
With Mrs. Sexy laying on the massage table, I uncapped and inverted the EXSENS Crystal Garnet Argan Massage Oil.  I learned from the previous night, that you need to invert the bottle to around 75 degrees.  This provides enough air suction to allow the oil to run out.  If you flip it completely over, you will need to shake the heck out of it just to get enough to start.
The spicy scent filled the air.  From my EXSENS Crystal Amethyst Sweet Almond Massage Oil review, I knew the amount needed.  Though the oil spreads well, the skin absorbs the natural oils and therefore needs to be coated.  It does not take a lot, but don't be stingy.  Layer the oil on to saturate the pores, then apply a little less to allow your hands to glide over their skin.
The oil provides a perfect amount of lubrication, great heat transfer, and most of all left her skin soft but not tacky.  Neo Cosmetique got the oil proportions for their EXSENS Crystal Garnet Argan Massage Oil spot on.  Remember, this is a massage oil and not a lubricant.  Therefore, even though it will not harm genital skin, I would not recommend using this vaginally or on the more sensitive areas of the vulva.
The EXSENS Massage Oil line are great massage oils.  Your skin is left feeling healthy and hydrated, and in fact we leave this bottle next to our shower to apply after a shower.  The spicier scent of the EXSENS Crystal Garnet Argan Massage Oil is more masculine and therefore I prefer this one being used on me versus the fruitier scented EXSENS Crystal Amethyst Sweet Almond Massage Oil from the same line.
I would like to see this come in a flip-top or pump dispenser, but the dispenser does prevent spillage, though it makes getting the correct amount more effort than it should be.  Also, I wish the taste could be improved, without adding any artificial sweeteners, glycerin, or sorbitol.  Ultimately if you are looking for a high-end massage oil, consider the EXSENS product line.
9/10
– Married2Sexy
---
Where To Buy
Thanks to Pleasure Panel reviewer Married2Sexy for this review of the EXSENS Crystal Garnet Argan Massage Oil.


The EXSENS Crystal Garnet Argan Massage Oil was sent free of charge, in exchange for a fair and honest review by the Pleasure Panel, by exsens-usa.com. Thank you! 🙂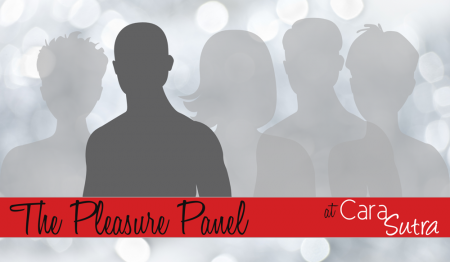 Unaffiliated