EXSENS Crystal Carnelian Apricot Massage Oil 100ml Review
By Pleasure Panel reviewer Fesure Maybe
This massage oil is an apricot infused gourmet massage oil designed for use on the body to "revitalize and illuminate your skin". The EXSENS Crystal Carnelian Apricot Massage Oil is described as a restorative oil that stimulates your creativity with its all organic ingredients.
So, let's start with the EXSENS Crystal Carnelian Apricot Massage Oil packaging. The 100ml bottle comes in a lovely bright decorated box with all the information on the box you could need like the ingredients, about its organic information and also directions for us, all of which is very handy to have. It also has a little peep window so you can see the oil with the carnelian gem stones in the bottom of it.
Easy open screw lid with a hole at the top of the bottle to apply onto your partner, so all very practical to use. Also, very pretty to look at the oil in the see-through bottle as it allows you to see how much is in there and also what colour and consistency it is, with the added effect of the gem stones sitting at the bottom.
The font and colour of the writing is very clear and easy to see, making it super easy to read for even when I don't have my glasses on. If this was on a shelf it is definitely something I would pick up as it attracted me from just the look.
Looking at the box we can see that it states the EXSENS Crystal Carnelian Apricot Massage Oil is made with fully 100% natural products with 93% being from organic farming. This is a wonderful perk to the product as it feels like it gives it that extra bit of love to make it live up to the name of being a gourmet oil without us having to worry that it has nasty chemicals in it.
Within the EXSENS Crystal Carnelian Apricot Massage Oil it has little stones called carnelian stones which are said to promote fertility and courage according to the description on their website, so this within the oil really adds a little story to it but also look wise as I find it very pretty. First sniff of the oil and I am in love; it smells absolutely amazing. It doesn't smell artificial like most oils do, more natural and really strong of the apricot and gives you a very uplifting feeling just smelling it.
Applying the EXSENS Crystal Carnelian Apricot Massage Oil onto my hands ready to use on my partners back it definitely feels greasy and oily (as it should) and rubs really well into the skin but does leave a definite shiny look. It's also quite a thick oil so makes it easier to apply, without it running off instantly onto the bed sheet like some can.
Using the oil, I found it to be quite giving with the little amount you can use each time, a little bit went far. It definitely gave my skin a lovely invigorating feeling afterwards and the smell is just absolutely incredible, I just can't get over the smell of it. Its absolutely great for using it all over the body and leaves you feeling very relaxed but elated, as if you have been getting a buzz from sitting in the sunshine.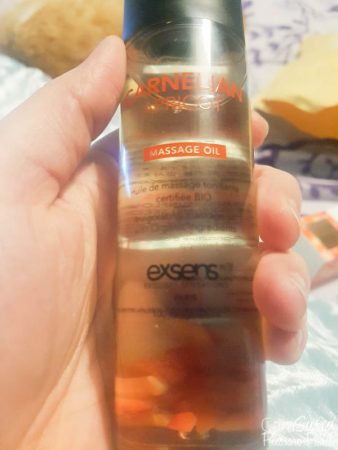 I love everything about this oil. The packaging really suits the product with its warmness, bright colours, gem stones and amazing smell. I literally cannot rave about the smell on this oil enough its absolutely incredible. The EXSENS Crystal Carnelian Apricot Massage Oil is definitely my favourite go-to massage oil from now on and seems worth the money for how far it goes!
10/10
– Fesure Maybe
---
Where To Buy
Thanks to Pleasure Panel reviewer FesureMaybe for this review of the EXSENS Crystal Carnelian Apricot Massage Oil.


The EXSENS Crystal Carnelian Apricot Massage Oil was sent free of charge, in exchange for a fair and honest review by the Pleasure Panel, by exsens-usa.com. Thank you! 🙂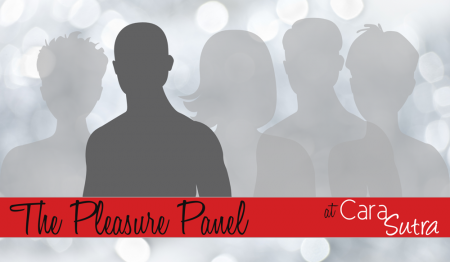 Unaffiliated