Thaddeus Black: The Devil Wears High Heels by Damien Dsoul Book Review
By Pleasure Panel reviewer Candy Snatch
Cara was kind enough to send me Thaddeus Black: The Devil Wears High Heels by Damien Dsoul to review for Pleasure Panel. I found I was left with conflicting feelings about this book, which I will attempt to explore in this review.
On reading the starting chapters of Thaddeus Black: The Devil Wears High Heels I was confused about the time it was set in. It has a very "noir" feel to it both in terms of description and plot. To me it felt like a story set in the 40's or 50's maybe. However, as the plot expands and starts to use modern technology I realise this can't be true. The names and descriptive passages give a dated feel to the plot and I wonder if that was the intent at the start of writing, with a change in direction later.
The basis of the plot itself is good. The story revolves around Thaddeus Black, a private detective who takes the case of a missing child from grieving widow Constance Loftus. As Thaddeus investigates what he first believes to be a spoilt rich kid running away he begins to unravel a complicated tale of sex and money.
Thaddeus himself is quite a likeable character, if a little rough around the edges. He makes a good contrast to the elegant and refined Constance. Throughout the story, Thaddeus regularly finds himself in highly charged sexual situations with every woman he encounters.
Although the sex scenes are hot and rough, it also featured a lot of sexual racially charged language. This left me feeling quite uncomfortable. Whilst I accept this is something a lot of people find exceptionally horny phrases such as "Hope you're loving that black dick" and "TEAR MY WHITE PUSSY UP!!" left me feeling a bit icky.
The description of the sex in Thaddeus Black: The Devil Wears High Heels is graphic and horny and although the dialogue left me feeling uneasy the descriptive text turned me on. It just felt unnecessary to mention the colour of his dick every time he got it out. There was a strong racial subtext to the entire story with frequent mentions of things "a black man" would do etc. This felt totally superfluous.
Whilst simultaneously fucking everything that moves Thaddeus begins to develop feelings for Constance, which is somewhat awkward after sleeping with her more open minded sister Hilda and leaving her with a promise to come back and fuck her in the arse.
During the story, Thad has sex with his secretary a couple of times, Hilda, His neighbour's wife, an escort provided for the night by his mate, two random women at a sex club and eventually Constance. It would have been refreshing if at least one woman had been used for more than simply pussy for Thaddeus to plough. Except for Constance and Hilda, the women are literally just there for the sex and rarely mentioned outside of that frame of reference.
I also have issues with the two main female characters. The sisters, Constance and Hilda have strong elements of Madonna and Whore syndrome. Constance the wife and mother, gentle and elegant, requiring protection to Hilda's carefree life of sex, excess and irresponsibility. I strongly dislike this kind of female stereotyping. It paints women as either/or which of course is quite absurd.
The text itself, in Thaddeus Black: The Devil Wears High Heels, lacks flow and feels jumbled. On more than one occasion it felt like there were missing words, which the reader then must insert to make sense of the sentence. This is a real shame because the basic story-line was a good, clever plot with a nice twist at the end.
Damien Dsoul feels conflicted as he writes, he is constantly changing his mind about direction and character emotions. For example, when Constance remarks after Thad makes her laugh "If you keep forcing me to laugh like this, it's not going to seem like I'm having a bad day anymore" Oh yes this is a completely normal reaction for someone who's 9-year-old son has gone missing the same day she buried her husband.
A bit of a flirt is good for the soul but good grief talk about diminish the situation. One minute Constance is beside herself with grief and worry and the next she's throwing her head back in uncontrollable flirty laughter.
The film noir feel is lovely and I wish Dsoul had stuck to his guns and removed the cell phone references and made this a period story. I also really would have liked to have seen more direction and purpose to the female characters other than simply being there for Thad to fuck.
There are several cuckold references through the story and I would have liked to have seen these explored more fully than a mere reference in passing.
I feel Thaddeus Black: The Devil Wears High Heels is a real wasted opportunity. It could have been a really cracking example of good erotica. Erotica with a decent plot and strong sexual content. Instead it feels badly written and painfully stereotypical. I was left disappointed even though I enjoyed the twist at the end, the actual writing let it down badly.
I would give Thaddeus Black: The Devil Wears High Heels by Damien Dsoul 4/10. This would have been lower had it not been for the sound plot.
– Candy Snatch
---
Where To Buy
Thanks to Pleasure Panel reviewer Candy Snatch for this review of the erotic book, Thaddeus Black: The Devil Wears High Heels by Damien Dsoul. You can buy it from Amazon for Kindle for £3.99.
Thaddeus Black: The Devil Wears High Heels was provided in e-book format. It was provided free of charge in exchange for a fair and honest review by the Pleasure Panel, by the author. Thank you! 🙂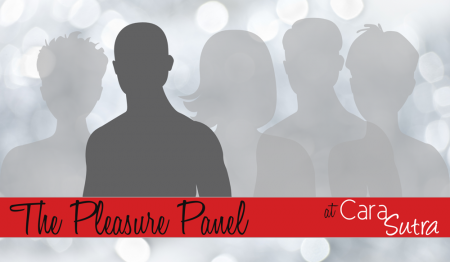 This review contains affiliate links.