Custom Chastity Ghost Chastity Cage Review
By Pleasure Panel reviewer Giles English
I'm sitting here typing this with a surgical nylon Custom Chastity Ghost Chastity Cage locked around my man-parts. It's been there continuously for 10 days. I've worn it more or less every night for months. I haven't had an orgasm for 4 weeks and have no prospect of one for at least another 2 weeks.
And it feels… great.
Yes, Male Chastity is an odd fetish to have.
We get turned on by not being able to come. The more turned on we are, the more desperate we are to come, the more turned on we are by being locked in chastity. It's like putting an electric guitar up against its amplifier; a Jimi Hendrix solo in your caged groin.
There's more to it than that.
Sometimes "chaste" feels like an orientation in its own right. Making love while in long-term chastity is addictive: The rising sense of panic makes everything as new and exciting as the First Time (cue Madonna "Like a Virgin"). Meanwhile, with no chance of an orgasm you surrender to the endless plateau phase. Unsurprisingly, few orgasms can compete with riding that wave of wild sensuality. Any "release" feels like an anti-climax, and private masturbation just feels depressing, so reinforcing the fetish.
Male chastity is also bound up with submission – either the fantasy or the reality. The male erection is a primal symbol of dominance and surrendering the ability to have one is about as submissive as it gets. (By the  way, the tail wags the dog; feeling that submissive makes it psychologically impossible to pull out the back of the device and get off.) An extra benefit is that a chastity device makes everything kinky.
The problem is finding a good male chastity device. There's always something wrong with them!
Cheap Ebay or Amazon chastity devices usually chafe and are made of materials you wouldn't necessarily want on your skin long term. Many of the more expensive ones still split or arrive with seams you need to file off. Concealment under clothes is usually an issue, and those designs that use padlocks are often intrusive.
That's why I was overjoyed when Lady Fox of Custom Chastity agreed to manufacture me a made-to-measure custom chastity cage based on her Ghost design. In exchange, all I had to do was provide an honest review. This is it.
Design Process & Delivery
We agreed on a custom design because – being circumcised – I wanted a slit at the tip so I could pee standing up. I'm also not quite a standard length when flaccid. The design process was fun. Custom Chastity send out disposable prototypes in cheaper resin. Due to my poor measuring, we went through two of those and a round of photographs before we had the shape nailed. Lady Fox was professional and positive throughout – it was not much different from dealing with a doctor.
The end product, the Custom Chastity Ghost Chastity Cage, arrived about a month later, discreetly packaged. Inside was a nice red bag – good choice of color to prevent e.g. leaving it in a hotel room – containing the customized starter set: three rings, a padlock, cable ties and seals, and some lubricant (which I didn't bother with).
Construction & Finish
The 3D-printed surgical nylon parts on the Custom Chastity Ghost Chastity Cage have no seams or blemishes, fit together with well-engineered precision and are practically indestructible; Lady Fox recently posted footage of her driving a car over a tube and the tube survived – so no worries about splitting or cracking!
The texture is best described as eggshell, meaning it's slightly rough to the touch. That's actually a good thing. It slides over unlubricated skin without sticking, and once in position stays put.
The end result is light. The whole lot including padlock weighs just 63 grammes. With a cable-tie instead, the Custom Chastity Ghost Chastity Cage weighs just 34g. No wonder it stays put even when I do naked star jumps! It has almost no momentum.
The black finish is matte and more sports equipment than fetish. It cures in transit through several climate zones, so you have to put it through the dishwasher or just give it a good wash before putting it on, which seems like a sensible precaution anyway.
Design
The design of the Custom Chastity Ghost Chastity Cage is elegantly ingenious.
A spur holds the padlock in place so it doesn't rattle. However, for 24/7 wear, you can replace the padlock with a cable tie – which you can snip – which greatly reduces the profile under clothes.
Two of its elements are boldly unfashionable but each turns out to be a good idea.
Simple circular base rings are almost last century! Oval and shaped is supposed to be where it's at. However, circular lets the scrotum lie naturally and – most important – enables you to close your legs because the ring sits neatly against the body where the thigh doesn't press on them.
There's also no rear projection beyond the base ring; no beak like on the Holy Trainer 2, and no tube extending like the variations on the Bird Cage. True, rear projections press into the pubis and give the illusion of security – you can still pull out, actually – however they also create odd hinge points so that moving around naked tends to lever your dick out of the tube enough that erections become uncomfortable. Not having the rear projection, the Custom Chastity Ghost Chastity Cage stays put no matter how you move – I can do naked star jumps!
The look is functional – Xena says she doesn't mind it, which is about as good as it gets.
Security
The surgical nylon is tough, stiff and virtually indestructible. There's no way to get your balls out of the Custom Chastity Ghost Chastity Cage without destroying it, and cutting through the material would be messy and time-consuming. So this device would definitely work as a tamper-evident anti-cheating device – if that's what you really wanted to use it for.
Like all ball trap devices, it's not masturbation-proof. I assume you can pull out the back – something I choose to be incapable of attempting – however it would require a specific effort. You're never going to absentmindedly "accidentally" free your dick from this device. It would have to be a decision you made, one that would be hard to hide from a dominant keyholder.
(Custom Chastity have a device for men with PA piercings (eek!), which look 100% secure.)
Wearing
My fully customised Custom Chastity Ghost Chastity Cage is so comfortable and practical to wear that it's sinister. Much to my wife Xena's amusement, there really seems to be no reason to take it off!
It's comfortable to sleep in, comfortable during "morning wood" – a real bane for most devices where the penis slips out a little overnight then, during the morning erection, pretty much tries to tear off your balls – and easy to pee in.
It doesn't get in the way or become displaced during Femdom "play". I can kneel, go on all fours, lie on my front for a whipping, or give a massage and it stays put.
That means that it passes the "sex toy" test. It's certainly fine for an evening of kink followed by a frustrated night of trying to sleep.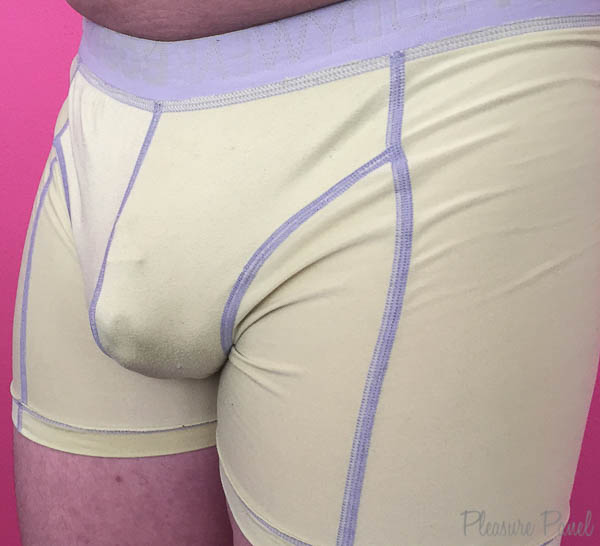 However, it's also practical for wearing 24/7/????, especially with the cable tie option.
The Custom Chastity Ghost Chastity Cage is invisible under clothing unless you already know it's there. Custom Chastity even swear that you can get through airport security while wearing it!
Peeing requires no special arrangements other than prodding through the bars to make sure you're lined up properly. That means you can use a public rest room, even – if you are careful – a urinal. There's no need to use bacteria-harbouring lubricant or lotion. The cage format makes it easy to shower and dry properly.
Finally, since it's made of surgical grade materials and doesn't chafe or snag the flesh, wearing it the tenth day is pretty much the same as wearing it the first day. The only caveat is that pre-existing chafing doesn't heal that well while you're locked in, so if you have skin damage from your old device, wait until it's healed before going for a long lock-up with a Custom Chastity one.
It's not clear what the endurance limit on this device is. I sleep every night in mine and have managed ten days straight with no problems other than a little pink mark that vanished within a few hours. An online friend of mine claims – plausibly – to have managed five weeks! (He's the one who agreed to provide the photos of what it looks like worn under underwear.) 
I find it's most comfortable in looser or stretch jeans, and I would feel a bit exposed in Speedo-style swimming shorts. However, while locked in my Custom Chastity Ghost Chastity Cage, I've taken part in sports, gone jogging, hiking, sat through meetings, attended a work party, done yoga, and socialized as normal. The only thing I can't do is get a full erection.
Once it's installed, it's like having a second skin or an exoskeleton and that makes it just a little bit scary…
You can see me wearing it on my blog.
Advice on Buying
Custom Chastity has only been around for about a year and – at the time of writing – the website shows it. Though it's now expanding to include more information on taking measurements, cage sizes still appear in alphabetical order rather than in order of ascending size, so be careful you pick the right one.
Take your measurements carefully!
Whatever the base ring size you choose, go for the starter set so you get one larger and one smaller, just in case. The surgical nylon is very unforgiving and has no wiggle room.
Base ring size determines the actual gap between tube and ring, so if in doubt, go for the 10mm gap. (I went for the smallest gap and so am stuck wearing the larger of the three rings I received.)
Finally, consider the custom option. Though it adds about a third onto the price, getting a prototype ensures that the final device fits properly. After all, you're buying something that potentially will become part of your body day in day out. That puts it in the same category as a pair of spectacles.
Final Words
The Custom Chastity devices are strong contenders in the third generation of male chastity devices made using the most modern materials and techniques. The Custom Chastity Ghost Chastity Cage is certainly the first device I've had which I could realistically imagine wearing 24/7/365.
That makes it a game changer in all sense of the word.
– Giles English
---
Thanks to Pleasure Panel reviewer Giles English for this contributed review of the Custom Chastity Ghost Chastity Cage (US $185, which at today's rates converts to approximately £127)
Useful Links
This review does not contain any affiliate links.