Coco De Mer 'Spoon Me' Silver Plated Coffee Spoon Review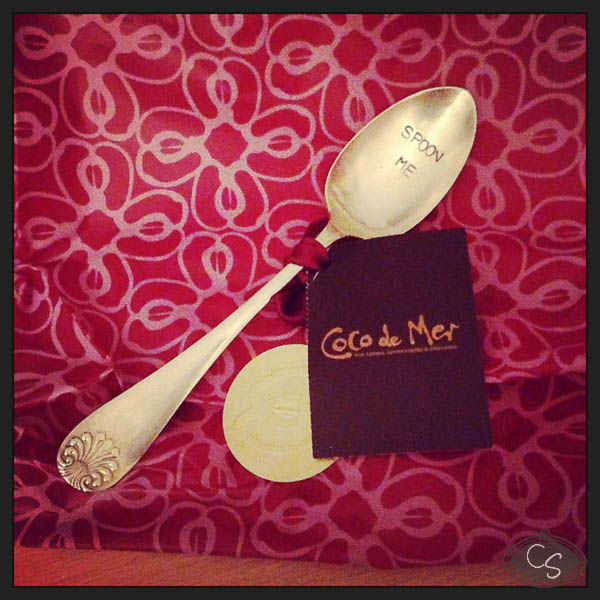 This exquisite Coco de Mer coffee spoon was a Christmas present from the raunch-fest that is Ruffled Sheets. It's my first Coco De Mer item, and what an appropriate one for me to begin with – I love coffee so much!
The spoon came wrapped in Coco De Mer tissue paper sealed with a sticker. The outer packaging ensured it was delivered safely and discreetly. Once unwrapped from the tissue, the spoon itself had a ribbon with a Coco De Mer card tag on, so there was no doubting which boutique it had arrived from.
As each spoon in the Coco De Mer spoon collection is hand stamped with lettering, they are all slightly different which adds to their appeal. This spoon says 'SPOON ME' in the concave area, which gives intimate connotations to the holder, as well as the dual meaning for coffee granules. The spoon is silver plated and your spoon may vary slightly from the illustration, which renders it even more special to the bearer.
I doubt I will ever swirl this spoon in a hot cup of coffee. It's simply too luxurious, a unique gift to be treasured. At the moment it is sat with my sex toys collection, an unusual place for it. I will be setting it in pride of place on my dressing table just as soon as I transform it from clothes horse to boudoir feature.
The Coco De Mer spoon is priced at £15 and you can choose from a variety of wordings in the curve. A thoughtful and luxurious gift for those who like their life like they like their coffee: hot, rich and top quality.
Gallery
– Cara Sutra