Cockolat Dark Chocolate Willies Box of 8 Review
Cockolat Dark Chocolate Willies review by Pleasure Panel reviewer PoisonHyvee
APPEARANCE
The Cockolat Dark Chocolate Willies come neatly packaged in a simple but elegant box. There is a thin black crepe paper sheet over the chocolates so it does feel more luxurious than a dollar store candy box. The chocolates are arranged to display them all but still use up all of the available space– one could say the box really is choc-full! If you can't tell already, my love for cheesy puns has emerged at the mention of "cockolat."
I love that this brand has a balance of elegant luxury-type presentation and a fun, ridiculous concept and name– a great metaphor for what sex can be! The chocolates themselves are not extremely phallic, but do bear a good resemblance to their namesake. The Cockolat Dark Chocolate Willies look like little cartoon dicks, which, depending on your mood, can be silly or sexy.
INGREDIENTS
These Cockolat Dark Chocolate Willies only have a few ingredients: cocoa mass, sugar, cocoa butter, and vanilla. The allergy warnings state that these may contain nuts or milk, so those with allergies or intolerances should be cautious.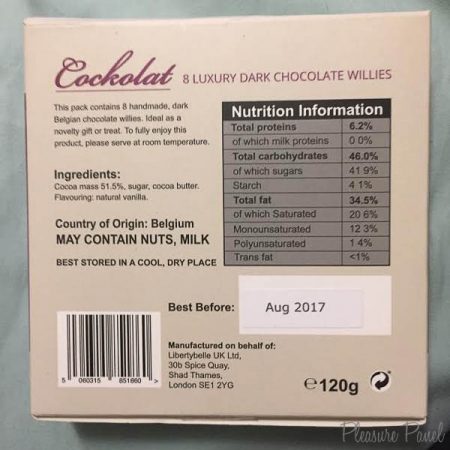 TASTE & TEXTURE
The taste of these Cockolat Dark Chocolate Willies really blew me away. I was not expecting them to be awesome, as I assumed their biggest point of attraction was their shape. However, they were a delicious dark flavor and they were, ahem, hard (i.e. not cheap, squishy texture that you sometimes get with novelty chocolates). I gave some to my roommates and they both agreed that these things are delicious! This is the one occurrence where I would not be offended if someone told me to "eat a bag of dicks."
SUMMARY
I really enjoyed reviewing these Cockolat Dark Chocolate Willies. They were fun to eat and to show my friends, and they tasted pretty good too! I would recommend this to anyone who likes chocolate, especially friends who are in a "dry spell"– it's a jab, but the fact that it's chocolate softens the blow. Couples may also like this to help them play with food or to add more laughter and fun to what so many people take too seriously. Even in a completely unrelated-to-sex situation, these do not disappoint, so if you like to keep a stash at your desk, these make a great choice. If dark chocolate isn't your thing, check out their milk chocolate willies and their white chocolate willies!
RATING
9/10
– PoisonHyvee
---
Thanks to Pleasure Panel reviewer PoisonHyvee for this review of the Cockolat Dark Chocolate Willies Box of 8. The Cockolat Willy Chocolates cost £6.99 a box from Clonezone.
The Cockolat Dark Chocolate Willies were sent free of charge, in exchange for a fair and honest review by the Pleasure Panel, by Clonezone. Thank you! 🙂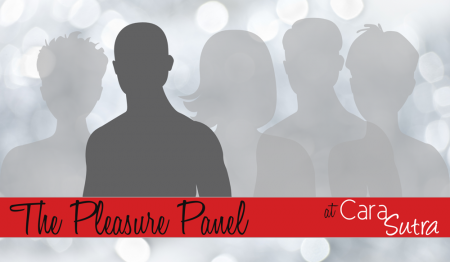 Contains affiliate links.