Cobeco Pharma Water-Based Body Lube Review
By Miss L
The Cobeco Pharma Water-Based Body Lube advertises itself as a water based lubricant suitable for body massages and any intimate use with the added bonus that it is perfectly fine to use in combination with latex condoms. I am always surprised that some are not compatible with latex, so this one seems like it is off to a good start.
Enjoy all our Cobeco Pharma reviews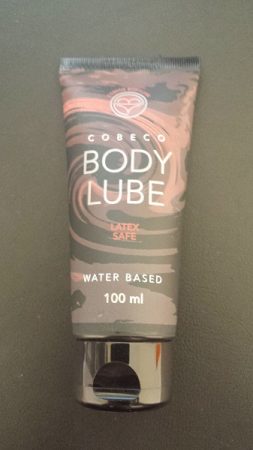 The bottle is stylish and that what you would expect of a high quality product and is clearly and simply labelled with all of the basic information you would need to know for purchasing.
The design of the Cobeco Pharma Water-Based Body Lube tube is a squeezy bottle with a flip lid and I am guessing that the manufacturer has kept in mind that the product has to be easy to handle in a variety of situations, however, when I first tried it, I felt let down.
First of all my partner and I decided to try it out for body massage.
When your hands are dry, it is simple to hold and flip open the lid, to get some on your free hand and to then apply it to your partners back for massage, however, closing the bottle is another thing entirely!
The lid is so tight (even after about 30 cycles of opening and closing) that it is impossible to do so one handed or even against your thigh with one hand. We initially tried just to sit the bottle down onto the nearest surface but the lube just leaked out of the bottle and started going everywhere.
Ease of use for packaging = 2/10.
The first thing you notice when you put the Cobeco Pharma Water-Based Body Lube into your hand is the consistency. It is more fluid and thinner than other lubes I have encountered before, it is colourless and it is actually odourless!
Initially when the lube was spread across the skin it was silky and did not feel sticky or tacky in any way at all like you can get with some other lubes, it felt pleasant for both of us.
Unsure exactly how far the lube would spread, I had initially used only a small amount and quickly realised I needed more (queue the bottle closing saga again).
After less than five minutes of massaging my partners upper back and about 1/4 of the bottle later, the lube started really drying out, it got sticky and stopped feeling good at all.
I was quite disappointed as the initial feeling was amazing!
Overall, for body massage, if the initial feeling and fluidity had been consistent I would have given it 10/10 but with the way it dried out so quickly I would give it 5/10 for body massage.
Alternatively, when testing the Cobeco Pharma Water-Based Body Lube for intimate use it was totally different!
The lube stayed fluid, did not seem to go tacky or sticky at all and with it being latex friendly and water based, it meant that it could be versatile and used with a variety of toys!
Again, the only issue here is the flip lid and how difficult it is to close once opened.
One more thing I should mention is that some lube takes far too long to heat up, but this lube heated up instantly in my hands and did not feel cold to the touch at all making the overall experiences more pleasing.
In summary, I would recommend this product for intimate use however not for the use of body massage which is quite a let down as that is the main selling point of the product.
– Miss L
---
Thanks to Pleasure Panel reviewer Miss L for this review of the Cobeco Pharma Water-Based Body Lube.
This product was provided free of charge, in exchange for a fair and honest review by the Cara Sutra team.
This review contains affiliate links