Butt Plug Expert Red and Black Fox Tail Plug Review (Medium Size)
This beautiful Red And Black Fox Tail Plug was sent to me from Butt Plug Expert for the purposes of a fair & honest review here at the Cara Sutra sex blog – thanks so much!
Shop tail butt plugs:
Enjoy all our butt plug reviews
Packaging & First Impressions
The Red And Black Fox Tail Plug comes in a very discreet and sturdy outer box for transit & delivery, while the tail plug itself is simply in a transparent plastic wrapper which is easily disposed of. I'm not the type to store my tail plugs in storage pouches in any case, so didn't miss it with this toy; the tails I own are simply too gorgeous to be wrapped up in a little bag and shut away in a drawer.


Fox Tail
Fluffing out the tail and running my fingers through the faux fur it struck me how similar the colours are to my hair colours preference. I know, red and black, duh, but the actual shades. Reds in particular can differ wildly, so it was fantastic to feel such an instant connection with this toy. So on brand!
The black on the outside of the tail part of the plug shows hints of the red through it, then as you run your fingers through the faux fur you can see the red more dramatically beneath. Swishing the tail shows the red flashes between the black too.
Butt Plug
As for the plug part of the Red And Black Fox Tail Plug – it's shiny, made of metal and is pretty much your standard small to medium size metal butt plug. It's very similar to the plug part of my Loving Joy Rainbow Tail that I reviewed recently.
All in all, I really liked this tail plug immediately.
Size
The medium size of the Red And Black Fox Tail Plug measures 17 inches in overall length, with 3.25 inches of that being the insertable plug. As for the insertable plug, it's just shy of 3 inches insertable, with a maximum circumference of 4.25 inches.
This plug is also available in small or large.
Video
https://www.instagram.com/p/BmdbGIvFj9T/
During Use
As this is an anal toy, I used lubricant each time when inserting the plug. The Red And Black Fox Tail Plug has a metal insertable bulb, meaning you can use your choice of lube with it, but I prefer water based as I find it the most comfortable.
The first time I used my Red And Black Fox Tail Plug I did so alone, just to make sure that firstly I could take it (although I was fairly sure it would be no problem, having plenty of anal plugs around the same size) and that there were no other issues. As I thought, the plug slid in with ease due to the dots of water-based lube I'd prepared both myself and the plug with, and I felt that familiar thrill of my body enveloping the tapered shape of the cool, smooth metal.
Once inside, I could hardly wait to see how the bushy tail of the Red And Black Fox Tail Plug looked, now it was in the correct place and not simply being twirled in my hands. It's a beautiful plug – so bushy, not flat or otherwise disappointingly slim in the tail area. The end tapers off realistically to a bright red tip, and you'd be forgiven for thinking this is a real animal/fur tail upon first glance. Feeling the tail tells you straight away that this is faux fur; it's soft, but it's not real fur. Thankfully!
I really admired the look of the Red And Black Fox Tail Plug as it was positioned inside me, and combined with the feel of the plug filling my arse it was just an exceptionally pleasurable experience. Too good to keep all to myself. During further playtimes with this tail plug I shared the fun with my partner, who adores the look of tail plugs in me at any time – and especially when they're as gorgeous as this one. He was amused, as I was, that the colours are just perfect for me.
The tail seems really well fixed to the base of the insertable plug – not merely glued, but with an area at the centre of the bushy tail part which is screwed into or otherwise firmly attached to the plug's base. It gives me full confidence that the tail won't be coming off in a hurry, even when pulled on playfully by my partner during our kinky pleasure sessions.
Summary
This Red And Black Fox Tail Plug is absolutely adorable. Gorgeous, in red and black, with darker outside tones and easily revealed inner bright red tones, the bushy tail is certain to catch the eye of the more discerning furry fetishist – and their lucky play partner.
Despite not identifying solely as a furry fetish type myself, I still have a soft spot for tail plugs (as it were!) and this one seems made for me. The black and red colours which suit me so well, but also the comfortable size of the insertable plug, which is made from cool metal and which quickly warms to your body temperature upon insertion.
I'd recommend this Red And Black Fox Tail Plug to those looking not only for something a little different to add to their sexy toybox, but something beautiful, too. It's so aesthetically pleasing – make sure you have a mirror handy whilst you play so you can enjoy every swish!
Buy Your Red And Black Fox Tail Plug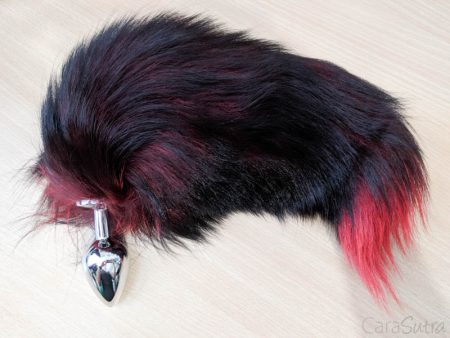 After my comments above, you'd be forgiven for thinking that the Red And Black Fox Tail Plug is going to cost a small fortune. Not the case.
Buy Yours
Fancy owning your own tail plug? Shop various butt plug tails through the links below:
Thanks so much once again to Butt Plug Expert for sending me the Red And Black Fox Tail Plug for a fair and honest review.
February 2020 update -since writing this review, the original website who sent the product has closed therefore their links have been removed


Sponsored review