Ann Summers Rose Gold Nipple Clamps Review
By Pleasure Panel reviewer DivaFoof
Review of the Ann Summers Rose Gold Nipple Clamps (available here from annsummers.com)
"Experience electrifying new sensations with these beautiful rose gold nipple clamps. Fully adjustable to let you select your preferred pressure, nipple clamps keep your nipples hard and sensitive and create a kinky bondage look."
For a long time I've been really into nipple play. I've had clothes pegs attached to my nipples and they were fun so naturally I thought; Oh… I must like nipple clamps but I didn't know where to start so naturally whilst stood in Ann Summers they caught my eye.
Originally the Ann Summers Rose Gold Nipple Clamps packaging came in a plastic much like this clit clamp:
Which made it look quite cheap; however, I think they've realised this now, as they've given the Ann Summers Rose Gold Nipple Clamps packaging a complete overhaul and it now looks like this: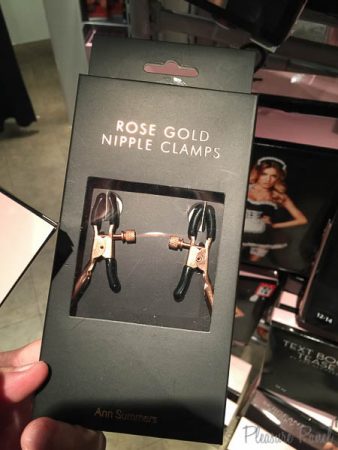 For Valentine's day I bought these for my Master to use on me (I know I'm so romantic!).  After all who wants to run out of hands?! They've been used a handful of times and sadly, the rose gold plate is starting to now go green and looks like they may have to be replaced pretty soon. They are only 7 months old.
Going on the green erosive plating, it looks like the Ann Summers Rose Gold Nipple Clamps need to be kept dry and away from any lubes or other toys.  So if you have a box of magic tricks, then you need a pot or something to put them in, not just store them with anything.   The packaging doesn't have this warning, there's nothing in the packaging that would suggest this would be a problem.
The pressure on the nipple actually isn't that tight when the cog is fully unwound. So these would be great for a starter in nipple play just to get the idea. When you wind the cog in, the clamp opens up.   Perhaps also good for sensitive nipples.  The clamp opens relatively wide but I'm not sure it's for anyone who has large nipples.
The chain on your skin gives a nice feeling and they do look great on but it feels more like they are for show than for pleasure.  So, they are great for sending teasing selfies to your partner.  The chain is roughly just over 30cm.
The Ann Summers Rose Gold Nipple Clamps were £10 and with Ann Summers I got student discount, so I'm not feeling particularly bruised by the cost and would recommend them if you just want to start trying it out before investing in anything else, though a clothes peg will give you more pressure than these ever will.
Enjoyable and 'does the job' but perhaps only for a starter.
4/10
– DivaFoof
---
Thanks to Pleasure Panel reviewer DivaFoof for this contributed review of the Ann Summers Rose Gold Nipple Clamps (£10 from annsummers.com)
Useful Links
This review contains affiliate links.