Ann Summers Buzz Fresh Wipes Review (30-Pack)
By Pleasure Panel reviewer BarginHunta
Ann Summers Buzz Fresh Wipes review: Handily packaged wipes that are suitable for you and your toys!
Packaging
These Ann Summers Buzz Fresh Wipes are packaged in a cardboard outer box. The box is black in colour and has a soft sheen to the surface, with the product name in simple soft pink text on the front.
The rear of the box contains some simple directions for use, advice to perform a sensitivity test and a (short) list of ingredients.
Ingredients
For those interested, the Ann Summers Buzz Fresh Wipes ingredients are listed as being:
Aqua
Cetrimide
Phenoxyethanol
Parfum
This roughly 'translates' to; water, antiseptic, antibacterial, and a fragrance.
Of these, if you are going to be allergic to anything, it is most likely to be the Phenoxyethanol, but you are probably already aware of this if that is the case.
Either way, as the packaging recommends, perform a sensitivity test on your arm before using the wipes anywhere too personal just to be on the safe side!
Sachets
Inside the Ann Summers Buzz Fresh Wipes box you find the individual sachets of wipes, or "towelettes" as they are referred to on the box.
The sachets follow the same packaging style as the main box being black with the soft sheen and subtle writing, and largely repeat the same information that is present on the outer box, which means you don't have to keep the box just to have the information to hand.
The sachets measure approximately 6cm x 8cm so can easily be stashed in a pocket, wallet, or handbag if required.
Opening the sachet itself is very easy thanks to a small notch cut-out near the top. I think that the material of the sachet helps a lot here too, as these aren't plastic-foil like condom wrappers, nor plastic-paper like some wipe packets can be.
Wipes / Towlettes
The Ann Summers Buzz Fresh Wipes themselves are easily unfolded once removed from the sachet and are of a decent size measuring approximately 20cm x 14cm.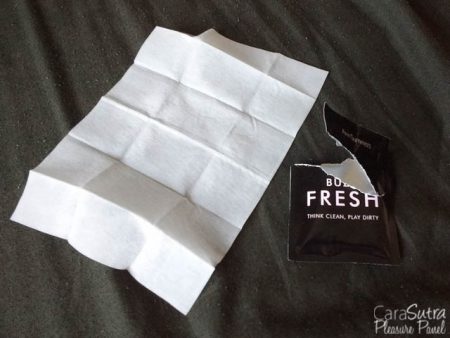 We found the wipes to be perfectly moist; wet enough to be useful for cleaning, but not so much that they just ended up leaving everything else wet.
In our use we found one wipe was sufficient to clean either a dildo or vibrator, as well as to have a 'freshen up' yourself if you wish.
Usage
When using the Ann Summers Buzz Fresh Wipes on my body (having previously performed a sensitivity test!) I found them to be refreshing and light and perfectly suited to the job. Equally when I used them to clean a silicone vibrator the wipe did an excellent job of thoroughly cleaning the toy, and any residual damp from the wipe evaporated after a few seconds.
Summary
Having previously always resorted to heading to the bathroom, toys in hand, to use a sink of water & toy cleaning spray we were interested to see how these Ann Summers Buzz Fresh Wipes would perform.
We are pleased to say that we were more than happy with them in all regards, from the packaging, ease of opening and use, to, of course, the cleaning performance. These are much more convenient than a cleaning spray, lending themselves well to situations where you may not have a bathroom close at hand.
We were also pleasantly surprised at the price point of these (approximately 25p each in this case), especially coming from a well-known high-street brand. We would normally have expected these to be more expensive, and as such would not have considered them, instead sticking to our usual cleaning sprays. However now the Ann Summers Buzz Fresh Wipes have become a firm bedroom drawer favourite and we are sure to be restocking once these run low.
Overall rating 10/10
– BarginHunta
---
Where To Buy
Thanks to Pleasure Panel reviewer BarginHunta for this review of the Ann Summers Buzz Fresh Wipes (30-Pack). You can buy them from Ann Summers for £8.
These wipes have Ann Summers product code 74073. 
The Ann Summers Buzz Fresh Wipes were sent free of charge, in exchange for a fair and honest review by the Pleasure Panel, by Ann Summers. Thank you! 🙂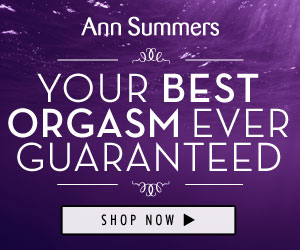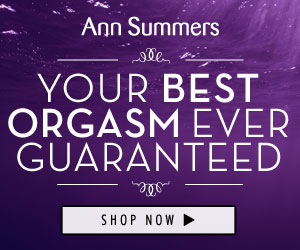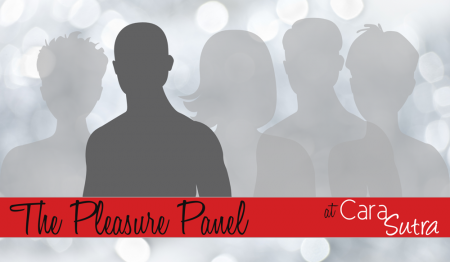 This review contains affiliate links.