Always Leave Them Wanting More, by Hannah Lockhardt – Erotic Book Review
By Pleasure Panel reviewer Kerrie Lacey
Always Leave Them Wanting More by Hannah Lockhardt follows the raunch and romance of Siobhan, a student who is trying to make her way in the world of comedy and Ritchie, a time served comedian and one of the owners of a comedy club where Siobhan performs.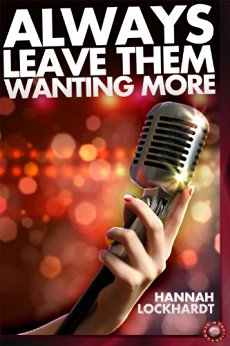 On night, after a raucous set by Siobhan – raucous for all the wrong reasons, Ritchie takes her aside for a pep talk. As this is described as erotica you can imagine what happens next.
This leads to romance, despite their differences in age and experience. Siobhan pushes herself and their relationship as she learns more about Ritchie's likes and her own fantasies.
There are some comedic moments, such as Ritchie meeting her parents in a state of undress and some fantasy provoking moments such as them being caught 'at it' by a fellow comedian.
The book culminates in them playing out an encounter neither had expected.
I liked the book, it was what I describe as visually well written, in other words I could see those involved, imagine the scenes as they play out and in that way it kept my interest throughout.
However the sex scenes weren't what I would call 'Minnie Moistening'
When I read erotica – and this is just my taste – I like something darker and more edgy. The sex didn't make me wet descriptively, the sex was pleasant but not enough to make me want to text my man and talk dirty to him.
I would call this an erotic romance but having said that it was still a good read and would be something to settle down with a coffee (or your favourite tipple) and read when you just want to chill. It could be read in one sitting, as it is just 57 pages long in a Kindle edition.
I liked the book but for me if I was looking for something to moisten my minnie, this probably wouldn't be it. Saying that, it was still enjoyable and I wouldn't overlook anything else by the author, as I like her way of telling a story.
I would give Always Leave Them Wanting More a solid 7/10.
The book was supplied to me free of charge in return for an honest and unbiased review – I would like to thank the author for the opportunity to read the book and for Cara Sutra for passing this to me.
Always Leave Them Wanting More is available on Amazon in a Kindle Edition for £2.32 at the time of writing this review.
– Kerrie Lacey
---
Thanks to Pleasure Panel reviewer Kerrie Lacey for this review of the erotic book Always Leave Them Wanting More, by Hannah Lockhardt (£2.32 for the e-book version from Amazon)
This erotic e-book was provided free of charge, in exchange for a fair and honest review by the Pleasure Panel, by the author, Hannah Lockhardt. Thank you! 🙂
Useful Links
This review contains affiliate links.