A Slice of Sin Vol 1 by Cherry Wild & Sophia Soror Review
By Pleasure Panel reviewer Lily Palmer
Erotica is one of the most difficult genres to write, in my opinion anyway. Erotic short stories are even trickier. Imagine having to write a background story, fully developed characters and a sex scene that is arousing to most of your readers. Imagine trying to write about the most universally shared experience (sex) without falling into the trap of clichés, awkward metaphors and, worst of all, without inducing boredom, all of this over the course of a few pages only.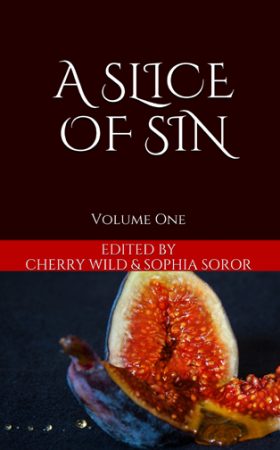 A Slice of Sin is an anthology of short stories written by 13 different authors and edited by Cherry Wild and Sophia Soror. The title might make you believe that there is a biblical theme throughout all those stories, but it isn't the case (well, maybe for one of them). All stories deal with very different themes, different individuals, and for some of them, different cultures.
The A Slice of Sin anthology starts with "The Stand In" by Chase Morgan. The story of a couple exploring their fantasies and the power of imagination was the perfect way to start my reading.
"Tonight is for You" by Autumn Tooley seemed a bit more tame in comparison. It did read like one of those many erotic novels we have all read too often. When everything sounds almost too perfect, it starts resembling one of those romance novels, and I just end up detaching myself from the protagonists.
"After Hours" by Morrigan Cox was absolutely fantastic. Everything was perfect. I absolutely recommend it. The story of Peggy and Rose will make you want to work overtime. I hope to read more of this author, and I was a bit sad that their adventure ended so quickly (I really want to know what happens next!!!).
"Venus Flirting with Jupiter on the Backside of the Crescent Moon" by Parker Lee was short and ethereal, like one of those dreams you remember for just a second as you wake up and forget just as quickly.
"The Great Canadian Beaver-Eating Contest" by Leah Muller had such a great title, but it ended up being disappointing. It just reminded me of the bad casual sex from my 20's. I'm not sure I wanted to revisit that.
"Ink" by Sophia Soror was confusing for me because I'm not sure if I liked the beginning (I find phrases such as "you enrapture me" clumsy and awkward) but I absolutely loved the last two pages. The novel is five pages long. So many conflicting emotions in such a short time.
"Intro to Religion at the Genial Wort" by Paul Henry is absolutely fantastic too. It is probably one of the stories with the least sex in it, but it is witty and its characters are memorable. Make sure to have a beer ready because this story will make you thirsty.
"The Bakery Boy" by Alegra Verde is probably my favourite story out of the whole anthology. I really liked the fact that Mina, the main protagonist, is Hispanic; it is a nice refreshing change from the overwhelmingly Caucasian anonymous women featured in erotic novels. But I liked her assertiveness and her relatability even more. The story is quite sweet too. Again, I would quite like to read more stories about her.
"Etching" by Cherry Wild was another story about a woman who knows she looks good (am I the only one who instantly starts hating protagonists who know they look good, wear dresses that leave nothing to the imagination and so on?). The story was quite forgettable in comparison to the rest.
"Party Girl" by Rachael Knight is the story about a girl at a party. Again, this story was quite forgettable, and the writing put me off a bit.
"Enemy Exchange" by Lynn Lake was an unexpected change of tone, and, I assume, not historically accurate. I am still unsure about this one.
"A little Night Magic" by Aiden McKenna is a gem. It brought back memories of that time me and my boyfriend slept outside the holiday home we had rented by the sea because it was so warm and had sex under the shooting stars. It was one of those perfect nights; and it is one of those perfect short stories.
"Saga of the Sailmaker's Widow" by Michael Bracken will bring you back to the time of the Vikings. I like bold choices, and it paid out. I would definitely recommend reading this, especially if you are a fan of the TV show "Vikings". This story is quite humorous too.
The beauty about anthologies is that there is something for everyone, and I found more than my fair share in A Slice of Sin. I do believe that some readers will love some of stories I liked the least and will hate some of my favourite; and I have to appreciate the sheer variety of styles and themes in this book (only one story featuring lesbians and no male gay couples though?). I know I am definitely going to look up some of the authors and try to find some of their other work. I hope you will too.
7/10
– Lily Palmer
---
Thanks to Pleasure Panel reviewer Lily Palmer for this review of the A Slice of Sin Vol 1 edited by Cherry Wild & Sophia Soror (£6.73 paperback; e-book also available)
This e-book was provided free of charge, in exchange for a fair and honest review by the Pleasure Panel, by the editors. Thank you!
Useful Links
This review contains affiliate links.