By JM88: When I saw something that could be used with my partner I jumped at the chance to test the Rimba Leather Spanking Paddle (available from AmazingO.co.uk) out. Thank you to the Pleasure Panel for this painful opportunity!

By sum sub: here's a lot to like about the Rimba Wooden Ball Gag with Adjustable Leather Strap. Firstly is the simplicity in design; a lovely matt black leather strap with a no nonsense wooden ball gag and simple what I assume are stainless steel fastenings and rivets.

This review is for the Rimba Deluxe Leather Wristcuffs and, just as with the other items, I was not disappointed. Rimba is definitely one of my favourite fetish gear brands now! I want to collect it all. First impressions: the black and red contrast of the cuffs was very stark, as I'd hoped. Bright blood red and midnight black, with the glint of metal finishings. The Rimba Deluxe Leather Wristcuffs come in similar packaging to the other Rimba items I now own – Rimba labelled backing card with the item inside some cellophane wrap around the whole piece.

Shall I compare thee to a summer's day? Well no, quite frankly – after the summer we've had it wouldn't be saying much. What I will compare this item to, is opening a mystery package to discover a brand new pair of Pleaser heels, or finally popping open that bottle of Prosecco on a Friday afternoon, or stepping into a luxury hotel suite at the start of a gloriously long and soon-to-be-filthy bank holiday weekend.

Collars have long been seen as the symbol of submission. Although worn by others as well – Dominants, goths, alternative types – that is usually for fashion rather than BDSM reasons. A collar around the neck of a male or female submissive is an instantly recognisable and prominent symbol of their submissive orientation in the world of BDSM.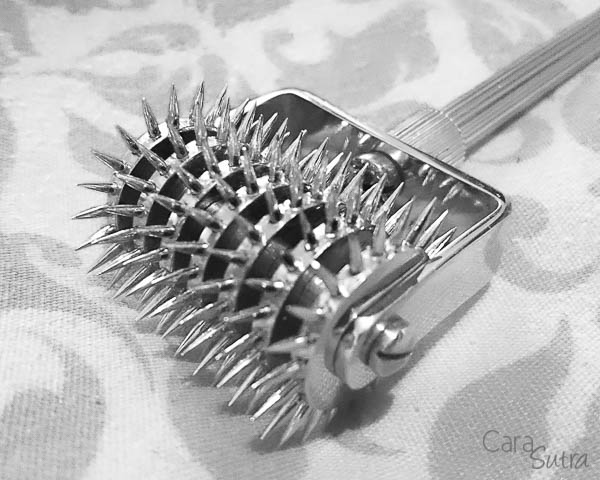 Ever since I was introduced to the pleasure of spiky vampire gloves, I've been addicted to BDSM sensation tools which cause that seductive prickle all over your skin. Mimicking the same sensation that occurs when you get goosebumps, whether it's down my spine, over my thighs or elsewhere, sends me straight into high physical alert and arousal mode.