Pjur

This makes the Pjur Woman Silicone Lube entirely friendly for the pH of a woman's vagina, as well as rendering it irritation-free for her choice of sexual pleasure. It's great to use with non-porous, non-silicone sex toys, such as those made from glass, stone, ceramic or other hard materials. It's also a great go-to lube for anal sex - although of course, a specialised anal lube is always preferable there.

The Pjur Med After Shave Calming and Moisturizing Spray is alcohol and perfume free to lessen any chance of irritation on newly shaved skin. it doesn't have any scent and it states there's no taste to it either, although it's not edible (shock!) so I didn't taste it myself. This spray can be used by men and women, wherever you wish, even for intimate shaving areas.

Pjur have formulated a special latex and rubber shine spray which is easy to use and comes in a large size bottle. The Pjur Cult Ultra Shine Latex Shiner Spray is easy to dispense on to your latex and rubber items, simply squeeze the trigger once opening the nozzle, which is very similar to household cleaning fluid bottles.

All Pjur products are free from parabens and perfume. They are condom compatible and dermatologically tested, but only the silicone products are free from glycerine and the silicone-based and this Pjur Woman Nude are also free from glycerine and preservatives.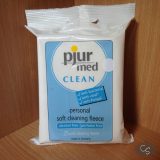 These Pjur Med Clean Intimate Cleaning Wipes can be used for all your sexual and intimate needs: a quick freshen up before sex, to clean up after sex, to wipe down your sex toys, mop up lube spillages, to cleanse a sticky lube or massage oil bottle... or if you're me, you can mop up coffee spills on the desk with them too. Oopsy.

This lubricant isn't as tingling in its effects as the Ultimate Lube from the Ultimate Range, it's more of a gentle cooling. So if you find your usual cooling lubricants a bit overpowering for you, try out Pjur Cool as you're in for a treat.

Pjur Woman Toy Lube is thicker than the standard water-based Pjur sex lubricants, and in fact lots of the standard sex lubricants I've tried previously, whether water based or silicone. I've found plenty of water based lubricants which are clear in consistency and much runnier that this.

I received the Pjur Original Bodyglide Silicone Lube as one of the mountain of Pjur lubricants and bedroom essentials sent to me recently free of charge, in exchange for my fair and honest reviews. Pjur is a genuinely well-made brand of sex lubricants. Not only do I personally like the collection, Pjur has won industry acclaim from their peers with a variety of awards.