Je Joue

The Je Joue Ami Silicone Kegel Balls Training Set is designed to help you be able to tighten that pelvis floor with little balls that are made with different weights. The tighter you get the heavier the weight you move on too.

For me, the Je Joue Mimi Vibrator delivers best when used as a clitoral stimulator, and with the addition of some water-based lubricant. Without the lube the silicone material feels too chafing and draggy over such a sensitive area of my body. The lubricant does seem to heighten the sensations from the vibrations, which are incredibly powerful on top level constant but which still take me longer to orgasm with than my Doxy Wand.

Taking the Je Joue Uma G-Spot Vibrator out of the box I was delighted with how elegant and shapely it was. The centre of the shaft is quite slim – not enough to make the toy fragile, just enough to give the impression of an effortless and sublime insertion even through that first glance. The base seemed flatly rounded enough to provide good grip for use as a handle, while the head was nicely angled upwards and bulbous – promising exciting G-spot stimulation.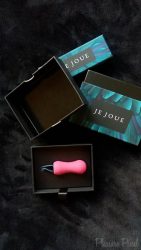 I would recommend the Ami+ to anyone looking to challenge their secret body-building game and step up to an advanced level of pelvic floor training – as long as they are suitably experienced first! Although I have never used the original Ami kit, I would recommend it or any other set with a similar weight range as a precursor to this particular product.

So how does it perform? Well for a toy this small I was pleasantly surprised, it isn't the most powerful of vibrators but I would give it an eight out of ten, there is certainly enough power to get me off. The sensations are centred at the tip of the toy as you would expect and in use it delivers deep and rumbly vibrations. I love these sort of sensations so found it really good to use.

When I heard Je Joue were bringing out some new sex toys I was so happy. When I found out what the new sex toys were, I was even happier. The Pick n Mix style Ooh by Je Joue sex toys. Who doesn't love pick 'n' mix?

Scrolling side to side for the movements and quick-tapping up and down for the vibrations, I have tested the Sasi by Je Joue. The motions of the ball under the flexible silicone is actually a lot more arousing and stimulating than the bead in the LELO ORA oral sex simulator. It sticks out from the sex toy more, and the Je Joue Sasi is far more (ahem) ergonomic for clitoral stimulation. Sorry, LELO.