Sexy Lingerie Guide: Choosing Comfortable And Seductive Nightwear
Ready to inject some passion & glamour into your lingerie collection? When you're in the market for new, breathtaking lingerie, it can be difficult to know exactly what to spend your money on. Which sets will boost your confidence to sky-high levels and be comfortable to wear? What's the difference between a bustier and a corset, a babydoll and a chemise? In this sexy lingerie guide I'll share specifics of the main styles and how to go about choosing comfortable and seductive nightwear. There are even some top brand recommendations for sizzling up your elegant & erotic lingerie drawer at budget-friendly prices.
Shop Sexy Lingerie: USA | United Kingdom | Europe
Canada | Australia | New Zealand
Avoid Bra Discomfort: How To Measure Your Breasts Properly
If you're looking at buying sexy lingerie which needs a precise fit over and around your breasts, then it's a good idea to know your exact bra size. That said, not all lingerie (underwired or otherwise) is sold by cup/band size, but it's a good place to start.
For a full explanation of how to determine your exact size, see our helpful bra fitting guide.
Look at the bra that you currently have on. Does it fit properly and do you feel supported? Are your breasts properly encased, and is it comfortable? Looking at statistics, chances are that you aren't currently wearing a bra that fits properly. A well fitted bra will totally change your shape and posture, leaving you with a beautiful silhouette and feeling like a million dollars. It can also help to alleviate shoulder and back pain, giving you a whole new lease of life.
Dress For YOU
At this juncture I must mention a change of heart. Well, more of an enlightenment. I used to subscribe to advice provided by women's glossy magazines, looking to them and similar media to form my opinions on women's issues and lifestyle.
Being a bottom-heavy hourglass shape, what 'they' would describe as a pear shape (smaller boobs, larger hips and bum), I was always eager to know how 'best' to flatter my shape with the clothes I wear. It's the sort of thing these magazines and media love to tell women (in particular); that whatever you're doing is utterly wrong and you need to be doing it this way, or that your unique look and body is wrong and it needs either hiding or changing up immediately.
One thing you can be certain of at all times is that you're doing something wrong… enter a random magazine columnist to fix that right up for you (& bag you the man of your dreams!)
To my shame, I even have similar sorts of articles right here on my blog – you'll be able to find all sorts of rubbish on here if you dig back far enough, I've had this blog for over 10 years. There's a guest post about how to buy lingerie for your body shape, which I now feel is misguided at best and actively insulting at worst. I'm sorry.
I am always trying to do better, as I learn through the years.
I don't believe you should feel limited to only certain types of lingerie or other clothing if you have a particular body shape. It's unlikely that all women/people will fall into a handful of body shape categories anyway -we're all beautifully unique. I do believe that you should feel free to dress in whatever makes you feel happy, confident, attractive (if that's a priority for you). The person who knows your body best is you, not some magazine or sex blog.
What Are The Main Types Of Sexy Lingerie?
Everyday Wear
Bras & Bottoms  
The standard, everyday lingerie is to wear a bra with some kind of 'bottoms' – which could be anything from full-back knickers to a barely-there G-string, depending on your preference. Bras and briefs are often sold separately, meaning that people can choose whether to wear a 'matching set' or mix and match on a daily basis.
Whether you're a matcher or a mixer, it feels good to spoil yourself by purchasing a luxurious bra set every now and then. You might have a special occasion coming up – a date night or an event where you'd appreciate the extra confidence boost. Or perhaps you'd just like to treat yourself to an elegant bra set because you darn well deserve it!
Pictured: Cecile bra set with thong from annsummers.com
Comfortable & Flowing Lingerie
Lingerie designed with flowing material rather than boning or other structuring is extremely comfortable to wear, as well as dazzlingly sexy. If comfort and the freedom to move around in your lingerie is as much a priority as the aesthetic wow factor, these styles are perfect. Pick one of the following non-restrictive options to take you from early seductive moments all the way through to a refreshing night's sleep after playtime has ended.
Chemises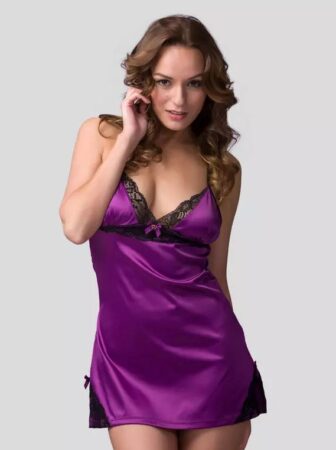 Chemises are a loose-fitting type of lingerie which look almost like a mini dress, but clearly meant for wearing in bedroom or other seductive locations. They're extremely slinky, made from comfortable materials to show off your waist yet flow over the hips for a flattering, easy to wear lingerie option.
Babydolls 
There are two types of babydoll: a standard babydoll where the material is complete over the tummy area, and an open-fronted babydoll where the material is split at the front and/or the back, which reveals your waist/tummy/bum during wear. Babydolls have fitted cups for the bust, then flare out from under the breasts to provide a shapely, comfortable and flattering style of lingerie.
Pictured: Lovehoney Unwrap Me Red Lace Babydoll
Teddys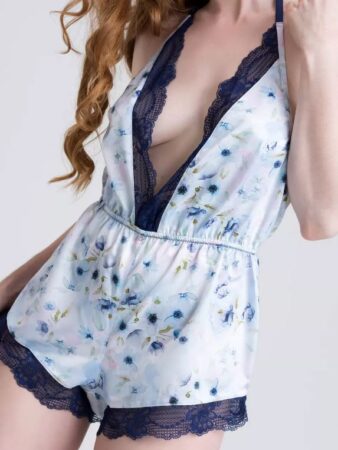 A teddy, in sexy lingerie terms, is an article of clothing which covers the bust, tummy and crotch all in one. They're easy to wear, flattering and comfortable, while making the most of your figure. Some teddies are cut high on the leg in panties style (similar to a loose-fitting 'body' type of lingerie), some are more of a camisole and shorts set in one. For easy access during foreplay and sex (or alternately for bathroom access!) look for a teddy with popper fastening at the crotch instead of that area being completely sewn.
Pictured: Lovehoney Watercolour Blue Lace and Floral Satin Teddy
Camisole Sets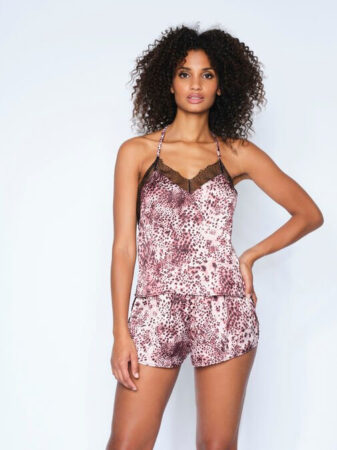 A camisole is a sleeveless, lightweight top with slim, 'spaghetti' straps. Camisole sets are comprised of a camisole top and flirty, floaty shorts. This provides you with an easy and comfortable to wear lingerie option to take you from seduction all the way through to waking refreshed after a great night's sleep.
Pictured: Ann Summers The Precious Cami
Bodies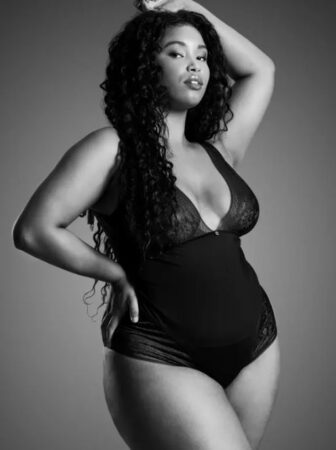 As mentioned previously, some teddies can look similar to a lingerie body, but bodies are usually much more form-fitting in style. A body is usually similar in shape to a swimsuit, and the straps can be spaghetti style or halter neck. Some bodies are underwired to provide better support, lift and figure definition. Styles range from opaque to sheer, with cut-out styles, criss-cross straps and other embellishments like ribbons and detailed trim adding seductive elements.
Again, like teddies, bodies can sometimes feature a popper-fasten crotch for easier access, whereas others are simply an all-in-one piece.
Pictured: Lovehoney Hourglass Black Smoothing Sleeveless Crotchless Body
Sculpting Lingerie
When you want a sexy garment which gives you support and a defined silhouette, sculpting lingerie is here to help. These items feature underwiring, boning and other supportive, structural elements to hold you in, hoist you up and help you feel like the ultimate seductive vamp.
Corsets  
Corsets are made in a variety of support strengths, as well as a variety of materials. These range from bedroom-style corsets made from lightweight materials such as satin, polyester and lace, with plastic boning, to heavyweight corsets which can be worn in or out of the bedroom, made from cotton, PVC or leather (faux or real) with steel boning.
Designed to cinch in your waist to enhance your figure, corsets are usually fastened at the front first, with hook and eye or other fastens, then tightened to your preference via the laces at the back. Corsets may be overbust or underbust, and they're an enduring, popular and versatile item of clothing or sexy lingerie.
Bustiers  
Bustier could be another word for longline bra, as that's what they closely resemble. Made from soft or lace fabric, or opaque styles like wetlook, PVC  or leather, bustiers are perfect for showcasing your breasts and giving a defined shape to the bust area.
Bustiers may have straps or be strapless, do up at the back like a typical bra or have a zip or other fastening at the front. They may have soft boning inside to help cinch in the upper part of your torso and give extra lift to the bust area.
With the enhanced shape and cleavage provided by a great quality bustier, you have an item of sexy lingerie which can be worn under an outfit or by itself during an outing, if you're daring enough – while its captivating allure will boost your confidence when it comes to intimate moments, too.
Pictured: Lovehoney Fierce Wetlook Bustier/Longline Bra
Basques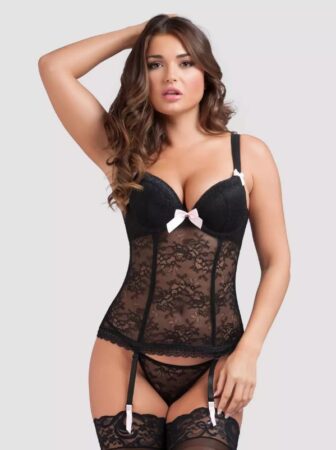 These are an even longer-in-the-body version of a bustier. Basques are usually at least waist length, if not down to the hips, but go no further. They usually feature soft boning to give excellent definition to your figure, while not being as waist-cinching or body-sculpting as a corset. They may have attached or removable suspender straps on the bottom hem.
Basques have cups to define your breasts, and they're made from definitively lingerie-style materials such as sheer mesh, lace or other tactile & attractive nightwear fabrics.
Pictured: Lovehoney Black Lace Push-Up Basque Set
Merry Widow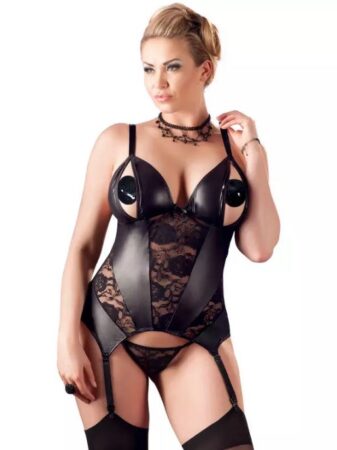 Perfect for vintage, pin-up style glamour, a merry widow is similar to a basque except it always features integral suspender straps in the bottom edge of the design, to which your stockings can be attached.
Merry widows can be used to create a jaw-dropping boudoir entrance outfit, especially when teamed with some retro seamed stockings and those bedroom heels…
Pictured: Cottelli Wet Look & Lace Peek-a-Boo Merry Widow Bustier Set (available from Bondara & Lovehoney)
Catsuits  
Although catsuits don't have any boning, these full-body coverage items of clothing will have you feline fantastic and purring in seductive confidence. Many catsuits are opaque pieces, made from PVC, stretchy wetlook, leather or latex, and are easy to put on, fastening with a zip up the front.
Team your catsuit with high heels or long boots to cut a fierce, daring figure radiating eroticism and sensuality.
I absolutely love my PVC catsuits from Vawn and Boon (my black one is pictured above). Read my Vawn and Boon reviews to find out more.
Hosiery
When creating your perfect sexy lingerie outfit, don't forget your pins! Choosing the right hosiery which will flatter your legs and feet is a must when choosing your next seductive look. There are various pieces to adorn you from hips to toe in the hosiery category; read on to discover them.
Tights 
I would say that tights are the go-to, everyday item in the hosiery aisles. Rather than forming part of a sexy lingerie outfit, tights are often worn underneath clothes to smooth and shape the figure as well as keep you warm during colder temperatures. Patterned or lace styles are perfect for drawing attention to your legs whenever you're out and about though, especially if you're trying to catch the eye of someone in particular!
Stockings 
Famed for their erotic appeal, stockings are undoubtedly the glamorous star of the hosiery world. Unashamedly retro, stockings have huge vintage appeal so they're perfect for recreating pin-up style allure when teamed with appropriate items of lingerie.
Unlike hold-ups though (we'll get to those), stockings don't stay up on their own – you'll need something to attach them to. This is usually a garter belt or straps attached to your lingerie, such as those on the bottom of a merry widow. When shopping the sexy lingerie areas of your favourite store, you'll no doubt see many pieces available with attached or removable suspender straps for your stockings.
Garter Belt 
A garter belt is worn around the waist with 4 or 6 straps with attachments to hold your stockings up. These straps are usually adjustable by way of a slide (like on a bra strap), so you can adjust them to your perfect length. It may also be known as a suspender belt.
Hold-Ups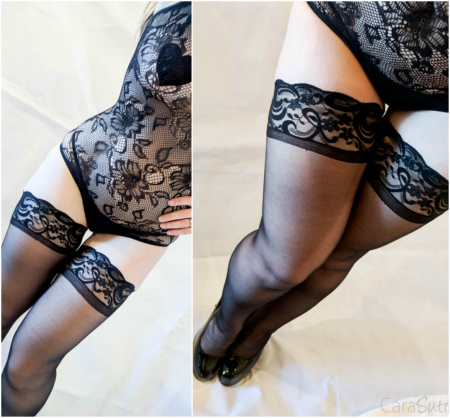 Unlike stockings, which need a suspender belt to hold them up, hold-ups have a nifty feature which keeps them up on your legs without the need for suspenders. Some hold-ups are simply elasticated at the top, but the ones I find most effective have a grippy silicone area inside the top, wide inner seam. This grips to your skin comfortably and holds up the stockings during wear.
Hold-ups are perfect for when a garter belt is just too much faff, would ruin the lines under your skin-tight outfit, or would otherwise restrict your movements during sexy time.
Bodystocking
Bodystockings are an all-in-one sheer, mesh or lace outfit for your entire body. They're stretchy and completely form-fitting, like tights, while retaining the comfort and freedom of movement during wear that comes from a lack of any boning or underwired elements.
Many bodystockings are crotchless, making not only bathroom visits quick and easy, but keeping your intimate playtimes sensual and interruption-free. Wear under your day outfit to fuel your inner confidence and to give them an erotic surprise at bedtime.
Pictured: The Supreme Crotchless Bodystocking from annsummers.com
Popular Sexy Lingerie Collections
Lovehoney 
Lovehoney have created a dazzling variety of lingerie collections over the years, with something to appeal to everyone. Check out their most popular ranges by clicking the image below or the other countries' links beneath.
Shop lingerie collections: USA | United Kingdom | Europe
Canada | Australia | New Zealand
Bondara
Bondara offer traditional sexy lingerie with prices to suit every budget. There are styles in lace, ribbons and enticing strappy creations in one or two-piece options, as well as sleek wetlook and PVC for those who prefer their lingerie on the kinky side. Make sure you don't miss this week's special offers on their site too.
Ann Summers
Ann Summers are renowned for their sexy lingerie and dressing-up outfits, which have a playful erotic allure. You can of course find a traditional bunny girl outfit if that's your thing, as well as regular new additions to the lingerie aisle such as strappy and lace bodies, babydolls and bra sets which are sold by specific band and cup size.
Seasonal & Festive
Looking for the hottest seasonal and festive lingerie? Check out my Guide To Sexy Halloween Outfits & my Sexy Christmas Lingerie Gift Guide.
Lingerie Advent Calendars
A popular erotic gift towards the end of the year is a sexy lingerie advent calendar. You might choose this for a partner, or decide to treat yourself. A lingerie countdown calendar certainly takes all the effort out of choosing your own lingerie! It also adds a sensual frisson of fun as you discover a new delicately gorgeous item behind each door during advent.
Enjoy all my sexy advent calendar reviews.
Lovehoney offer both one size and Queen size lingerie advent calendars, and Bondara has a great selection of sexy advent calendars too. Find them through the links below, and make sure you check out where to buy sexy advent calendars for this year's complete guide.
Shop: USA | UK | Europe | Canada | Australia | New Zealand

Contains affiliate links