Valentine's Day Sexy Gift Guide 2021
Welcome to my Valentine's Day 2021 sexy gift guide! Valentine's is traditionally the time of year when lovers show each other the depth of their loving feelings by way of a card, a gift, spending time together doing something special and being generally loved-up. What do you buy the one you love for Valentine's Day this year? Have a look through this feature which showcases the best and most romantic gift ideas for some sensationally seductive inspiration. Don't forget you can also click through to discover this year's Valentine's Day sexy shopping offers.
Valentine's Gift Ideas 2021
To kick-start my Valentine's Day sexy gift guide, here's a few of my absolute top favourite romantic gift ideas this year.
You may also like: How To Be Romantic Without Spending Any Money
Best Sexy Gifts For Couples
No Valentine's Day sexy gift guide is complete without a round-up of the best sexy gifts for couples. Many couple's sex toys are still marketed with hetero couples in mind, and PiV sex. However, sex toys are to pleasure anatomy, and aren't specifically made for particular genders, sexualities or relationships. Simply enjoy them in the way that feels best for you and your partner.
After discovering this year's hottest couple's vibrators and toys, I'll be sharing my top picks for intensely fulfilling vaginal, clitoral, prostate and penis-based stimulation. There are kinky options for those interested in dominance, submission and bondage, plus some breathtakingly sexy lingerie for Valentine's Day 2021.
Couple's Sex Toys
Lovense Lush 2
Lovense are famous, popular and effective. These internet enabled toys regularly feature in porn videos, particularly for kinky public play. Lovense vibrators allow couples to connect to each other without distance limitations, but they are of course great fun when enjoyed together in the bedroom.
The Lovense Lush love egg vibrator is perhaps the best-known toy in the collection, but Lovense have now added a whole host of other app-controlled sex toys to bring out the 'eek!' and geek in you –including the Lovense Lush 2.
As they're app controlled, these sex toys offer the exciting possibility of distance play – even if you're both at home. Spice up foreplay by taking or handing over control. The internally worn Lovense toys – the love egg and butt plugs – also present deliciously kinky public play options… Do you dare?
These technologically advanced sex toys would make the perfect, incredibly sexy gift for the one you love this Valentine's Day. Check out our Lovense reviews then select your perfect gift:
Shop: USA | UK | Europe | Canada | Australia | New Zealand
We-Vibe X Lovehoney
The multi award-winning and globally bestselling We-Vibe couple's sex toys are luxurious and breathtakingly effective. We-Vibe are consistently at the cutting edge of technological advances in the sex industry, which enables them to keep delivering truly revolutionary vibrators for couples to enjoy together –or separately.
One of the most exciting new releases from this reliable sex toy manufacturer is the We-Vibe X Lovehoney. This collaboration with the staggeringly successful adult retailer Lovehoney has resulted in a couple's vibrator with all the bells and whistles.
The We-Vibe X Lovehoney is waterproof, USB rechargeable, made from non-porous and body safe silicone, operated by buttons or the wireless remote control, has 10 speeds and patterns to choose from and boasts the famous C shape which delivers incredibly pleasurable vaginal, clitoral and penis stimulation during (PiV / penis in vagina) couple's sex.
Buy yours and discover the rest of the We-Vibe range through the buttons below. You can also check out all our We-Vibe reviews.
Shop: USA | UK | Europe | Canada | Australia | New Zealand
Fifty Shades of Grey Couple's Sex Toys
I doubt there's anyone who hasn't yet heard of the cultural shockwave that is Fifty Shades of Grey. I've written extensively about the 50 Shades books and my take on the love and hate for 50 Shades of Grey elsewhere on the blog, as well as publishing many Fifty Shades of Grey sex toy reviews for you to enjoy.
For 50 Shades fans… good news! Official Fifty Shades of Grey sex toys' creator and retailer Lovehoney have released some new 50 Shades sex toys in the collection just in time for Valentine's Day 2021. 2021 also marks the 10th anniversary of 50 Shades of Grey, so why not partake in the celebrations in your own, intimate way by splashing out on one of these delightful pleasure enhancers?
New toys for 2021 include the Fifty Shades of Grey Greedy Girl 10 Year Anniversary Rabbit Vibrator (in silver or gold), Fifty Shades of Grey Remote Control Couple's Vibrator, Fifty Shades of Grey Relentless Vibrations Remote Control Butt Plug – plus lace wrist cuffs, blindfold, collar with nipple clamps and a whole lot more.
Find the entire range through the links below, then choose your favourites to enjoy together this Valentine's Day:
Shop: USA | UK | Europe | Canada | Australia | New Zealand
Lovehoney Wild Weekend Mega Couple's Sex Toy Kit
The Lovehoney Wild Weekend Mega Couple's Sex Toy Kit is an easy and ingenious way to spice up your shared (& solo) sex life and expand your sex toy collection in one fell swoop. This superb value for money kit is a great starter set or special treat for Valentine's Day 2021.
This fun-packed kit for couples includes:
G-Spot Vibrator
Vibrating Rabbit Ears (with wired controller)
Butt Plug
Rabbit Vibrator
Penis Masturbator
Anal Beads
Vaginal Jiggle Balls
Rabbit Ears Cock Ring
3-Piece Cock Ring Set
You just need 6 AA batteries to get this party started! Buy yours through the link below, where you can also browse the full range of sex toy kits at Lovehoney:
Shop: USA | UK | Europe | Canada | Australia | New Zealand
HiSmith Thrusting Sex Machines
The Cara Sutra team has been lucky enough to try two of the fucking machines from the HiSmith range, with great success for both. First came the Hismith Pro Traveler Portable Sex Machine Kit, then the full-sized HiSmith Premium App-Controlled Sex Machine which received full marks from Tigerlily, our reviewer.
If you're curious about or thinking of investing in a sex machine, Valentine's Day 2021 is a great time to gift one of these beauties to yourself or your partner. Prices start at £89.99 for a small basic model -or you can go all out on a top of the range, deluxe fucking machine like the Premium style reviewed by Tigerlily, which offers Bluetooth app plus internet control, tipping integration for camming, dildo attachment, wired plus a wireless controller, multiple setting and angle options, storage case and a whole lot more.
Enjoy our HiSmith sex machine reviews then buy your own through the buttons below:


For Kinky Couples
Liberator
Liberator are well known around the world as designers and manufacturers of high quality and reliable sex furniture. I have a small collection of Liberator sex furniture and position enhancers myself, but I'd love to add more. At the moment I have the Liberator Black Label Esse Chaise, the BonBon Sex Toy Mount and the Black Label Wedge, as well as some of the toy storage and bondage accessories. Click to read all our Liberator reviews.
If you're looking to switch things up, sex-wise, for Valentine's Day 2021 and beyond, Liberator sex furniture and accessories are the connoisseur's choice. There are cushions, wedges and throws to help you find different and exciting positions during foreplay and sex, larger pieces of furniture which look innocent but double as sex loungers and bondage chairs, plus smaller items of kinky kit.
Find your favourites in the Liberator collection through the links below:


Recommended Kinky Gear
If you'd like to explore dominance, submission, bondage and more either as a beginner or an experienced part of the BDSM world, you can find plenty of great additions to your kinky kit collection in my BDSM gear guides here at the Cara Sutra sex blog:
Top Romantic Gifts For Your Partner… Or Yourself!
I'm continuing my Valentine's Day 2021 sexy gift guide with the best romantic gifts for him, her and them.
Vaginal/Clitoral Stim Sex Toys
Le Wand Petite 'All That Glimmers' Wands
As I love my Le Wand vibrator –with all its attachments and sleek, luxurious design- so much, I was delighted to discover that there have been many more additions to this brilliant line since I reviewed my own Le Wand. My Le Wand is judderingly and deliciously effective at giving me a fast, full-body orgasm whenever I so choose, and the fact that it's wireless and so quiet during use is just the icing on the orgasmic cake.
SheVibe have a splendid collection of Le Wand sex toys to choose from, including the new Le Wand Petite 'All That Glimmers' vibrators in your choice of silver or pink. This giftable, travel-friendly set has loads of special features and inclusions:
Winner of the Women's Health FEMTECH award
Smaller, lighter, easier to handle version of the famous & effective full-size Le Wand
10 speeds and 6 patterns to choose from
Wireless operation
Showerproof
USB rechargeable
Has a travel lock option
This special edition includes: sparkly travel case, metallic temporary tattoos, glimmering charging cord, rainbow glimmer nail polish, rainbow glimmer body gel and an enamel pin
You can see why I've chosen this as a top pick to make someone's Valentine's Day 2021 – what a gorgeous wand vibrator gift set from a proven-to-be-effective sex toy brand.
Plus, the Le Wand collection now includes some stunning steel dildos… I just had to mention them as I have a serious penchant for the cool rigidity of steel or glass sex toys. Check out the entire collection through the button below – and don't forget to have a peek at our Le Wand reviews:


We-Vibe App-Controlled Wand
Another personal favourite from the world of wand vibrators, the We-Vibe Wand Vibrator is a smart sex toy by sex tech gurus We-Vibe which is cordless during use, fully waterproof, comes with attachments and has an app. When I received mine for review, I was worried about whether this wand would be powerful enough for me… Spoiler: It absolutely is.
This Smart Wand from We-Vibe has far too many features and benefits to explore at depth here, so let me summarise. The We-Vibe Wand is:
Made with smooth, body safe silicone
Rechargeable
Cordless during use
Fully waterproof
Quiet during use
Curved for comfort
Multi-functional with various vibration settings and intensities to please sensitive types as well as power Queens
Versatile thanks to both its general, all-over-body stimulating style and the inclusion of two fully silicone attachments which are inclusive in design
Superbly smart with We-Vibe's Smart Silence proximity-detect technology
Easy to use either via the push-lever operation on the handle or with the We-Connect app
Technologically advanced while remaining easy to use for all types of orgasm hunters and lovers
Able to be used from anywhere in the world via the We-Connect app, which enables shared intimacy and fun for long-distance lovers
Sleekly designed, luxurious and modern
Get yours through the links below! And don't forget to check out the rest of the fabulous collection, as well as all our We-Vibe reviews and my big guide to wand vibrators.
Shop: USA | UK | Europe | Canada | Australia | New Zealand
New Womanizer Sex Toys
Womanizer have consistently impressed clit stim fans around the world since the release of their very first toy back in 2014. This globally best-selling, multi award winning brand have recently released new clitoral stim toys in collaboration with two other hugely successful enterprises; the Womanizer X Lovehoney and the Womanizer Liberty by Lily Allen.
If you haven't tried these pulsing air style of clit stim sex toys before, you're in for a real treat. I was dubious about how effective my Womanizer would be for me personally, when I tried my first. Placing the soft nozzle to my lubed clit, forming an air tight seal and turning the toy on, I was greeted by undulating waves of air pressure which felt like instantly arousing, suctioning kisses right where I needed them most. I had a full body orgasm in no time at all. And I don't orgasm from oral sex, so that's saying something.
Check out these two new additions to the Womanizer collection, as well as the rest of the breath-taking range, through the buttons below.
You can also click to read all our Womanizer reviews.
Shop: USA | UK | Europe | Canada | Australia | New Zealand
Zumio Clit Vibrators
Another astoundingly effective clitoral stim toy is the Zumio, which, instead of using undulating waves of air within a sealed area to bring the user to orgasm, offers a small spherical tip on a slender arm which oscillates so fast it gets my clit in a tizz just watching the motion. I use my Zumio a lot, and it always gets me there hard and fast.
Enjoy reading our thorough Zumio reviews then discover the perfect style for your clitoral pleasure needs through the button below.


Hot Octopuss Bullet Vibrators
Any regular readers of my blog will know that I am a huge fan of some of the smallest sex toys available: bullet vibrators. My guide to bullet vibrators and our bullet vibrator reviews are consistently popular, and I was delighted when one of my favourite and ever-reliable sex toy brands created their own bullet vibes.
Introducing the Hot Octopuss AMO, and the Hot Octopuss DiGiT.
These Hot Octopuss bullet vibrators share many of the same fantastic features, such as:
Rechargeable via the included USB lead
100% waterproof
Made with body safe materials (silicone and plastic)
Multi-functional, offering 5 speeds and 5 patterns
However, the AMO's clever design has a large bulbous tip to help provide fantastic clitoral/erogenous zone stimulation. Meanwhile, the DiGiT's sleek design has a beautifully sinuous finger loop to improve grip during use, plus it comes complete with a storage bag.
Read more in our Hot Octopuss reviews, then check out the entire Hot Octopuss sex toy collection through the button below.


Penis/Prostate Stim Sex Toys
Hot Octopuss Pulse Lux
Continuing with the awesomeness that is Hot Octopuss, I just have to mention the Hot Octopuss Pulse LUX in my Valentine's Day 2021 gift guide. The LUX is available in either Solo or Duo option, where the Solo is designed for masturbatory playtimes and the Duo is designed for couples to enjoy together, with two wrist strap remotes instead of just the one.
We were lucky enough to try out the SOLO LUX and my partner was very impressed:
"The vibrating plate (Pulse Plate) is well positioned. Due to the intensity, unlike many other vibrating sex toys you'll most likely not want or need to use the Solo Lux on full power for very long. There's a handy 'boost' button on the remote to have a quick burst of full power -but I found it just too intense to use it at that particular speed over an extended time period…"
He gave it full marks –and loved the techy wrist strap remote which made self-pleasure a whole lot easier. This would be a fantastic gift this Valentine's Day. Find it through the button below – and of course, you can read more details about these fabulous sex toys in our Hot Octopuss reviews.


The Handy
I hadn't heard of The Handy before the team were offered a chance to review, but after this penis masturbator received top marks from our eager and hugely impressed reviewer I just had to feature it here in my Valentine's Day sexy gift guide.
Over to my reviewer:
"If you can afford it, the Handy is the best masturbator you'll find. It shines when combined with a VR headset, but it's a powerful machine that any dick will love, even without the video sync features. The modular strap design means that you can easily swap out for something else if the included sleeve doesn't fit you. Or if you're smaller than average, you can tighten it up.
The Handy will turn you into the laziest wanker ever: 10/10."
If they'd love a technologically advanced, reliable, easy and thoroughly fulfilling wank toy – get them The Handy through the link below:


Lovehoney Blowmotion Range
Lovehoney have created their own brand of penis masturbators, the Lovehoney Blowmotion range. These ingeniously designed penis masturbators offer the highest levels of pleasure tech available, with rechargeable, warming, auto-suction, real-feel, oral sex simulating, pulsating and pulse vibration styles to choose from.
These mind-blowing penis stimulators will suck, stroke, stimulate and fully satisfy them every time – so upgrade their wank sesh, or enjoy the moment together, by gifting them a Blowmotion through the links below:
Shop: USA | UK | Europe | Canada | Australia | New Zealand
Sexy Games
Sexy games are an innovative way to get your love life back on track and will help you rediscover the passion in your relationship, making them a great gift idea for Valentine's Day 2021. Here are my top adult board game choices to reignite your shared passion:
Monogamy
Our reviewer was very impressed with this consistent bestseller.
"…this Monogamy: A Hot Affair Game is amazing.  A really effective way to put some of the spice back into the relationship, if a little bit of alcohol is needed to get things going initially.  Some fantastic ideas for role play, or for simple little elements of teasing and intimacy that can also help get things going in the bedroom.  It works so effectively, as it builds up the level of interaction and really acts as something of a foreplay ramping activity.
If time is an issue and you are struggling with the idea of sitting down and playing this as a couple, or if that seems somewhat too regimented, then it is also worth noting, that simply using the cards and the ideas contained on them as a way to spark up some intimate time, or to try new ideas and role plays, is also a fantastic use of what is inside the box.  All in all, I cannot recommend this Monogamy: A Hot Affair Game highly enough. 10/10."
Read all our sexy game reviews, then buy yours:
Shop: USA | UK | Europe | Canada | Australia | New Zealand
Nookii
Another bestseller from the adult games' aisle, Nookii is described as 'the hot game for passionate couples'. This playful and cheeky intimacy enhancing game features 3 progressive levels of cards (Mmm, Ooh, and Aah) to build anticipation during play, as well as a silky scarf for kinky blindfolding or tie and tease fun.
A game of Nookii lasts about 30 minutes – the perfect build up to an intense, lingering exploration of each other's bodies once you're deeply in the mood.  Set your love life on fire this Valentine's Day:
Shop: USA | UK | Europe | Canada | Australia | New Zealand
Romantic Essentials
Massage Candles
Sexy massage is a great way to reconnect, and erotic massage candles are an easy way to start the ball rolling in that department. I'd never say no to the offer of a deeply relaxing massage personally, and once the atmosphere is set with ambient lighting, the candle is lit and their warm hands works the warm melted oil over my exposed skin, it isn't long before I'm in the mood for more.
Add some massage candles to your Valentine's Day 2021 shopping basket through the links below – and check out all our massage candle reviews here on the blog.
Shop: USA | UK | Europe | Canada | Australia | New Zealand
Sexy Bath Bombs
Whether used for well-deserved self-care, or to share some intimate time with my partner, I do love a fantastic bath bomb now and again. They feel celebratory, and items reserved for special occasions, making them perfect to include in a Valentine's Day gift bundle.
Did you know you can buy desire enhancing bath bombs? I really enjoyed the Mojo Pro Original Desire Pheromone Bath Bomb:
"If you fancy treating yourself and/or your partner to a luxurious solo or shared bathing experience, the Mojo Pro Original Desire Pheromone Bath Bomb is a lovely product to do it with.
I [also] enjoy using pheromone-infused products just for myself. The conscious knowledge of using a product intended to heighten my allure boosts my confidence in my sexual attractiveness, and my libido too. I think this bath bomb is a great purchase for a self-indulgent bath time session, whether as its own pleasurable reward or in preparation for a special event." (full review here)
Buy yours through the links below.
Shop: USA | UK | Europe | Canada | Australia | New Zealand
Don't Forget…
…the lube, condoms, and batteries! They may not be the main items in your Valentine's Day sexy gift bundle to your partner, but in the heat of the moment these essentials can mean the difference between a seamless build to the big O, or a disappointed "oh" as you realise you didn't restock the bedside drawer.
Need some help shopping for the perfect lubes or condoms for you? Check out my advice guides and reviews:
Get all your sexy essentials through the links below:
Shop: USA | UK | Europe | Canada | Australia | New Zealand
My 3 Bargain Buys – All Under £15
Tracey Cox Supersex Bullet Vibrator
I still absolutely love my Tracey Cox Supersex bullet vibrator, which I have bought in the other various colours after being impressed with my very first (silver) one all the way back in February 2010. This sleek, fabulous conductor of vibrations through the metallic plastic housing has given me so many orgasms, and I can use my choice of lubricant with it too. I can enjoy it all by myself or share the pleasure during foreplay and sex with him.
At £14.99 this small but powerful bullet vibe is a true bargain and a fantastic budget buy, or a thoughtful addition to your Valentine gift bundle this year.
Shop: USA | UK | Europe | Canada | Australia | New Zealand
Lovehoney Oh! Foreplay Dice (3-pack)
Sex dice are a cheap and easy go-to when your creative juices need a little help. You usually find them just in packs of a solo die, or a pair of dice, but the Lovehoney Oh! Foreplay Dice offers three arousal inducing dice for the amazing price of just £5.99.
No power needed but your own enthusiasm! Their small size means they're easily portable, too. Another cheap but effective addition to the toy box or bedside drawer.
Shop: USA | UK | Europe | Canada | Australia | New Zealand
Orgasm Balm
It would be easy to write off orgasm gels and balms as placebo or a waste of money –as I, admittedly did before I actually tried them. My personal favourite so far is the Lovehoney Desire Orgasm Balm, which I wrote about last year – but this Lovehoney Oh! Cherry Orgasm Balm helps to heighten sensitivity too, and for only £8.99 per mini tin. Bargain!
Use a small amount on sensitive areas such as the clitoris and nipples to enhance solo playtimes and shared sexy sessions. The sensual cherry flavour invites saucy tongue explorations to further ignite shared passions.
Shop: USA | UK | Europe | Canada | Australia | New Zealand
Sexy Lingerie Gifts
Dress up in something exhilaratingly ravishing this Valentine's Day and realise the true potential of your allure. Wearing beautiful lingerie and sensual outfits can increase your self-confidence and make you feel exotic and powerful. Whether to romance yourself, and/or your partner, on Valentine's Day 2021 and beyond, choose your favourites from the most recent lingerie collections -as well as consistent sexy lingerie bestsellers.
New Styles… 
Lovehoney Beau
Shop: USA | UK | Europe | Canada | Australia | New Zealand
Lovehoney Sweetheart
Shop: USA | UK | Europe | Canada | Australia | New Zealand
Fifty Shades of Grey Captivate
This beautiful collection, inspired by the alluring power play in Fifty Shades of Grey, is available in either seductive silver or glamorous gold.
Shop: USA | UK | Europe | Canada | Australia | New Zealand
Bestsellers
Some of the bestselling sexy lingerie lines include these collections from Lovehoney:
Seduce Me
Boudoir Belle
Late Night Liaison
Treasure Me
Night Lily
Parisienne
You can find some of these lingerie pieces modelled in our sexy lingerie reviews and my personal photo gallery areas, then shop the entire treasure trove of gorgeous lingerie over at Lovehoney through the following links:
Shop: USA | UK | Europe | Canada | Australia | New Zealand
Gift Vouchers
If you're still undecided about which romantic gift to treat your lover to, don't forget you can purchase Lovehoney Gift Vouchers (here in the USA / here in the UK)
-plus there are SheVibe gift certificates available too.
Special Offers & Discount Codes
Use discount codes CARASUTRA at Lovehoney and CARA15 at Bondara for 15% off your orders:
Lovehoney Special Offers For Valentine's Day
50% Off Rabbit Vibrators
30% Off Erotic Lingerie
30% Off Under Mattress Bondage Restraints
Free Womanizer with We-Vibe Sex Toys
20% Off Aneros Prostate Massagers
2 for $15 Fun & Foreplay
3 for 2 on Sexy Knickers
Buy 2, get 30% Off Men's Underwear
Up to 70% Off SALE
Deal Of The Day
Take advantage of all these sexy special offers at Lovehoney.com or Lovehoney.co.uk.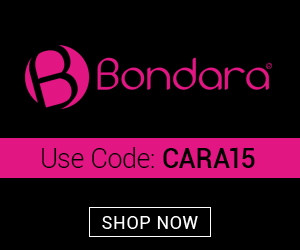 Bondara Special Offers For Valentine's Day
3 for £30: Sex Toys & Bondage
50% Off: Cupids Arrow Glass Dildo
Over 50% Off: Heart Bondage Kit
20% Off: Vibrating Cock Rings
2 for £12: Sexy Knickers and Jiggle Balls
Free Vibrator with sexy lingerie
Free Cock Ring with men's underwear
Free Kinky Heart Mouth Gag with fetish clothing
3 for £25: Sex Enhancers
3 for 2 on Erotic Edibles
Take advantage of all these sexy special offers at the Bondara Valentine's Day Gifts page.
---
This has become an even more comprehensive Valentine's Day sexy gift guide than I intended – when I know about great sex toys and bedroom accessories, I can't help but rave about them at length! However you choose to celebrate, I hope you all have a wonderful, romantic, orgasmic and happy Valentine's Day 2021.
This feature contains affiliate links