Sexy Christmas Gift Guide | Best Romantic Christmas Gifts
Giving the perfect Christmas gift you know they'll adore gives you a warm fuzzy feeling like (almost) nothing else. 'Tis the season of giving, so why not combine festive spice and evergreen romance by gifting your lover a decidedly sexy present this year? Baby, it's cold outside – but selecting from the raunchy choices in my sexy Christmas gift guide will ensure you're all aglow. You can find my top picks for the best romantic Christmas gifts in this ultimate festive gifting guide.
Related: Sexy Christmas Lingerie Gift Guide & Sexy Santa Role Play Costumes
Romantic Christmas Gifts
Sexy Advent Calendars
Let's start this Sexy Christmas Gift Guide with a few orgasmic advent options:
Lovehoney Advent Calendars 2020:
Shop: USA | UK | Europe | Canada | Australia
Lovehoney Best Sex Of Your Life Couple's Sex Toy Advent Calendar 2020
Click to read my Lovehoney Couple's Sex Toy Advent Calendar 2020 review
Shop: USA | UK | Europe | Canada | Australia
Lovehoney 7 Nights Of Seduction Lingerie Advent Calendar 2020
Click to read my Lovehoney 7 Nights of Seduction Lingerie Advent Calendar review
Shop: USA | UK | Europe | Canada | Australia
Lovehoney Oh! 30 Nights Of Hot Kinky Sex Calendar (£9.99)
Rather than receiving a toy or sexy gift behind each window, the Lovehoney Oh! 30 Nights of Hot Kinky Sex Calendar provides couples with an intimacy enhancing and/or arousal inducing suggestion to help you reignite the passion.
You could take it in turns to open a door each day during your month of hot and kinky sex. Just peel back the door for the day to reveal your saucy set of instructions. Will you act upon the suggestive note immediately, or let the anticipation send your imagination into overdrive throughout the day?
This 30-day calendar is a godsend for those on a limited budget. You can enjoy the fun of sexy advent calendars for less than £10. Bargain.
Shop: USA | UK | Europe | Canada | Australia
Bondara Advent Calendars 2020:


Ann Summers Advent Calendars 2020:


Read more: Where To Buy Sexy Advent Calendars This Christmas
Cumpanion Sex Towels
Cumpanion sex towels are so soft, very absorbent, available in a range of sizes and colours, and are machine washable between uses. Never sleep in the wet spot again! Place one of these fantastic sex towels beneath you as you play – solo or together – then simply chuck it into the laundry basket once you're done. I absolutely love my Cumpanion!
A Cumpanion Aftercare Towel in their favourite colour would make a thoughtful, romantic and sexy gift this Christmas.


Sexy Gift Sets
Lovehoney Gift Sets
Lovehoney have a delightful new collection of gift sets which would make the perfect gift at Christmas – or any time of the year. These sexy, sensual gift sets start at £9.99 and are prettily packaged for luxurious gift appeal.
Shop: USA | UK | Europe | Canada | Australia
Lovehoney Sex Toy Kits
For a ready-made sex toy collection which caters to you and your partner's favourite styles of stimulation, look no further than the carefully curated Lovehoney Sex Toy Kits. There are vibrating and non-vibrating sex toys, light teasing bondage accessories, toys you can use alone as well as with your partner, plus a whole lot more.
These sex toy kits are fantastic value, offering savings on buying the items separately. They start at £19.99. These ready-made sets would also make a brilliant intimate gift this Christmas – just make sure you mark the gift tag so they definitely open it in private!
Shop: USA | UK | Europe | Canada | Australia
Bondara
Bondara also have a selection of sex toy kits and other sensual treat bundles to liven up the festive period for you and a partner. They'll certainly help you see in the New Year in orgasmic style.


Mystery Boxes
Mystery boxes are always very popular – it's so exciting being able to order a gift for you or you and a partner without knowing exactly what you'll discover inside. Bondara have put a great selection of sexy mystery boxes together, with extremely alluring categories to choose from. These include sex toys, gifts and games as well as sexy lingerie in one size or queen size options.
At these prices, they're a steal! Snap one up to pop under the Christmas tree (or bed, if you'll be opening other presents with family!) and enjoy a genuine, sexy surprise to share on Christmas morning. If you can wait that long, of course…
Tantalize Me
I learned about Tantalize Me quite recently and I'm fascinated by their luscious adult gift offerings. This UK-based company helps to sponsor my blog (thank you!) and they supply adult subscription boxes as well as other sexy gifts to spice up your intimate moments together.
The most popular option from Tantalize Me is the Build your Own Collection Box. Add a minimum of 3 items (from a choice of 40!) to your basket, click the buy button on the product page and you'll automatically get a 10% discount applied. You don't have to stop at 3 items, add as many as you like!
Tantalize Me have two avenues you can explore when it comes to sexy gift boxes:
Choose a themed, one-off box priced between £64-£219
Subscribe to a kinky or sexy gifts for couples box, with either a monthly (£59) or quarterly (£119) subscription
There's free delivery on all orders over £30 (UK only), and if you opt for a subscription you can cancel or pause at any time, quibble-free. Check out this brilliant new service:


Sex Toys
Now for a selection of sex toys which deserve a special mention in my Sexy Christmas Gift Guide.
Womanizer Liberty by Lily Allen
Womanizer are consistently popular sex toys with rave reviews not just here on the Cara Sutra sex blog, but also globally. These award-winning, effective clitoral stimulators were part of a 'suction sex toy' revolution over the past few years.
Now, Womanizer and Lily Allen have teamed up to create the beautifully bright, special edition Womanizer x Lily Allen Liberty Clitoral Stimulator. You can treat yourself – or the one you love:
USA | UK | Europe | Canada | Australia
Zumio
Are you a fan of intense clitoral stimulation? Does your partner prefer clit stim over any other type? You need to try a Zumio.
There aren't many sex toys which remain in my 'quick grab' collection, but Zumio made the grade. I use mine regularly – very regularly! As I love extremely intense clit stim, the Zumio X is perfect for me. There's also a Zumio S which is still incredibly powerful, but slightly less intense.
The brand new Zumio E features a delicious elliptical rotation pattern, and has a curved stem plus multi-touch intensity.
Check out all our Zumio reviews.
Zumio sex toys are waterproof, rechargeable, quiet during use and – quite literally – breathtakingly effective. Check out the range and select your (or their) perfect pleasure tool:


Lovense Lush
The Lovense Lush love egg vibrator is perhaps the best-known toy from the world famous Lovense range, but Lovense have now added a whole host of other app-controlled sex toys to bring out the 'eek!' and geek in you.
As well as the Lovense Lush 2, there's a 3.5 inch and 4-inch vibrating butt plug, G-spot vibrator, rabbit vibrator, mini wand vibrator, prostate massager and penis masturbator. Phew!
As they're app controlled, these sex toys offer the exciting possibility of distance play – even if you're both at home. Spice up foreplay by taking or handing over control. The internally worn Lovense toys – the love egg and butt plugs – also present deliciously kinky public play options… Do you dare?
These technologically advanced sex toys would make the perfect, incredibly sexy gift for the one you love this Christmas. Check out our Lovense reviews then select your perfect gift:
USA | UK | Europe | Canada | Australia
Hot Octopuss DUO LUX
The first of two Hot Octopuss sex toys I'm featuring in my 2020 sexy Christmas gift guide is the DUO LUX. I remain a huge fan of Hot Octopuss, both the warmly inclusive brand and the well-made, effective sex toys.
You may recall my Hot Octopuss SOLO LUX review towards the end of last year, where I was surprised that a penis masturbating sex toy had received a very rare 10/10 score from my partner. SOLO LUX is a penis masturbator with an open style, where a pulse plate on the internal area stimulates the penis to its sexual peak. There's a boost option for a burst of intensity at that perfect moment.
SOLO LUX comes with a wrist strap controller, which was extremely useful during both solo and shared pleasure sessions.
Now, there's the Hot Octopuss DUO LUX. Similarly to the SOLO LUX, this innovative creation is an easy to use, effective masturbator –but comes with two wrist strap, wearable remotes. This opens up couple's play options –not just control by either partner or both, but control of the vibrations transmitted through the toy when one is wearing and the other is riding.
Find out more, and share the gift of Hot Octopuss' pleasurable sensations:


Hot Octopuss AMO
The second sex toy from Hot Octopuss that I just had to feature in this year's sexy Christmas gift guide is one of their newer bullet vibrators. To quote my recent Hot Octopuss AMO review:
I'm extremely impressed with the design, particularly the shape. It's fantastic for precise stimulation and for delivering pleasure over larger areas, if that's what takes your fancy. Therefore this is a really versatile little toy to add to your solo or shared pleasure collection.
In addition, AMO is fully waterproof, rechargeable, body-safe and quiet during use. It might not be my #1 bullet vibe for a swift wank, but it's got a home in my bedside drawer for those rare opportunities where I can take my sweet time reaching a blissful climax.
Discover the Hot Octopuss bullet vibrators and a whole lot more:


Le Wand
I'm a sucker for the powerfully thudding vibrations of a top-quality wand vibe, so it should come as no surprise that the Le Wand cordless rechargeable wand vibrator I tried out received full marks.
There are several wand vibrators I'm a huge fan of, which deliver exquisitely powerful orgasmic pleasure and rip the orgasms from me. The O Wand. Doxy Massagers. Loving Joy VITA.
Le Wand, though, is perfectly styled to give as a romantic gift to the wand vibe lover in your life. From the elegant logo and classy light tones on the modern packaging, to the included accessories and storage bag, this sex toy truly feels like a generous and thoughtful gift.
I love mine – why not check out the latest Le Wand vibrators through the links below? You may also be interested in my big guide to magic wand vibrators, which looks at this style of sex toy in greater detail, with plenty of personal product recommendations.
USA | UK | Europe | Canada | Australia
Electrastim Electro Sex Toys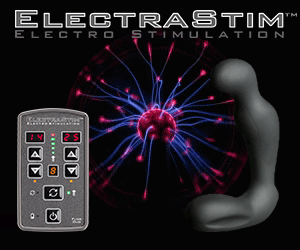 Whether you're completely new to the tantalising tingles of electro sex or ready to upgrade your existing electro sex toys collection this Christmas, Electrastim have everything you need. Electro stimulation is safe when done correctly (read our electro sex guides here) and when you use high-quality sex toys specifically designed for sexual stimulation purposes.
To get started with your electrosex play, you'll need a base unit (starting at just £99.99) into which you can then plug various sexy electro accessories like pads, dildos, butt plugs, cock rings and more.
Click to read our Electrastim electro sex toy reviews.
USA | UK | Europe | Canada | Australia
Bedroom Bondage Gifts
Lovehoney All You Need Bondage Kit (20 Piece)
A lot of us are 'tied up' throughout the holidays, so why not do it in the sexiest way possible? Enjoy restricted movement while freeing your mind through a therapeutic sensory bondage adventure.
The Lovehoney All You Need Bondage Kit contains a whopping 20 bondage sex toys to enjoy, all for just under £130.
You receive a blindfold, rubber flogger, pinwheel, collar, adjustable nipple clamps, clit clamp, nipple ring clamps, breathable ball gag, bondage rope, bullet vibrator, G-spot vibrator, vibrating cock ring, penis stroker, silicone jiggle balls, suction cup dildo, slimline butt plug, silicone anal beads, 2x wrist cuffs, 2x ankle cuffs and an under-mattress restraint system. Wow!
Lovehoney Red Hot Passion Couple's Pleasure Kit (6 Piece)
This sexy 6-piece set saves you 35% off the usual price if you were to buy the items separately – it's priced at just £34.99 so this is a fantastic buy. In the Lovehoney Red Hot Passion Couple's Pleasure Kit you receive a pair of wrist cuffs, a pair of ankle cuffs, a twist-base battery-operated vibrator, a blindfold, chained nipple clamps and a cute feather tickler for exploring sexy sensory play.
Bondage at Bondara


Special Offers & Sexy Deals
Don't miss the special offers and deals below -especially over Black Friday, Christmas and through the New Year & January Sales. Bag a bedroom bargain and enjoy ££-saving pleasure with these fab offers.
Sexy Christmas Gift Guide – Related Pages
I hope you've enjoyed my Sexy Christmas Gift Guide. Happy sexy shopping for the best romantic Christmas gifts – and Merry Christmas!

Contains affiliate links