Halloween Sex Toys To Make You Scream With Pleasure
Welcome to your guide to frighteningly orgasmic Halloween sex toys! In this feature I'm going to showcase some truly scream-worthy vibrators, dildos, anal toys and more which are sure to go down a treat this Halloween –or any time of the year. If you've been looking for inspiration for a formidable sex toy for hair-raising personal pleasure, or an electrifying adult toy to share with your partner, you're in the right place.
Looking for Halloween dressing up ideas?
Check out my Guide To Sexy Halloween Costumes & Lingerie.
Halloween Sex Toys
Glow in The Dark Treats
Halloween is traditionally a time when we enjoy decorative items which provide a warm glow in the autumnal darkness. A Jack-o'-lantern (a pumpkin with a face carved into it, within which a candle or other light is place) is one of the most recognisable symbols of Halloween. Candles, themed lamps, fairy lights and other light-up toys and decorations abound, with which we can enjoy creating a cosy, spooky environment to celebrate this fun time of year. With all of this in mind, it's no surprise that glow in the dark sex toys have been created to further spice up your solo or shared erotic adventures at Halloween.
Lovehoney have a cute collection of glow in the dark sex toys to delight in this Halloween, including a glass dildo and butt plug, silicone pink or blue centred dildos with balls and suction cups, flexible butt plugs, stretchy cock rings and a pack of condoms. Or why not spend the evening as eccentric doctors in your very own 'lovers' lab', creating a ghoulish glow in the dark monster clone of their penis? The Clone-A-Willy Glow In The Dark Vibrator Moulding Kits are enormously popular, and available in green, blue or pink.
Enjoy all our glow in the dark sex toy reviews -and my edible & glow treats feature where you can see a video of the glow in the dark cock rings. Shop glow in the dark sex toys & treats through the buttons below.
(use code CARASUTRA to get 15% off your order!) 
Fleshlight Freaks
You might recognise 'Fleshlight' as being the brand which produces internationally popular penis masturbators in an extensive variety of styles, textures, orifice options, colours, porn star clones and more. Did you know that this successful sex toy manufacturer also made alternative sex toys, perfect for horny Halloween entertainment?
Fleshlight Freaks was a collection of penis masturbators and dildos in the style of various well-known beasts and monsters. This included Dracula, Frankenstein, Zombie & Alien. I say 'was', as Fleshlight have sadly discontinued the range. That said, if you are handy with Google you can still find some leftover stock at various online retailers. I fervently hope they decide to resurrect this line from the toy crypt at some point soon.
In the meantime, check out the latest intimate pleasure toys from Fleshlight through the buttons below – and I hope you also enjoy all our Fleshlight reviews.
(use code CARASUTRA to get 15% off your order!) 
Screamtastic Sinnovator
Ready to try a fantastically filthy new sex toy this Halloween? You can be the dirtiest of dogs (or your choice of rutting beast) with the shocking Sinnovator sex toy collection. These are silicone dildos and butt plugs as you've never seen them before.
Fantastical erotic sculptures are available across 6 broad categories: tentacle, canine, horse, fantasy, realistic, dragon. As a bonus, you get to customise your Sinnovator sex toy. Choose your colour – or colour blend – as well as the silicone firmness you want. There are extras available such as cum tubes and vac-u-lock base holes, and the Sinnovator Vac-U-Lock Compatible Suction Cup Base provides further versatility during use.
I'm extremely impressed with the Sinnovator sex toys and I'm sure they are fast acquiring a large and loyal fan base, particularly people who may have previously loved Bad Dragon sex toys.
Don't miss my Sinnovator Dark Horse Dildo review -and check out the breathtakingly kinky range over at Sinnovator.co.uk (or click the button below).


Uber Sexy Uberrime
If luxurious, hand-poured silicone sex toys are your bag, you'll love Uberrime dildos. I first spied Uberrime sex toys over at SheVibe and fell in instant lust with so many from this breath-taking collection. You can also find them at uberrime.com.
The Uberrime collection ranges from silicone, bullet vibrator sleeves and shimmery metallic coloured g-spot dildos to larger dildos with eye-popping colour blends and dual density silicone for strength and squish. Uberrime dildos prioritise luxurious, hand crafted dildos which are effective but also extremely fun to use whether you're alone or with a partner.
Styles you might consider adding to your Halloween sex toys fun box are the Ripley Silicone Alien Dildo, the Jellyfish 2.0 Silicone Glow In The Dark Dildo and the tremendously tentacle-y Deep Diver Glow In The Dark Fantasy G-Spot Dildo.
Discover the entire Uberrime range through the button below.
I hope you also enjoy all our SheVibe reviews – including the 'shockingly' sinful SelfDelve Fruit & Vegetable Dildos…


Electrifying Stimulation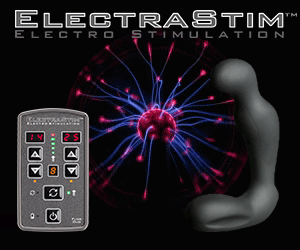 First things first: don't be scared. We're taught about the dangers of electric from a young age, and rightly so – but electricity, in the right amount and in the right places, can be sensationally stimulating. Think more TENS machine tingle, rather than sticking your genitalia into a mains socket.
Electrosex or erotic electro stimulation is when you use electric pulses, delivered through special equipment, to stimulate the nerve endings on either yourself or a partner. The human body is an excellent conductor of these electric pulses, and the sensations felt range from mild and teasing to breathtakingly thrilling. A popular and multi award-winning brand of electrosex toys is Electrastim, who design e-stim toys which are both well-made and highly effective. You can find them at electrastim.com.
It's a good idea to do a little research before dabbling in electrosex stimulation. We have plenty of information here at the Cara Sutra sex blog, including this fantastic introduction to e-stim by Joanne's Reviews. You can also browse our ElectraStim reviews, which are part of our diverse electrosex toy reviews collection.
What better night of the year to experiment with erotic electrosex than Halloween? Enjoy the goosebumps as you experience an intensely pleasurable, hair-raising new experience.
(use code CARASUTRA to get 15% off your order!) 
Wickedly Erotic Denial
Chastity is one of my absolute favourite fetishes. This extremely erotic kink is enjoyed by a huge number of BDSMers the world over. Although there are vulva-covering/vagina-obscuring chastity devices available, most chastity devices are designed to lock away a penis. Perhaps there is more interest in this fetish from those with a penis than those with a vagina. I personally love the tease and denial element of FemDom/male submissive chastity play, which I find is greatly enhanced using a penis-locking chastity cage.
Related: What I Get Out Of Locking A Man In A Chastity Cage & 
KeyHolding Services: When DIY Chastity Gets Too Hard 
One of the initially attractive features of chastity is that you can dabble in as brief an orgasm denial period as feels comfortable to you and your play partner. You could start by being teased and being 'ordered' to hold off from orgasming until you have express permission. If you decide to lock on a chastity device, whether it's a light play leather style sheath, or a plastic cage or more severe metal style, it could be worn simply for the bedroom-based session only. Experimenting in this way will help you and your partner learn how you truly feel about chastity and the denial of stimulation and orgasm, so you can decide whether you'd like to take things even further.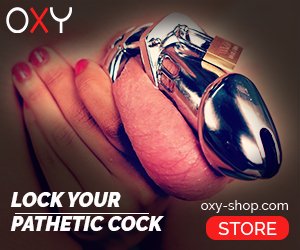 There is an extensive range of chastity devices available to heighten the eroticism of denial for you and your partner. Small, large, lace-up, locking (padlock or plastic number tags), leather, plastic, silicone, metal  – even devices which thread through a PA piercing for inescapable security.
Find out more about chastity in this fabulous beginner's guide to penis chastity by Ruffled Sheets. I've also written a big guide to penis chastity devices and you can find the right style & fit for you in our many chastity device reviews.
(use code CARASUTRA to get 15% off your order!) 
Special Offers
Find all this year's sexy Halloween special offers in one place:
You may also enjoy all our Halloween reviews which cover Halloween sex toys, lingerie and sexy costumes, as well as my Guide To Sexy Halloween Costumes & Lingerie.
Happy Halloween everyone!

Contains affiliate links