Everything XBIZ: Magazines, Websites, Shows & Awards Info
XBIZ is a USA-based major source of adult industry news, founded in 1998 by Alec Helmy, an adult industry veteran. The XBIZ team report the latest developments in all parts of the industry, including product technology, manufacture and retail, porn star news & adult movie releases, websites & services, and avenues of sex education.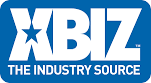 In addition to the XBIZ website, the team publish two monthly magazines which are available digitally or via print subscription.
The team host enormous winter and summer exhibitions each year in America, where the major and rising stars from all corners of the industry gather to celebrate the best in Adult. There's a professional trade show element as well as a glitzy XBIZ awards ceremony.
Websites
There are two main websites:
XBIZ.com – This is their main news portal through which industry headlines, informative articles, event listings, services details, new websites and more are published on a regular basis. There's a comprehensive adult entertainment industry company directory.
XBIZ.net – Taglined 'the industry hub', this website is a forum designed to facilitate online networking between persons from the many and varied areas in the adult industry. It's a great way to get connected with like-minded business folk for exciting opportunities and leads.
Magazines
As I mentioned at the outset, there are two magazines published on a monthly basis, available via digital download or print subscription:
XBIZ World – This magazine covers the full spectrum of the adult industry from a trade point of view. Focusing mainly on adult digital media, analysing exciting new products, websites, stars and services, XBIZ World helps readers identify potential opportunities for business and mutually beneficial collaborations.
XBIZ Premiere – This comprehensive B2B resource is focused on the adult products sector of the industry, and forms a valuable guide to emerging trends and the hottest new products on the scene. Informed articles provide details of the latest cutting-edge technology powering pleasure products, and keeps tabs on the most influential brands globally.
I've enjoyed writing for XBIZ magazine in the past as well as being featured for my various brand projects.
Shows
XBIZ famously host two shows per year in America; one in summer and another in winter. These adult exhibitions are a combination of trade show, workshops, networking, celebratory events and the recognition of top talent through the XBIZ awards.
The XBIZ shows have previously been held in Miami and Los Angeles, for the summer and winter shows respectively. You can find details of the next show date and location through the links at the end of this article.
Awards
The XBIZ Awards were first hosted and presented in 2003. Nominations are submitted to the team, with the winners voted for by both XBIZ staff and members of the adult industry. They were launched and have been designed to recognise the outstanding achievement of the many and varied hard workers in Adult.
Those XBIZ Awards relating to the adult film industry have been compared to the Golden Globes in the mainstream film industry. They focus mainly on the talents and contributions from porn stars and those involved in adult movie production, with best actor, actress, performance, couple, editor, director, soundtrack, and more.
It's not all about porn stars and related movies, as awards are also presented for other business elements of the industry, such as content providing website, affiliate program, marketing campaign and overall industry contribution.
Adult products aren't left out either. There are multiple categories for sex toys, BDSM gear and sex essentials, celebrating innovation in design, technology, marketing and sales.
My Top Ten Tips When Visiting Trade Shows
Plan your visit ahead of arrival.
Get there early.
Wear comfy shoes.
Bring a large bag.
Take notes.
Collect plenty of business cards.
Take plenty of photos (if you're allowed).
Hydrate.
Keep fuelled with food.
Enjoy!
You can find the above top ten trade show visit tips in more detail at the end of my ETO Show information article.
Links
Find out more about XBIZ at the official website, including links to various social media channels and contact details for the team. You can find out more about the next XBIZ show & awards, and how to register your attendance at xbizshow.com.