Sexy Christmas Gift Guide | Best Romantic Christmas Gifts
Giving the perfect Christmas gift you just know they'll adore gives you a warm fuzzy feeling like (almost) nothing else. 'Tis the season of giving, so why not combine festive spice and evergreen romance by gifting your lover a decidedly sexy present this year? Baby, it's cold outside – but selecting from the raunchy choices in my sexy Christmas gift guide will ensure you're all aglow. You can find my top picks for the best romantic Christmas gifts in this ultimate festive gifting guide.
Romantic Christmas Gifts
Sexy Advent Calendars
Let's kick start my Sexy Christmas Gift Guide with a few orgasmic advent options:
Lovehoney Best Sex Of Your Life Couple's Sex Toy Advent Calendar 
The Lovehoney sex toy advent calendar contains £229-worth of sex toys & sexy gifts to enjoy alone or with your partner, and costs just £100. Therefore, this sexy advent calendar isn't just a fabulous way to spice up your Christmas countdown, it also represents fantastic value for money.  I absolutely love mine!
My advice is to bag yours while stocks last – they're selling out every year, so be quick!
Read my EPIC Lovehoney Sex Toy Advent Calendar review. There's a spoiler-free area at the top, with full reveal lower down, and a couple of videos to enjoy.
Lovehoney 12 Nights of Seduction One Size Lingerie Advent Calendar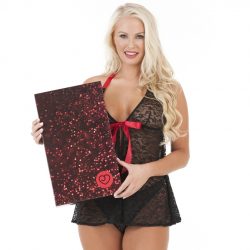 Why not add a lingerie advent calendar to your sexy Christmas countdown fun? The Lovehoney 12 Nights of Seduction One Size Lingerie Advent Calendar has 12 doors, revealing a different item of sexy lingerie every day. The contents are worth £150 in total, while the calendar itself costs only £85, making this another star buy for advent.
You can read through my 2018 Lovehoney 12 Nights of Seduction One Size Lingerie Advent Calendar review, enjoy the many photos & couple of videos, and see what sort of fun you could be having with this year's edition.
Lovehoney 12 Nights of Seduction Queen Size Lingerie Advent Calendar
This is the queen-size version of the above lingerie advent calendar, so as with the one-size, it contains £150-worth of sexy lingerie for the usual price of just £85. Reveal a new stunning item of queen-sized bedroom attire every day over 12 days, and gift yourself a new sexy lingerie collection for Christmas.
50 Shades Freed Pleasure Overload 10 Days Of Play Couple's Gift Set
With its ravishing selection of sensual and bondage toys, the 50 Shades Freed Pleasure Overload 10 Days Of Play Couple's Gift Set provides the perfect erotic allure to all Fifty Shades fans. Priced at just under £90, you'll reveal a new silicone sex toy or high-quality bondage accessory behind each door. The purple and rose gold colour scheme is sophisticated and elegant, making this a superior sexy advent calendar for adventurous lovers.
Read more: Where To Buy Sexy Advent Calendars This Christmas
Sexy Gift Sets
Lovehoney Play Box Sex Toy Subscription Box 
I had the pleasure of trying out & reviewing the Lovehoney Play Box at the start of the year. This is Lovehoney's sex toy subscription service, where you sign up to receive a box of sexy toys & sexy gifts worth over £100 every three months, for only £50 a time.
As if that huge saving plus the alluring mystery factor wasn't enough, Lovehoney have brilliantly timed the arrival of each Play Box. Sign up now and receive the Christmas edition, then in the first week of February you'll receive your second Play Box – in time for a very romantic Valentine's Day.
Sadly, the Play Box subscription service is only available to UK residents at present. Hopefully it will be rolled-out worldwide in the future.


Lovehoney Wild Weekend Mega Couple's Sex Toy Kit (11 Piece)
This 11-piece sex toy kit for couples is a true treat. For just £69.99 you'll receive this feast for your erotic senses: a g-spot vibrator, vibrating rabbit ears, butt plug, rabbit vibrator, penis stroker, anal beads, jiggle balls, rabbit cock ring and a cock ring set.
Lovehoney Wicked Weekend Jumbo Couple's Sex Toy Kit (12 Piece)
Similar to the Wild Weekend kit (& for the same price), this Lovehoney Wicked Weekend Jumbo Couple's Sex Toy Kit contains a thrilling selection of sex toys to enjoy together. As well as vibrating sex toys there are bondage accessories so you can explore the tantalising sensory aspect of restricted vision and movement at the mercy of your delightfully wicked partner.
This jumbo sex toy kit contains a 10-Function g-spot vibrator, blindfold, wrist cuffs, nipple clamps, vibrating stroker, 10-function bullet vibrator, cock ring sleeve, cock ring set, butt plug sleeve and a spanking paddle.
Lovehoney Hot Date Remote Control Couple's Sex Toy Kit (5 Piece)
Hands may be off but the fun is most definitely on with this 5-piece remote control sex toy kit for lovers to enjoy together.
The Lovehoney Hot Date Remote Control Couple's Sex Toy Kit introduces the thrill of handing over or taking control of your partner's sexy stimulation, thanks to the G-spot vibrator, love egg, butt plug, rabbit double cock ring and 10-mode bullet vibrator contained in the set. You can even sync two toys at once to the remote control, opening up plenty of exciting pleasure potential.
New Sex Toys
There are a some sex toys I felt deserved a special mention in my Sexy Christmas Gift Guide:
Lovehoney Desire Sex Toys
If, for some reason, you don't have any Lovehoney Desire sex toys yet, I strongly recommend you rectify that in time for Christmas. I was lucky enough to try out two more toys from the range recently, and absolutely fell in love with the new-style Lovehoney Desire Wand.
The design of the tip is admittedly curious, but oh-my-god is it effective for intense clitoral stimulation. The vibrations can be lower or higher intensity to fit your personal preferences, and the toy is silicone, waterproof and rechargeable.
Gift to a lucky lover, or to yourself, for an orgasmic present you'll definitely use regularly!
Click to read my Lovehoney Desire Wand Vibrator review.
Womanizer X Lovehoney Pro40
Another sex toy I was thoroughly impressed with this year is a Womanizer and Lovehoney collaboration. The Womanizer X Lovehoney Pro40 is a clitoral stimulator which utilises the pulsing air current technology common to all Womanizer sex toys, in a newly styled and sleekly designed handheld device.
The Womanizer Pro40 is rechargeable, waterproof and extremely quiet once in place during use. Use a splash of water-based lubricant to keep things slick, then enjoy the breathtakingly effective stimulation this clitoral toy provides.
Click to read my Womanizer X Lovehoney Pro40 review.
Zumio Spirotip Clitoral Stimulators
For yet more precise clitoral action, check out the Zumio sex toys. Unlike traditional vibrators, Zumio have a unique whirling action on the small tips of their vibes, known as 'Spirotip'. The tiny ball on the flexible stem whirls incredibly quickly, delivering soft rapid-fire stimulation to those highly sensitive nerve-endings on and around the clit.
Zumio vibrators are rechargeable, waterproof and made from body-safe materials. For power queens like me, get the Zumio X –if you need things a little less powerful, the Zumio S is for you.
Click to read our Zumio sex toy reviews.


Loving Joy VITA Wand 
Loving Joy have put a lot of effort, time and research into developing high quality and technologically advanced sex toys the past couple of years, and the latest arrivals to the range prove it. The Loving Joy VITA Wand Vibrator costs just under £90, is rechargeable, waterproof and cordless during use.
Yes, you read that correctly – a wand vibrator which is both waterproof and cordless! It's also powerful enough to get me off… you can find out more in my Loving Joy VITA Wand Vibrator review. Make sure you browse all the new Loving Joy sex toys at their website, including the bendable FLEX and FLUX vibrators, and the remote-control TUX couple's vibrating cock ring.
Click to read our Loving Joy sex toy reviews.


Hot Octopuss Solo Lux
Hot Octopuss are constantly tweaking their range of penis masturbators, making improvements to existing toy styles and creating innovative new sexual satisfiers. One of the latest additions to the family is the Hot Octopuss SOLO Lux, which I'll be reviewing here on the blog very soon. This powerful, rechargeable, multi-function penis masturbator is controlled either via the buttons on the toy or with the sleek and modern wrist-strap remote.
The Hot Octopuss brand is incredibly inclusive, with their penis masturbators able to be used and enjoyed hands-free, and from/during a flaccid state. Their website can also be toggled to a fully non-gender binary presentation.
Read all our Hot Octopuss sex toy reviews.


Ann Summers Moregasm+ Bullet Vibrator
One of my most-loved, top-3 favourite bullet vibrators ever. The Ann Summers Moregasm+ Bullet Vibrator features superbly powerful, rumbly vibrations –rare, in a bullet vibe- which are rechargeable and deliver beautifully through the silky-soft silicone. I adore the sea-foam green colour, while the squishy-tip makes for an incomparable masturbation experience which is always comfortable and always orgasmic.
Priced at just £45, this bullet is quiet during use, and fab to enjoy either by yourself or to share with a partner during foreplay and sex.
Click to read my Ann Summers Moregasm+ Bullet Vibrator review – and don't forget to check out the new arrivals at Ann Summers. There are plenty of gorgeous new vibrators and sets which would make perfect, sexy Christmas gifts.


Electrastim Electro Sex Toys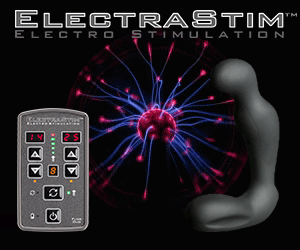 Whether you're completely new to the tantalising tingles of electro sex or ready to upgrade your existing electro sex toys collection this Christmas, Electrastim have everything you need. Electro stimulation is safe when done correctly (read our electro sex guides here) and when you use high-quality sex toys specifically designed for sexual stimulation purposes.
To get started with your electrosex play, you'll need a base unit (starting at just £99.99) into which you can then plug various sexy electro accessories like pads, dildos, butt plugs, cock rings and more.
Click to read our Electrastim electro sex toy reviews.
Bedroom Bondage Gifts
Lovehoney All You Need Bondage Kit (20 Piece) 
A lot of us are 'tied up' throughout the holidays, so why not do it in the sexiest way possible? Enjoy restricted movement while freeing your mind through a therapeutic sensory bondage adventure.
The Lovehoney All You Need Bondage Kit contains a whopping 20 bondage sex toys to enjoy, all for just under £120.
You receive a blindfold, rubber flogger, pinwheel, collar, adjustable nipple clamps, clit clamp, nipple ring clamps, breathable ball gag, bondage rope, bullet vibrator, G-spot vibrator, vibrating cock ring, penis stroker, silicone jiggle balls, suction cup dildo, slimline butt plug, silicone anal beads, 2x wrist cuffs, 2x ankle cuffs and an under-mattress restraint system. Wow!
Lovehoney Red Hot Passion Couple's Pleasure Kit (6 Piece) 
This sexy 6-piece set saves you 35% off the usual price if you were to buy the items separately – it's priced at just £34.99 so this is a fantastic buy. In the Lovehoney Red Hot Passion Couple's Pleasure Kit you receive a pair of wrist cuffs, a pair of ankle cuffs, a twist-base battery-operated vibrator, a blindfold, chained nipple clamps and a cute feather tickler for exploring sexy sensory play.
Fifty Shades Of Grey Pleasure Overload Collection
Four new 'collections' have been created under the Fifty Shades Of Grey sex accessories brand – Greedy Girl, Inner Goddess, Relentless Vibrations and Pleasure Overload. The Pleasure Overload collection really caught my eye and I'm sure these items would make spectacular Christmas gifts for pleasure-hunters and 50 Shades fans alike.
This Pleasure Overload collection is comprised of gift sets – which not only represent value for money, but offer you and your lover the excitement of receiving a bundle of sex toys then exploring their features during intimate moments together. Prices start at just £19.99.
Sexy Lingerie
My Sexy Christmas Gift Guide wouldn't be complete without some stunning lingerie options:
Enchanted
Enchanted is a new Lovehoney lingerie collection presented in vivid red contrasted by black, with both standard and Queen-sized options. Cup sizes are catered to as well as dress size, which is enormously appreciated – and styles include a basque, bra set, body and babydoll.
Lustre
Purple lovers: you'll adore this new range in the Lovehoney lingerie aisles. Lustre lingerie comprises of a bra set, body, basque and harness, some styles available in Queen-size as well as standard, with the metallic purple shimmer providing extra wow factor. Collar detailing gives a teasing glimpse at what lies beneath should you choose to wear beneath your everyday outfit, ever-ready for an erotic liaison.
Treasure Me
The Treasure Me collection presents you with basques, bra sets and chemises in black, red and purple options. As well as killer sex appeal from the first glance, these lingerie sets are made from luxurious satin and lace for a dazzling sensory overload.
Fierce
The Fierce clothing range is the perfect bridge between sexy lingerie and fetish clothing. It's an outstanding choice from my sexy Christmas gift guide. For comfortable, easy-to-wear slinky black outfits, some of which could be worn beyond the bedroom, you really need to check out Fierce.
I have the Fierce zip-around body and the Fierce Dress, and I'm seriously smitten with both. The dress has flexible boning to support where needed, while both items feature easy to care for stretchy black wet-look/leather-look fabric which hugs my curves and flatters my figure.
Feel sexually empowered and confident like never before, by stalking through the season in some saucy Fierce clothing.
Read my Fierce lingerie reviews.
Vawn & Boon
If you're ready to invest in truly high-quality, supreme-shine fetishwear, check out Vawn and Boon. This UK-based company create stunning PVC clothing, the Vortex catsuit being their signature piece. I have the Vortex Catsuit in both black and red, and I can team my red Thorax cincher corset with either for various killer sex-appeal looks.
Read all my Vawn and Boon reviews.


Read more: How To Gift Lingerie She Loves For Christmas &
How to Buy Sexy Lingerie Which Suits Your Body Shape 
Lovehoney Christmas Shop
The Lovehoney Christmas Shop is now open, and with their brilliant loyalty scheme, options to pay in instalments for big-ticket items and a friendly community, it's a really great place to find everything bedroom-fun related. There's sexy stocking fillers, adult board games and card games, sexy lingerie, the latest sex toys and they're constantly adding new promotions & multi-buy incentives too.
Lovehoney Special Offers & Sale
Speaking of promotions: don't miss the Lovehoney special offers pages, especially over Black Friday, Christmas and the New Year & January Sales. Bag a bedroom bargain and enjoy ££-saving pleasure with their incomparable offers, freebies and ongoing sale.
Keep up to date with the latest sexy Christmas offers by heading to my related pages:
I hope you've enjoyed my Sexy Christmas Gift Guide. Happy sexy shopping for the best romantic Christmas gifts – and Merry Christmas!

Contains affiliate links