The Big Christmas Giveaway 2019: Win A £200+ Festive Fuckery Bundle!
Time for my Big Christmas Giveaway 2019! Make sure you enter this exciting seasonal competition as you could win a Festive Fuckery Bundle worth over £200*. I'm sure there are plenty of Cara Sutra sex blog readers who would love to win a hand-picked selection of sex toys and sexy gifts to enjoy through the holidays, so let's take a look at what exactly you might be receiving, and how to enter.
What You Could Win
Look at all those gorgeous gifts and sexy items! I'm even including the set of lights with this bundle. There are festive goodies, sex games, bondage toys, lingerie, sex toys… even a cuddly toy. We'll look at every prize in turn below.
Fantasy by Cara Sutra Beginner's Bondage Kit
My Fantasy by Cara Sutra Beginner's Bondage Kit has a recommended retail price of £69, but it's currently available from me for just £50 in either black or red. In this Big Christmas Giveaway 2019 you can win the red set, as shown in its gorgeous box above. There's everything you need to get started with a kinky bondage session, or simply some fun additions to your existing restraints collection.
Lovehoney All Nighter Kinky Christmas Crackers
The Lovehoney All Nighter Kinky Crackers have been discontinued, so perhaps these are the last remaining sets… ever?! I can't possibly say for sure, but I do know they were priced at £7.99 a set previously. That makes this part of the prize bundle worth £15.98.
There are two kinky Christmas crackers in each box, and you can click to read my full Lovehoney All Nighter Couples Sexy Christmas Crackers review for more details. Click through the links below to find the original sale pages at Lovehoney.
Bondara Glass Candy Cane Dildo
It doesn't get much more festively fucktastic than this. The Bondara Naughty or Nice Candy Cane Glass Dildo is usually priced at £29.99, and comes in a lovely black drawstring bag with the Bondara logo emblazoned on the front.
Glass dildos are extremely popular sex toys, as you're able to warm or cool them in water before use. Well-made glass sex toys are safe to use internally, and you can read more about this in my Guide to Glass Sex Toys: Are Glass Dildos Safe To Use? feature. Why don't you check out all our glass dildo reviews too?


The 12 Sex Games Of Christmas
The 12 Sex Games of Christmas is sure to add a spicy twist to this holiday season. There are plenty of suggestions to raunch up your festive shenanigans, all contained in a jolly little box.
The 12 Sex Games Of Christmas adult game is usually priced at £14.99. You can also click to read all our adult game reviews.
Christmas Pudding Nipple Tassels
Wear as a festive surprise after Christmas dinner, or save them to wear specifically during some holiday action… these Christmas Pudding Nipple Tassels are usually priced at £9.99, and such fabulously festive fun. The main nipple-covering area is sequined to a Christmas Pud effect, with teasing tassels beneath.
Enjoy all our nipple pasties reviews, and click through the big green button to find these specific ones.


Naughty Christmas Confessions Game
For strictly adult post-dinner fun, you'll love the Naughty Christmas Confessions Game. Usually priced at £4.99, these candy cane shaped confession cards will keep the atmosphere saucy and imaginative, no matter how many festive tipples you've enjoyed.
Enjoy all our sex games reviews.


Lovehoney Lingerie Black Body One Size
A best-seller from the Lovehoney lingerie aisles, this Lovehoney Opaque Crotchless Body with Halterneck is usually priced at £14.99. It's one size, very stretchy and extremely comfortable -I have one myself!
Click through the buttons below to discover more seductive lingerie options, and read all our sexy lingerie reviews.
Lovehoney Seduce Me Small Push-Up Plunge Bra
This beautiful Lovehoney Seduce Me Small Push-Up Plunge Bra is usually priced at £19.99, and is part of the eye-catching Lovehoney Seduce Me lingerie collection. Find more enchanting lingerie by clicking through the buttons below, and read all our sexy underwear reviews here at the Cara Sutra sex blog.
Lovehoney Lace Lingerie Bag
I was amazed by the size of this lingerie storage bag! The Lovehoney Large Lace Drawstring Lingerie Gift Bag is usually priced at £5.99 which is brilliant value. It's a great way to wrap your sexy lingerie gifts this year, or store your gifts and purchases in your drawers to keep them separate and safe. Find more sexy gift wrap and sex toy storage options by clicking through below.
Minx Jiggle Duo Love Balls
These Minx Jiggle Duo Love Balls offer you an easy and non-intimidating way to experience the pleasure of jiggle balls and kegel exercisers. Usually priced at £9.95, these weighted balls are made of PVC, they're easy to clean and are connected by a looped easy-retrieval cord. Read all our love egg reviews on the blog.
Bound To Please Red Bondage Rope
Brilliant for securing bulging sacks, wayward reindeer or naughty submissives – the Bound To Please Red Bondage Rope is 100% cotton and usually priced at £9.95.
Enjoy my Brand Focus: A Closer Look At Loving Joy Sex Toys, read all our bondage rope reviews, then click through below to discover the Bound To Please bondage range.


Clinton Cards Plushy Santa Teddy Bear
Cuddly toy! Priced around £15 this plushy Santa teddy is a cuddly festive addition to your bedroom, lounge, gift pile or to add a bit of seasonal 'snug' to the base of your Christmas tree. He's just so cute!
Total Value Of Prizes:

£201.81
How To Enter
My Big Christmas Giveaway 2019 is easy to enter. Find the Rafflecopter widget at the end of this post, which (once you answer the required question) offers you several ways to enter and maximise your entries and therefore your chances of being that lucky winner.
If you like, you can even return each day during the giveaway to tweet (must be done through the widget for it to be registered) for an additional daily entry.
Not So Small Print
Apologies international entrants… but due to the size of this item and the postage costs involved, my Big Christmas Giveaway 2019 is limited to UK entrants only.
You must be over the age of 18 to enter (& to be on my site at all – if you're not over the age of consent in your jurisdiction please go elsewhere!). Any giveaway-only accounts or otherwise spam entries will be declared null and void – a lot of time, effort and expense goes into my giveaways and I really would love this £200+ Festive Fuckery Bundle to be won by a genuine sex toy enthusiast.
This Big Christmas Giveaway to win a sexy prize bundle worth over £200 will end on Monday 16th December 2019, at 10pm UK time. The winner will be contacted via email, and I'll need your name/address by reply asap (within 2 weeks max) in order for me to post out your prize.
The prize bundle will be securely and extremely discreetly packaged, with no mention of Cara Sutra or sex toys or anything else which might reveal what's inside your prize parcel.
Enter The Giveaway Here
It's time! Enter the giveaway through the Rafflecopter widget below, and please share on your social media to help spread the festive word about my Big Christmas Giveaway 2019. Good luck!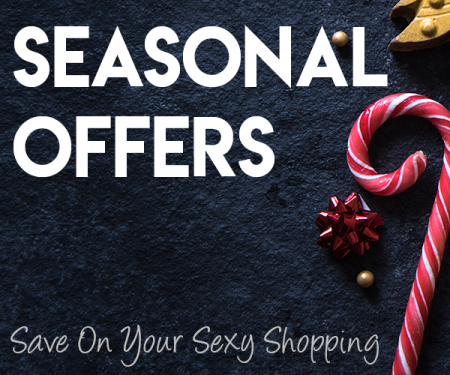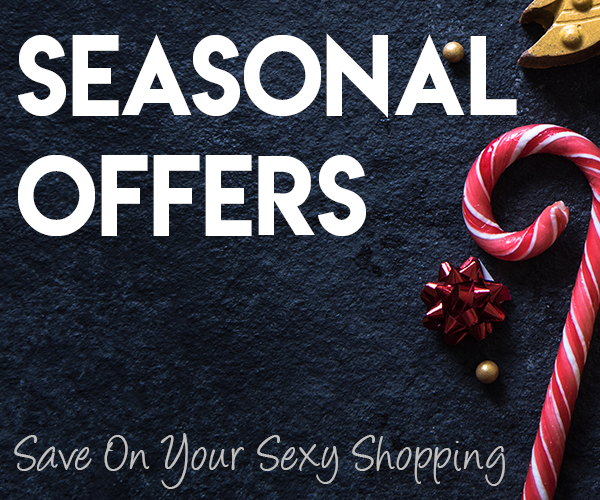 Contains affiliate links
*when items are bought individually at the recommended retail price.