Big Guide To Sex Machines And Fucking Machines
Time to talk about the big boys… What do you know about sex machines and fucking machines? If you're a sex toy fan or love watching porn (or both, why not), you've probably heard of the Sybian. I reviewed the Sybian sex machine myself a few years ago. That's not the only sex machine around though…
The appeal of sex machines and fucking machines is two-fold, in my opinion. Firstly, the power they can provide. Sex machines tend to be mains powered; the items are large, with motors to match, and such sizeable sex gear needs the oomph of plug-in power. Secondly, fucking machines offer the sensation of partnered sex, being fucked by someone else, even when you're by yourself. Or, for the kinky amongst you, the feel and visuals of being fucked by a machine while someone watches/watching someone get fucked by a machine. Bondage optional. Hot.
Although I've really enjoyed my limited experiences with sex machines, at this stage in my life I'm not looking to add any more to my collection. They're just a no for me personally. The machines I've tried have been fantastic in their own ways, but they take up a lot of room and the ones I have are incredibly noisy. Living in a family home and with the absence of a personal soundproofed sex dungeon to set up my fucking gear in (still waiting on that Lottery win), I am forced to opt for more discreet orgasmic options these days.
For those able to enjoy the squeal-tastic joy of sex and fucking machines, there's a growing range available to choose from. Let's take a look at the leaders in the field, as well as some you might not have heard of.
Guide To Sex Machines And Fucking Machines
The Sybian Sex Machine
The Sybian is perhaps the best-known sex machine thanks to its popularity in porn videos and 'scandalous' use in the Howard Stern show and similar. Clips of women riding the Sybian and having explosive orgasms ripped from them by this thundering powerful beast between their legs couldn't help but stoke an international Sybian fascination.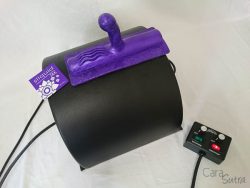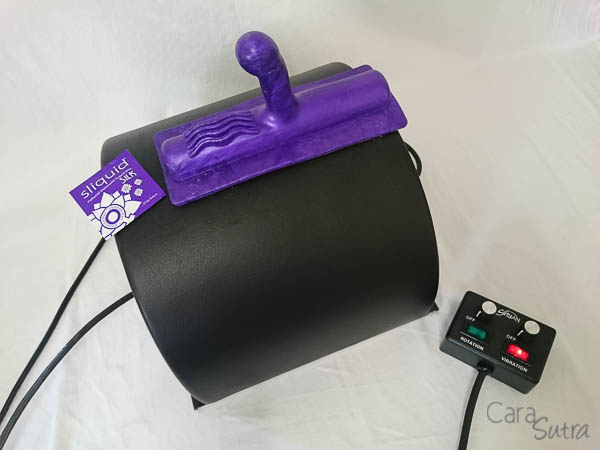 My Sybian came courtesy of F Machine Fun, who extremely kindly sent me the machine to review then keep. It arrived with a plethora of information and some accessories (& later on, I happily received some silicone accessories), and I felt a little overwhelmed once the 22lbs beast was out of the box.
The Sybian takes quite a bit of practice in order to get the best out of it, and even after weeks I wasn't sure I was doing it entirely 'properly'. It felt nice but wasn't as effective for me as the Doxy Wand vibrator. Also, the Sybian is LOUD. I mean really, floor shaking and wall shaking, 'is that a jet taking off in the next room, dear?' loud.
This combination meant that although I'd finally had my Sybian owning dream come true, in reality I couldn't use it even a quarter as often as I'd like. Living with family in the house doesn't lend itself to straddling a roaring beast of a masturbation machine every afternoon. If you're living alone or with a Sybian-friendly partner, and have thick walls and a strong floor, it may be better for you.
The Sybian is quite expensive at about £1500 to buy, but you can also rent one from F Machine Fun which is a great way to find out if ownership is right for you. Rental is from £105 for 3 days, plus £40 delivery charge.
To help protect your Sybian from lube or bodily fluids you can now purchase a fully fluid-proof Sheets of San Francisco Sybian Cover.
Click to read my full Sybian sex machine review.

F-Machine Gigolo Sex Machine
Another sex machine I've been privileged to ride, review and keep is the F-Machine Gigolo, kindly sent by MEO.de. It's a completely different type of machine to the Sybian, as it's not a ride-on but a fucking machine. Thanks to the motorised penetrative arm to which you attach a compatible dildo of your choice, the F-Machine Gigolo can be enjoyed face up, face down, vaginally or anally, by persons of all genders.
The F-Machine Gigolo wasn't as overwhelming a package as the Sybian when it arrived, and once all the pieces were out of the box and the instructions laid out it's quite simple to fix the components together. There's the main motorised unit, the stand, the thrusting rod, a dildo to stick on the end and a remote control to operate it. Plus the power lead to plug it all in.
Although the F-Machine Gigolo is a lot cheaper than the Sybian, at €698, I was still a little disappointed that the included dildo was made from TPR and not a better, non-toxic and non-porous material. The attachment method to the thrusting rod is a vacuum plug, compatible with the Doc Johnson Vac-U-Lock range of dildos, so it's worth purchasing a silicone style from that range in a size you feel comfortable with.
Along with lashings of lube, the F-Machine Gigolo felt absolutely amazing. It did, literally, fuck me like a machine. Again, it's a very loud machine, so unfortunately, it's not something I can leave set-up in my room for a whirlwind ride to orgasm at any time. You keep control of the fucking all the way through thanks to the remote-control operation, and of course the machine can be enjoyed by persons of all genders giving it universal appeal.
Click to read my full F-Machine Gigolo review

You2Toys Rotating G-Spot and P-Spot Sex Machine
After running out of space for any more sex machines, and excuses for the noise they make besides, it was time to turn to the Pleasure Panel for help with reviewing a few other offerings from the 'fucking machine' corner of the market. This You2Toys Rotating G-Spot and P-Spot Sex Machine, provided by Bondara, proved exceptionally effective for reviewer CandySnatch.
Candy also runs her own successful sex blog and sex toy review website at candysnatchreviews.com.
This ride-on sex machine arrives with three silicone attachments, and the machine itself is covered in elegant black faux leather material. You plug it in then power up/adjust the speed via a twist dial on the front.
Unlike the two sex machines I've reviewed & own, the You2Toys Rotating G-Spot and P-Spot Sex Machine was quiet enough in operation for CandySnatch to feel comfortable using it atop her bed even in a full house. This is a huge advantage over other, better-known styles.
CandySnatch's thoughts during use?
"When I sat upright on the You2Toys Rotating G-Spot and P-Spot Sex Machine it did indeed hit my G spot on the forward thrust. It's with some embarrassment that I admit the first test was ridiculously quick as within a few minutes of changing my position I came in a tsunami style effect. Damn! …
Within minutes I'd had a second intense, star inducing orgasm. What an absolute revelation the You2Toys Rotating G-Spot and P-Spot Sex Machine really is!"
This machine is also much cheaper than both the Sybian and the F-Machine Gigolo, priced at just over £200 from Bondara.
Enjoy reading CandySnatch's full You2Toys Rotating G-Spot and P-Spot Sex Machine review.

The MotorBunny Sex Machine
If you want to know about sex machines, Joanne's Reviews from the Pleasure Panel is the lady to ask. Her own website, sexmachinereviews.co.uk is a treasure chest of reviews and information about sex and fucking machines, along with myriad reviews and guides for other types of sexual pleasure products.
Who else would I ask for help, then, when offered the opportunity to review an intriguing competitor for the Sybian – the MotorBunny Sex Machine?
Happily, Joanne's Reviews was able to help and was extremely impressed by the MotorBunny.
The MotorBunny is a ride-on sex machine which looks extremely similar in style & operation to the Sybian. It has a stronger motor than the Sybian, but the look, set-up and styles of attachments are all the same. Unfortunately, the MotorBunny proved even louder than the Sybian –something I find difficult to imagine!
The MotorBunny does come with an app however, and it's much cheaper than the Sybian at just US$899 for the basic model.
So how did Joanne feel about using the MotorBunny?
"…let's just say it can make me squirt just as easily as a Sybian® which is a very good thing. I squirted for the first time in my life on a Sybian® and it's good to know that the MotorBunny Sex Machine has that effect on me too. …
I can edge myself using it on the lower settings but once you ramp things up it just forces an orgasm out of you. These orgasms are felt throughout your lower body and it isn't uncommon to be left unable to walk with jelly legs."
Click to read Joanne's full MotorBunny Sex Machine review.

The Tremor Sex Machine
A little while after the MotorBunny review, I was approached by yet another company who had created their own Sybian-esque ride-on sex machine. The Tremor.
Once again, Joanne's Reviews of the Pleasure Panel was pleased to help out, and The Tremor Sex Machine was duly sent along to her for her thorough and expert review.
Despite being similar in design to both the Sybian and the MotorBunny, The Tremor definitely has its own style. Rather than a half-barrel shape for the ride-on part, The Tremor has a rounded triangular cross shape which Joanne found more comfortable to sit astride during use.
The Tremor has a high-quality finish, with an emblazoned logo, bright white and red colour scheme, rock 'n roll style remote control knobs and non-porous, non-toxic silicone attachments.
How was it during use, though?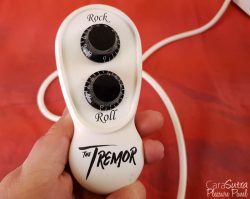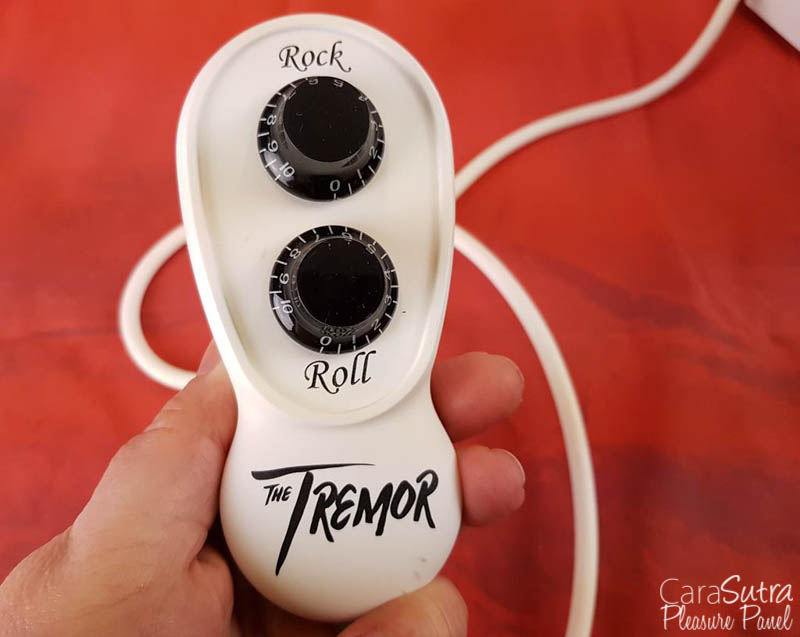 "Straddling it and slowly turning up the power you can feel waves of pleasure pulsing through your lower regions. Incredible sensations that emanate from the machine but penetrate right through your body turning your legs to jelly. …
It always amazes me when I close my eyes, and I listen to the noises coming out of me when I ride it. It is a beast, almost primal in its ability to stalk your orgasm before chasing it down and utterly blowing you away.
Riding The Tremor Sex Machine is not just getting off, it is embarking on a journey to "orgasm-ville" on the non-stop express train, travelling first class of course."
Click to read Joanne's complete The Tremor Sex Machine review.

Other Sex & Fucking Machines Are Available:
Ride-On Styles
The Cowgirl Premium Remote and App Controlled Riding Sex Machine
The Cowgirl is a Sybian-style ride-on sex machine with an elegant design, 1200RPM of vibration and silicone attachments. It was created by certified sex expert, Alicia Sinclair.
Operation is by the wired remote or wirelessly via the app. The price is similar to the Sybian, at £1,549.99 from Lovehoney (but you get plenty of loyalty points!).

LoveBotz Deluxe Saddle Sex Machine
LoveBotz is a pleasure product brand who offer various 'heavyweight' orgasm-inducing toys, most notably their LoveBotz Saddle Sex Machine. The 'deluxe' package includes 4 attachments, and is much cheaper than the Sybian and Cowgirl, currently priced at just under £750.
Unfortunately, the attachments are made from TPE/TPR rather than silicone, so personally I'd rather invest in the Cowgirl despite the extra cost –or the MotorBunny or Tremor we discussed earlier in the guide.

Sex Glider / Monkey Rocker
Self-powered sex machines are known as sex gliders, the best known of which is the Monkey Rocker. You sit on the machine and a rocking motion from the user causes the dildo to thrust in and out. It's been difficult to find the original Monkey Rocker for sale, but the Sex Machines website have a similar item for sale, known as The Original Cock Rocker.
While the original Monkey Rocker is stated to retail at £1,995, The Original Cock Rocker is currently on sale for just £400.
The Original Cock Rocker takes Vac-U-Lock dildos, so it's worth finding a silicone compatible type as the one included is most probably rubber (try GODEMICHE, they craft and sell silicone Vac-U-Lock compatible dildos).
I like the idea of these self-powered, Monkey Rocker style sex machines; beats getting on the exercise bike for a workout!

Penetrative Sex Machines
Louisiana Lounger
Here's an idea for an easily stowable, full size sex machine: why not try an inflatable style? The Louisiana Lounger is exactly that; an inflatable lounger with an orgasmic addition. A motorised thrusting area to which you can attach one of the three included sex toys. The vibrators also work as typical sex toys, they don't have to be attached to the machine.
The Louisiana Lounger is a great novelty gift for someone thinking about investing in a heavier weight sex machine, but the low price (£149.99) does reflect various quality aspects. It's battery powered, for one thing, taking a whopping x8 C batteries in the main unit and 4 AA batteries in the vibrators –which aren't included. The vibrators are also less than ideal, made from materials such as porous and toxic jelly.
Sometimes, you get what you pay for.

Pipedream Portable Thrusting Sex Machine
I'm by no means Pipedream Product's biggest fan –or a fan at all, if I'm completely honest. But this portable little fucker is a cute addition to the world of sex machines. It weighs less than 1.5kg and has its own carry case for discreet portability. The machine also comes with 3 attachments, 2 dildos and 1 vibrating dildo. Sadly, these are made from TPR, rather than silicone.
There are four suction cups on the bottom of the machine to help secure it to a smooth, flat surface, and it comes with samples of lubricant and toy cleaner. At just under £375 it's not the cheapest, and it's not the most expensive –but the small size and discreet portability goes in its favour. I just wish those attachments were silicone (and that Pipedream's marketing wasn't so nauseatingly chauvinistic).

Robo Fuk Adjustable Unisex Thrusting Sex Machine
The Robo Fuk Thrusting Sex Machine is another small sized offering, but has big play potential. It comes with both an attachable dildo and a penis masturbating sleeve to offer pleasure to persons of all genders. You can attach the Robo Fuk to a surface (or wall) of your choice using either the included mounting bracket, or the attached suction pads. You can adjust the angle to get it just right for you.
This machine is mains powered and has an easy to operate, wired controller. At just under £400 it's well priced for the long-term pleasure it offers. Cons are the noise –to be expected from most mains powered sex toys- and the fact that yet again, the accessories are TPE rather than the preferable, safer silicone material.

Hand Held Thrusters
Mia Maxx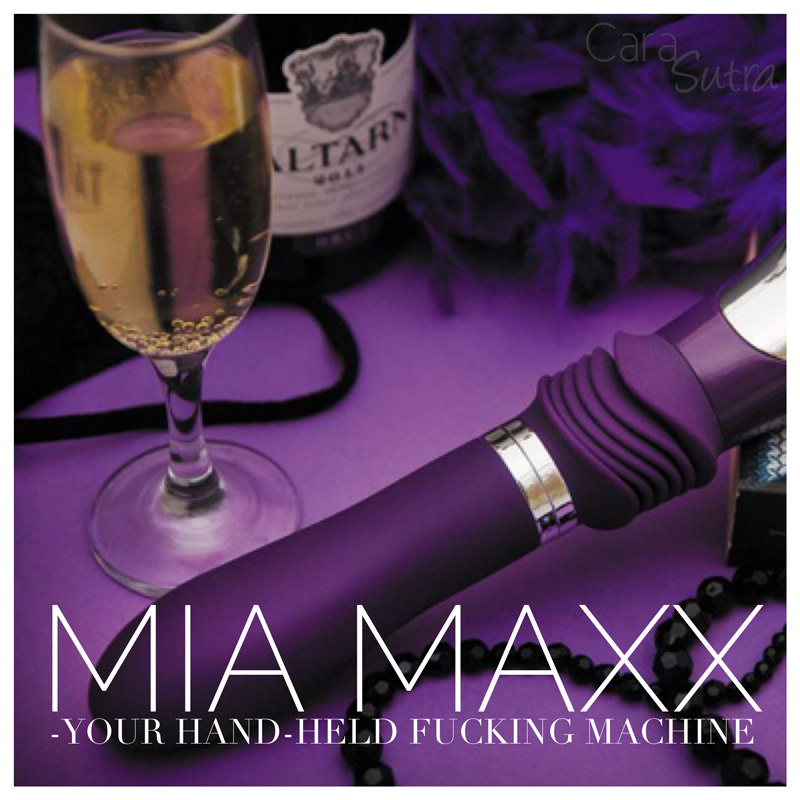 The Mia Maxx sex toy describes itself as a 'hand held fucking machine' -so it's easy to see why I was fascinated from the start. The main disadvantage to this type of toy over the sex machines above is, obviously, they're hand-held – meaning you can't just lay back and get fucked, you have to hold on to the thing. But that also means that you're in control of the toy throughout use, which can be reassuring for those who worry about the depth of penetration or power behind some of the more typical styles of sex machine.
Mia Maxx has plenty of benefits. It has a 3″ thrusting stroke, it's rechargeable, it is wireless in operation, it has a vibrating setting if you want to play more traditionally, it comes with a storage case, and (celebratory fanfare) it's made with body-safe, non-porous silicone. It costs between £160-£180 after currency conversion.
Read more about Mia Maxx in my promotional feature, then the thorough Mia Maxx sex toy review by the Pleasure Panel.

Fantasy For Her Rechargeable Remote Control Sex Machine
The Fantasy For Her seems quite an underrated handheld sex machine, for the amount of play options and bonus features it offers. This toy is attachable to a smooth surface via the suction cup, or you can simply hold it while playing. There are various vibrating and thrusting patterns, the power behind which is rechargeable so you don't have to worry about a wire getting in the way during playtime, or sourcing/running out of batteries.
There's a wireless remote control to keep you in charge of your own pleasure at all times, and the toy is submersible for easy cleaning. It warms up too, if you like that sort of thing.
To top everything off, the Fantasy For Her is made from silicone *hallelujah chorus*.
All of the above, for less than £100. Now that's what I call a bargain.

Fun Factory Stronic Thrusting Vibrators
I can't possibly talk about thrusting handheld sex toys without mentioning Fun Factory. I was one of the first reviewers for the Fun Factory Stronic sex toys in the UK (Stronic Eins, back in January 2013), and the pulsating, thrusting stimulation was a simply incredible experience.
There are various Fun Factory thrusting toys available now, under their sub range 'Stronic'. These handheld thrusting toys are rechargeable, made from silicone, waterproof, quiet during use and priced at £150-£160 each. Take your pick from the various styles, and enjoy.


Contains affiliate links