Santa Sutra Christmas Giveaway 2018: Win A £250+ Sex Toy Bundle!
YES! It's that time of year again… time for the Santa Sutra Christmas Giveaway! As usual, it's an absolute monster of a competition, with an enormous bundle of prizes up for grabs by one extremely lucky, randomly selected giveaway entrant. This Christmas giveaway ends with enough time for me to post the horny haul out to the winner so they can enjoy over the Christmas break* –and for a long time to come after that, too!
The Santa Sutra giveaway this year is a mountain of sexy toys, lingerie and other sexy items which, at usual retail prices, would total over £250 when bought separately. Amazing, huh? Quick, let's take a closer look at what you could be getting your happy hands -and other parts- on if you're the lucky winner.
The Santa Sutra Christmas Giveaway £250+ Prize Bundle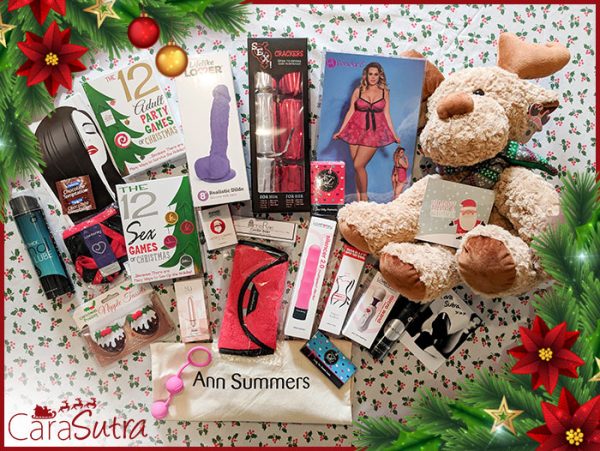 Plushy Reindeer – So Cute!
Bondara Plus Size Pink Lace Bow Detail Babydoll and Thong £26.99
Anna Rae's Cuddle Bean Aftercare Towel in Watermelon Red $12.99/£9.90
So Divine Get Lucky USB Vibrator £29.99
So Divine Rose Gold Halo Vibrating Bullet £7.99
Lifelike Lover Luxe Silicone Dildo 8 Inch Purple £32.99
Lovehoney Men's Red & Black Unwrap Me Thong £7.99
Lovehoney Silencer 2.0 Vibrator £19.99
Lovehoney Micro Wand Vibrator £16.99
Lovehoney Red Silky Restraints £8.99
Lovehoney Lucky You Scratch Cards £5.99
Christmas Pudding Nipple Pasties £6
Secura Kondome Santa's Coming Condoms £2.95
Kheper Games Sex Crackers £14.99
12 Adult Party Games Of Christmas & 12 Sex Games Of Christmas (£11.99 each)
Jean Yves Bondage Perfume £6.99
Signed photo, Give Lube Super Thick Anal Lube 200ml (discontd) £12.99, Give Lube Silicone+ 100ml (discontd) £12, Pasante Chocolate Flavoured Condom, Pink silicone jiggle balls & Ann Summers Cotton Tote Bag.
Altogether, these prizes add up to over £250 if bought separately, at usual retail price.
How To Enter
To enter this Santa Sutra Christmas Giveaway, you need to click through the Rafflecopter widget below. It is all very easy to do – just give your answer to the fun question, which unlocks other ways to enter.
You can follow me on Twitter, and the Pleasure Panel Twitter, through the widget. You can also tweet about the giveaway every day while the competition is running for an extra entry (this also needs to be done through the widget to be registered as an additional entry for you each day).
There's also a Pinterest option for another entry; pin the image to one of your boards (also done through the widget) to enter that way.
Not-So-Small-Print
This Santa Sutra Christmas Giveaway is open to international entrants (yay!) who are over the age of consent in their jurisdiction of residence. This is 18 in the United Kingdom, it may be higher where you are.
The competition will end at 10pm UK time on Monday 17th December 2018.
Those who run comping-only accounts, or professional compers, are ineligible to win this giveaway and entries from such will be declared null and void. I want this amazing prize bundle to go to someone who genuinely wants to win it, with a similarly genuine interest in and passion for adult products. Hopefully this is understandable!
Enter The Santa Sutra Christmas Giveaway
Here we go! You can enter the Santa Sutra Christmas Giveaway to win a massive £250+ sex toys prize bundle through the Rafflecopter widget below. Good luck everyone –oh, and Merry Christmas!


*if the winner is mainland UK-based. A winner from outside of the UK may receive the prize bundle after Christmas Day due to delays involved with international postage. Please note that I cannot guarantee delivery of this prize bundle to any country, including the UK, by Christmas Day 2018 and cannot be held responsible for postage delays. 
Unsponsored, contains affiliate links