Christmas Lingerie Guide: Best Sexy Santa Outfits & Seasonal Roleplay Costumes
As an adult you soon come to realise that dressing-up isn't just for kids. There are adult fancy dress accessories for pretty much every seasonal event, and they can be as innocently alluring or as brazenly erotic as you wish. I have a fairly sizeable 'adult dressing-up' collection now, and find it enormous fun –as you can see from my Halloween Kinky Kitten lingerie review and Halloween Sultry Sorceress lingerie review. My absolute favourite seasonal event has to be Christmas, so combining sexy fancy dress with festive frolics is guaranteed to get my pulse racing. Let me share my picks of the best Sexy Santa outfits & seasonal roleplay costumes for your kinky Christmas lingerie collection.
Sexy Santa Outfits & Other Saucy Christmas Lingerie
Lovehoney
Lovehoney have been prepared for Christmas in terms of lingerie offerings on their online sex shop for some time now, which is great as it gives shoppers plenty of time to factor shopping for Christmas lingerie and Sexy Santa outfits into the budget.
You can find Lovehoney's festive lingerie collection here, but here's a few of my favourites:
Lovehoney Plus Size Unwrap Me Red Lace Babydoll
This absolutely stunning lace piece in festive red is sure to flatter a range of body shapes. The delicate lace is perfectly contrasted by the satin ribbon ties under the bust and halterneck. Floaty material skims playfully over your curves while the lace gives a teasing peek at what lies beneath. It's available in both one-size and plus-size, as shown.
I have one of these myself and love it!


Miss Santa Dress and Cape Outfit
I'm absolutely loving the deep red of this Miss Santa dress with hooded cape. It comes with the elasticated belt too, which helps define your natural curves. The white edged dress and cape, especially with the hood, just epitomises the festive season for me, with connotations of Santa's sleigh. Teamed with some lace top stockings this outfit is definitely both naughty and nice.


Naughty Knot Unwrap Me Sexy Body Bow
The first of our gift-wrapped style lingerie pieces to feature on this Best Christmas Lingerie list is Lovehoney's Naughty Knot. Red –obviously- and just wide enough to cover the essentials, this ingenious design gives them the very best present this Christmas: you! Exceedingly naughty, in a playful style, this Naughty Knot will have them aching to unwrap their erotic gift…


Men's Santa Trunks and Hat Set
This set is just so cute I had to include it… The Men's Santa Trunks and Hat Set provides the required Santa-ness while leaving his body exposed to lust over. Will he leave his hat on? I'll guess you'll have to work it out between you. One thing's for certain: my thoughts regarding those Santa Trunks have put me firmly on the Naughty List.


Lovehoney Unwrap Me Men's Boxer Shorts
There's also a thong version of this Unwrap Me underwear, but I feel the boxer shorts are just that little bit more 'gift-shaped' plus they look more comfortable –to me, at least. The Lovehoney Unwrap Me Men's Boxer Shorts come in sizes Small through to Extra Large, has a teasingly tied open-front design and comfortable stretch waist-band. Wear under your Christmas party outfit for smiles all round.


Bondara
Bondara offer a large range of sex toys, bondage gear and lingerie at some fantastic prices… The own-brand items often come in minimal packaging (but always in totally discreet postal bag or box, of course) to keep the price as low as possible. You'll also find the top names from the world of adult products here, so let's take a look at a few of my top picks for the festive season from Bondara.


Sexy Mrs Claus Three Piece Dress and Blindfold Set
What a saucy little set! This three piece festive outfit comes with the dress, matching thong and blindfold to offer a kinky twist on the classic Mrs Claus costume. The cut-away sides enhance your curves, delivering a striking silhouette for guaranteed seduction.


Bondara Santa Cut Out Dress With Hat And G-String
Another dress with curve-enhancing cut-away side detail – this time in tactile and shimmery rather than sheer material, and with a matching Father Christmas hat.  The white marabou trim around the bustline is sure to capture their attention this Christmas.


Bondara Christmas Pom-Pom Chemise and Thong
Such a playful dress: the Bondara Pom-Pom Chemise and Thong is sexily sheer to give a teasing hint of your body beneath, while the white trim lends a definite festive edge. Two pom-poms adorn the ties at the front, while the included matching thong completes the outfit.


Livia Corsetti Christmas Bow Fishnet Crotchless Bodystocking
As a massive fan of fishnet myself, I couldn't resist including this gorgeous bodystocking. From the elegant Livia Corsetti range, this Christmas Bow Fishnet bodystocking features red fishnet to adorn and enhance your curves. With white trim design at the front, finished with a delicate red bow, you'll be the perfect, sexy gift this Christmas.


Dreamgirl Plus Size Sexy Santa Off-The-Shoulder Dress
In stretch-style with three-quarter sleeves, this curve-flattering dress in bold red is given a Christmassy feel thanks to the white-trim neckline. I like this dress as it could be accessorised and worn as a long top with jeans or leggings when out and about, or slip some nipple pasties & your fave sexy panties underneath, then team with stockings and heels for a sensationally seductive bedroom look.


Cottelli Collection Open Me Body Bow
There are a couple of these 'naughty knot', gift-wrap-ribbon style lingerie items to choose from, but this has to be the most eye-catching. The minimal red cross formed by the collar/body harness is contrasted spectacularly by the sheer red ribbon in gift bow style.


Christmas Pudding Nipple Pasties
I've only recently become a fan of nipple pasties myself, and now I have quite the collection! They're brilliant for adding an element of tease under sheer lingerie items, and these novelty Christmas Pudding ones are just so fun. These tasty titillating toppers also have green and red tassels for that perfectly festive finishing touch.


Men's Christmas Present G-String
Oh my… Santa's Stocking is positively bulging this year! You'll struggle to keep your hands off the prize once revealed in all its glory. This easy-to-wear stretchy G-string for him features a fun, red finished with festive white gift bow design.


Deck Your Baubles Christmas Willy Warmer
Feeling a bit nippy? Things will soon hot up in no time with this cheeky Deck Your Baubles Christmas Willy Warmer. Stay snug this festive season with this tinsel-topped willy warmer that takes care of your shaft and testicles with its clever and hilarious design.


Ann Summers
Ann Summers has a long history of offering saucy dress-up outfits, so it was brilliant to spy a couple of Christmas-themed options. Along with your Rampant Rabbits, Pussy Rub and Naughty Nurse outfits you can buy one of these sexy Ms Santa dresses to add a nicely naughty spark to the holiday season.


Sexy Miss Santa Outfit
This sumptuously deep red velvet dress and generous white trim is both seductive and swish. Make a real statement this season with this off-the-shoulder, set-to-smoulder, Sexy Miss Santa Outfit. I love that this could be accessorised for out-of-the-house wear, such as a Christmas party or festive night on the town, or teamed with stockings & heels for a treat in the bedroom.


All Wrapped Up Dress
At first, I thought this was another 'Naughty Knot', gift-bow-lingerie style piece… A closer look revealed that it's a sheer mesh dress adorned with a beautiful bow at the front. It can be adjusted for the perfect fit, and comes in sizes small through to extra-large. This is definitely the one to choose when guaranteed seduction is a must… In my opinion it's a fantastic price, too!


Sensual Accessories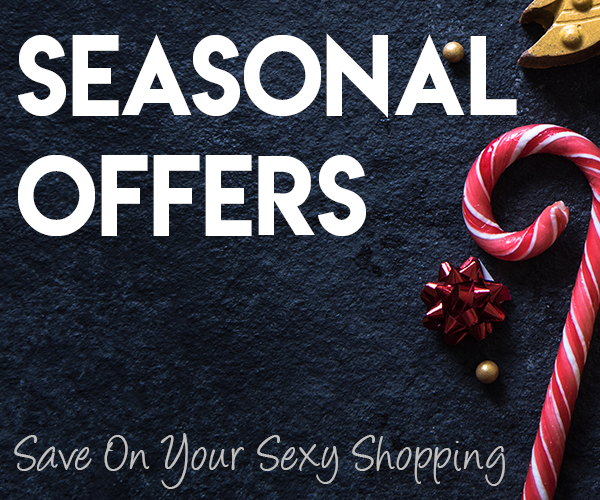 Although there's a wide variety of accessories you could opt for to team with your Sexy Santa Outfits, two in particular caught my eye. They have just the right amount of extravagant bling, and alluring kink, to make me want to add them to my personal collection…


Fifty Shades Darker Anastasia Masquerade Mask
Even though I'm not the world's biggest Fifty Shades fan, I still think this masquerade mask is beautiful in its own right. Shimmering silver lace adorns the contours of your face, allowing a teasing peek at your identity while still retaining mysterious allure… This mask also benefits from being embellished with decorative gems, reflecting the glistening lights of Christmas –and the naughty twinkle in their eye.


Loving Joy Precious Metals Heart Shaped Plug (In Gold or Silver colour)
Who needs frankincense or myrhh when you can have a golden metal butt plug adorned with a festive red gem-stone heart? Or, if you prefer, silver! These beautiful butt plugs from Loving Joy's Precious Metals range can be warmed up in water to keep temperatures raised in the bedroom, or cooled down for seductively seasonal shivers. It's sized to appeal to both butt play beginners and anal toy veterans, and earned the full 10/10 in its Pleasure Panel review. Brilliant.


Rocking Reindeer Rudolph Cock Ring
And finally, one for fun. This Rocking Reindeer Rudolph Cock Ring is from Shots Media, who also produced the Gentle Ghost and Party Pumpkin Cock Rings for Halloween. This stretchy ring in Rudolph the Reindeer style provides teasing vibrations courtesy of the one-speed, removable and ultimately disposable bullet-motor, operated by a switch on the side. Once the life of this motor has expired, you can fit your favourite bullet vibe into the space and enjoy the Rudeness of Rudolph however and whenever you wish – all year round, if you like!


Whichever sexy Santa outfits, festive accessories and seasonal roleplay outfits you choose this year, I hope you all have enormous fun over the holidays. Wishing you a very Merry (& exceedingly naughty) Christmas!
Discover all the latest Christmas sex toy offers


Contains affiliate links