How To Give Him An Amazing Handjob
Hands are seriously fantastic. Not only are they… well, handy for carrying out our everyday tasks, they can also give exquisite sexual pleasure. We can cradle a lover's face as we kiss them, undress each other as fast or slowly as we wish, and stimulate external and internal body parts with skilful precision. In this article I'm going to reveal how to give him an amazing handjob.
Tidy, Then Tease
Our surroundings can have a dramatic impact on our enjoyment of events. In other words, you're more likely to enjoy sexy times in a relaxing, comfortable and tidy room, rather than surrounded by dirty laundry and old coffee cups.
Set the scene. Clean up well in advance and avoid a last-minute 'let's shove all this crap out of the way first' moment which can be a real passion-killer.
Make sure when he closes his eyes it's down to orgasmic bliss, not to block out the sight of all the clutter!
Use Lube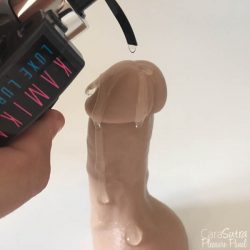 Chafing friction? No thank you. Silky, sensual glide? Yes please! Make sure you use lube during your sexy hands sesh. An amazing handjob won't ever include pain or discomfort.
For skin-to-skin sex fun like handjobs* you can use any type of sex lubricant you fancy.
Buy awesome sex lubes in the USA / in the UK
Water-based lube has a tendency to evaporate over time and because of our body temperature, so often needs reapplying during the handjob. If you don't fancy interrupting yourself to top up the lube, you could opt for silicone lube. Silicone lubricants don't evaporate during use, they can only be washed off with soapy water. That makes silicone lube a popular choice for skin-to-skin sex sessions like handjobs.
Some people (myself included) aren't a fan of the feel of silicone lube, so always opt for another type instead, despite sacrificing some slipperiness or having to reapply during the session. Other types of lube include hybrid, which is a mix of water and silicone lube, as well as oil based lube (usually plant oil or coconut oil).
Eye Contact
There's something intensely erotic about looking directly into someone's eyes as you're sexually stimulating them, or your lover gazing into your eyes as they're bringing you sexual satisfaction. Making eye contact with him while you're using your hands to pleasure his penis is sure to be an enormous thrill, adding another layer of stimulation.
It can be fun to wordlessly challenge him to maintain eye contact with you, all while he's struggling not to just letting his eyes roll back, eyelids fluttering closed against the orgasmic stimulation as he lets out guttural groans of pleasure.
Dirty Talk
Now, I realise it can be hard to know what to say during moments like this. I mean, you're concentrating on giving intense pleasure to your man's cock and balls with your hands – and you're supposed to make small talk at the same time?
While I don't recommend you start talking about the weather or what chores need doing around the house**, there's something to be said for dirty talk during a handjob.
Tell him how much it's turning you on to touch him like this. How every little sound he makes is getting you aroused. Keep that eye contact as you say how you can't wait til he explodes everywhere, just how you like it, that hot cum shooting out making you a total mess… You get the idea.
A bit of dirty talk during the handjob is also an opportunity to make sure you're hitting the right spots. Ask him if that's what he likes, tell him to put your hands where he wants them, ask if you should go faster or slower. Listen to the sounds he makes and take note of what made him gasp like that – and if it was a pleasurable gasp or not!
Total Anatomy
Now for some hands-on advice for the most amazing handjob of his life.
Believe it or not, there's more to giving an amazing handjob than pumping it good for a bit and hoping there's a happy squirt at the end. Take a look at all the anatomy down there. Get a proper good look. It's more than simple dick and balls.
Tip
The penis head, which may or may not be enveloped during the handjob by his foreskin.
The head of the penis is extremely sensitive so be careful when stimulating this area. If he has a foreskin, the sensation of the skin moving up and over his frenulum and the skin of his penis tip may feel better than touching it directly with your fingers.
That said, a great technique is to grasp his shaft in one hand, and use the flat of your palm on his penis head. Make sure you and he are lubricated, and massage gently in swirling circles.
Collar
The frenulum is a small but extremely sensitive zone; a bundle of nerves on the underside of his cock collar.
Use your fingertips to lightly stroke over the frenulum as you work his shaft. The lubricant you're using will ensure this feels spectacular, without any horrid dry chafing sensation. You can also use any pearls of pre-cum as bonus lube.
Shaft
There's the long, pulsing length of his hot, hard shaft. The pulsing might feel even more vigorous at the base of his shaft, where the penis meets his testicles.
Alternate between a firm (but not TOO firm!) grip and a lighter, almost lazy grasp of his shaft as you work him. Enjoy the sensation of him firming up in your hand, and the pulsing as his cock gets closer to orgasmic satisfaction. Take note of what really drives him wild and remember those techniques… it could be slightly harder pressure with one finger in a certain place, or a certain speed and maintained rhythm.
You can then tease by switching to other forms of sensation when you feel he's close to orgasm, and draw out the pleasure as long as you dare/he can stand it. The eventual orgasm will be intensely powerful and unforgettable!
Testicles
His full balls will move higher during intense arousal, and the ball sack (scrotum) tightens and contracts pre-ejaculation.
It's easy to solely focus on the shaft when giving a handjob; after all, that's the erect area that's in the spotlight. But don't forget to be attentive to his balls as well. They may seem delicate and fragile but their sensitivity has the side benefit of being capable of delivering delicious pleasure to him.
Fingernails very lightly grazed over the surface will have his ballsack contracting and writhing in pleasure. Hold them in one hand, while your other keeps stimulation his shaft and fren, letting him feel that you've got him entirely covered. Pull them downwards – gently, see how much pressure is good for him – then more firmly but still slowly. You're aiming for a delicious pulling, stretching sensation on his balls while you're pumping his shaft, not a hard tug or yank! Let his reactions guide you all the way.
As the balls move upwards due to your stim and his consequential arousal, and the sack feels firmer, yet another sensitive region is more accessible to your adventurous fingers…
Perineum
The perineum is the area between his balls and his anus.
The perineum is a fun area to explore and stimulate. You can deliver firm massage or extremely light, stroking circles to blend with the stimulation you're giving with your other hand.
Anal Play
And then, of course you could always mix in a little anal play if that's what he (and you) are into. Would definitely advise pre-discussion for that one; no-one likes a surprise finger or four in their butt-hole, especially someone who has never used anal sex toys or experimented with anal play.
Buy beginner anal sex toys in the USA / in the UK
If you both decide to go ahead with adding in a little anal foray, make sure you've got smooth fingernails, first of all, then add some more lube. The anal area contains very thin skin which, while having the advantage of being very sensitive, is also prone to damage if you're not careful. Your aim is to give pleasure, not pain!
Of course you don't have to enter him anally at all in order to make the most of this extra area… You could simply tease and stroke around the anus with your finger tips to add a frisson of dangerous excitement to the hand job.
Let Him Guide You
As you can see, there's a lot of scope for an all-encompassing stimulation session when it comes to giving your man an amazing hand job.
Don't feel you've got to perfect a certain routine or that there's only one right method; feel free to mix and match. Watch and listen to his reactions, be open to any verbal or non-verbal cues and let him be your guide.


*Yes, some handjobs are given with gloves on but we'll talk about that kink another time ?
**Oh my god Kevin, have you seen that crack in the ceiling? You'll have to get that sorted out first thing tomorrow. And did you remember to put the bins out?
This post contains affiliate links