Invisalign Blowjob: Cock-Sucking, Dental Aligners & Kinky Teeth
By Cara Sutra
Dear Daddy: When I suck your cock with my Invisalign aligners in, I get all self-conscious. I never used to be self-conscious when I was sucking your cock. But somehow, an Invisalign blowjob makes everything different.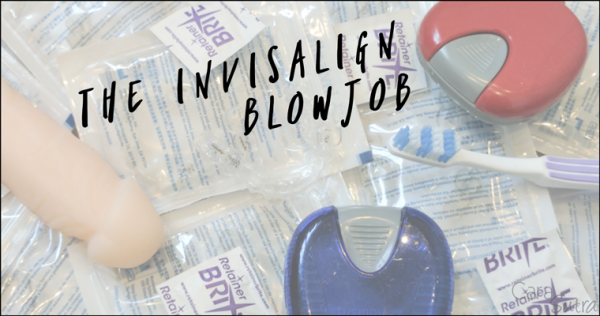 Firstly, my teeth have a different look to them now. As you slide your dick between them, to my wet, waiting tongue, do the aligners over my teeth fascinate you? Do the attachments on the outside of my teeth, to which the Invisalign aligners grip, give you perverted thoughts of extra stimulation as you explore my mouth with your cock?
I wonder if you like the fact that it feels different now. The Invisalign blowjob. There's a rubber cover over my teeth, and that makes me think of toothless granny porn – albeit with my younger and (hopefully) more pleasing face and body along with the sensation. It must feel different for you. It definitely feels different for me.
My mouth has felt… not my own, since the course began. It makes me curious about what it is, exactly, that you're feeling as you feed that thick shaft into my mouth. I become fixated on that thought for a while. Whether it feels like someone else's mouth for you. I'm temporarily lost in the self-inflicted cuckquean fantasy, in which my mouth isn't my own and I'm merely a host for your new stimulation.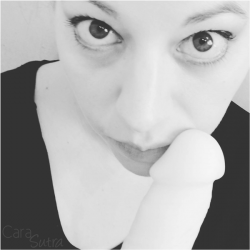 Dragging myself out of the mire of my darkest fantasies, worries arise, as they so often can during sex. The Invisalign blowjob is no different at all in that way. With so much much newness comes so much room for insecurity and doubt. Because of the aligners over my teeth, I can't be certain how much pressure I'm putting on the shaft of your cock. When you thrust all the way in, so that your exposed penis tip is against my tonsils, I try to make sure the rubber aligners are gently resting against the base of your shaft. They're pushed up against your stomach above your cock and right up against your balls on the underside.
Usually I am able to easily judge the amount of pressure I'm using on your cock and balls. It comes naturally after all this time. I'm used to letting my teeth run so delicately down the length of your shaft, helped by the slippery wetness, as you groan, grab my hair, and face-fuck me even harder. But now? I'm like a cock sucking newbie. I'm unsure, innocent in the ways of the Invisalign blowjob, a proper little girl ready to be taught by Daddy exactly how to please him with my mouth.
And when you've held off long enough, when you can't take this different style of cock sucking any more, when your hot cum streams in thick ribbons down my throat… I try my very best, Daddy. I try to swallow it all straight away but there's just so much. The cum left in my mouth gets under my aligners, giving my teeth some spunk bath bondage as the final depravity.
You can taste yourself when you kiss me. You like that. Your tongue explores my mouth leisurely, savouring my cum-tinged aligners and the rest of my exhausted but thankful mouth. In a while, I'll go and get everything clean, like a good girl. For now, I relish this oral baptism as much as you do, emptying my mind of everything but the closeness of our post-BJ embrace and the taste of your orgasm.


---
The post above does not contain any affiliate links
If you've enjoyed this post please buy sex toys here (this is an affiliate link and I get a small % of the sale). All pennies raised through affiliate sales go towards keeping this site open and full of sexy stories & more. Thank you!