Sexuality Of Touch: The Relationship Between Touch And Sex
Jon Pressick takes a look at the sexuality of touch
It is often said that we need to remember that our brains are our biggest sex organs. Well, surely this true in a more figurative sense, because it isn't literally true. Indeed, we're not supposed to think of our genitals as being primary in the sexual realm, but we are forgetting our actual largest organ of the body: our skin. Our outer layer. The soft and sensitive flesh that pulls so many sexual feelings and encounters into our souls by way of touch.
Of all of our senses, touch seems the most explicitly linked to sex and sexual activity. Really, it almost seems an oxymoron to say the phrase "sexual touch". All of our sex education—formal or otherwise—prepares us for the good and the bad, the thrilling and the painful, the awesome and the awful tactile feelings and sensations we will experience with sex. Or, more specifically, sex with someone else.
That's the crux—sex and touch are indelibly linked when we conceive of them being linked by our own physical connection to another person. Lip to ear. Tongue to nipple. Fingers to clit. Penis to vagina and every other combination of body part to body part people find pleasurable. How our skin reacts to each of these parts, as well as the added tangibles of warmth and cold, hard and soft, rough or smooth, strong or gentle creates a unique sensation felt through our nervous system and ultimately recognized as sexy, not sexy or somewhere-inbetween-let's-see-if-I-can-get-into-it.
Curiously though, it is rare that our first explorations of the sexuality of touch are actually with another person. Touching ourselves, not a partner, is more likely to be the first steps we take when we let our fingers do the walking. Unfortunately, masturbation has gotten a bad reputation.
"Sex is supposed to be something that you do with someone else, traditionally for sacred purposes such as procreation." suggests Carlyle Jansen, proprietor of renowned sex shop Good for Her and author of the recently released Sex Yourself: The Woman's Guide to Mastering Masturbation and Achieving Powerful Orgasms.
She notes that this traditional view of self touch focuses heavily on the perception that touching yourself is "a selfish act" and that people could be filling their time in more fulfilling ways. Unfortunately, this belief nullifies an extremely influential reason of why people have sex of any sort, or frankly, why we pursue other enjoyable activities that involve touch: personal pleasure. Touching ourselves, in the ways we have grown up knowing work best and that make us feel fantastic is a basic carnal impulse.
At the same time, touching ourselves is not exclusively limited to simply pleasure, rather our own caress can provide numerous other benefits. Jansen lists the following as other great ways self touch can be beneficial:
Masturbation can be relaxing and stress-relieving: "Masturbation is a great way to release tension, go to sleep or have sex when a partner is not interested or available in the moment."
Self love maintains your sexual health "can keep the orgasmic pathways well-lubed. If you go without sex for a long time it is sometimes a little hard to get it to go again and in particular to orgasm."
Touching yourself with someone else is exciting: "Masturbation can be a fun way to play together- eg. give a lap-dance or striptease without the watching partner allowed to touch, some find it very erotic to watch their partner pleasure themselves, you can have phone / Skype sex across the world or across the room. "
As we learn and experience and grow comfortable with various types of touch that is pleasing, some of us come to understand that other types of touch are desired. While it may seem incongruous with societal expectations and mores, there are growing numbers of folks who are more inclined to enjoy a sharp spank over a soothing stroke.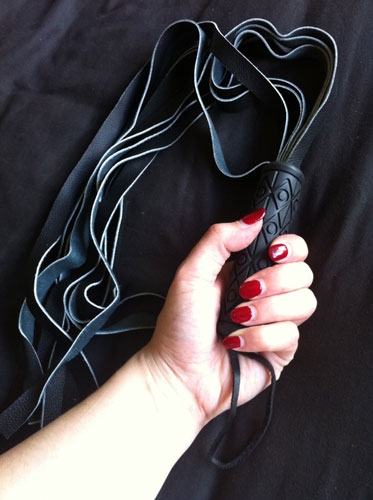 Exploring BDSM has opened many people's eyes to the entirely different tactile sensations offered through activities usually considered violent. Slaps, scratches, punches, bondage may initially invoke feelings and images of despair, degradation and attack. But when they are administered in a controlled, consensual and agreed upon manner, these forms of touch different but still strong nervous reaction in the body that can be wonderfully sexually satisfying to some.
Sandra LaMorgese, PhD, did not have extensive experience in BDSM, but the former holistic health practitioner tells in her book Switch: Time for a Change that her move into that world by becoming a professional dominatrix revealed much about her clients' needs and how painful touch can be such an attraction.
"Although sessions do not have to be painful or extreme to bring about physical, mental and spiritual benefits," LaMorgese notes, "clients do find pleasure inside pain."
That's the thing. What happens on the outside of our bodies does not necessarily reflect the inner workings of our complex corporeal forms and how some systems work in very similar ways.
"For example, during intense Corporal Beatings (caning) or Trampling (walking or jumping on a client) sessions," Sandra LaMorgese continues, "my clients often experience a release of dopamine and serotonin, the brain's feel-good neurotransmitters. These two chemicals are associated with feelings of happiness, tranquillity, joy, self-confidence, emotional well-being, and motivation. Why does this happen, though? For many people, it's just a relief not to be the one in charge. Having a powerful person demanding your obedience fills a need that we all have to be vulnerable followers sometimes."
When it comes to painful touch, all of physical, emotional and psychological aspects come into play to create a sensation that feels "good." Of course, just as with gentle touch, not every type of painful touch feels good to every person. Really, this applies to touch of every sort. Some people adore being tickled, others are revolted by the thought. Some people enjoy their hair being pulled, others recoil in fear. This all speaks as much to our individual sexual touch needs as it does our general personal touch needs.
So, whether you're into soft and sensual or hard and heavy, there are many different ways to enjoy the caress of skin on our body or another's. The sexuality of touch can happen across our skin and many different areas are ripe for sexual adventure. The next time you want to explore and try something new…touch somewhere new!
– Jon Pressick
About the writer:
Jon Pressick is a sex-related media mogul. He is also a writer, the editor of the Best Sex Writing series from Cleis Press, co-host and producer of Sex City Radio, event organizer, workshop facilitator, (very occasional) burlesque performer and general sexual gadabout. Jon Pressick also won the prestigious 2010 TNT Favourite Adult Journalist Award and has been named as one of Broken Pencil's "50 People and Places We Love."
You can find Jon's advice and sexual ponderings at his website, sexinwords.ca, which also has links to his social media.