If you've been following my Twitter account you'll know that I had a very special day out last Friday. I'd arranged with Mistress Victoria of Uber Kinky to visit their HQ in Hull and spend the day exploring the offices and meeting some of the team who run their infamously edgy online sex shop. Being a regular reviewer of Uber Kinky sex toys & fetish gear – including the review of the Poo Dildo which made quite a splash when it landed (#sorrynotsorry) – it was exciting to think I'd soon be right there at HQ, putting faces to names and trying to steal a fucking machine from the warehouse without anyone noticing. (Spoiler: didn't manage it)
Driver and slave minnie took the day off work specially to act as chauffeur and Carrier Of Things for the day. Pretty soon I was kitted out in appropriately inappropriate clothing and racing over the Humber bridge from my home in Lincolnshire until we reached the Uber Kinky offices.  There was a massive wet patch by the time we reached the car park – but that's the grey rainy skies of Hull for you.
Warmly greeted at the door, I had to wait only a moment in the foyer before Mistress Victoria appeared and gave me a big hug. We've met a few times before (at BlogSpot at the ETO Show and Smut by the Sea Scarborough) and it's always a joy to reconnect in RL as opposed to just exchanging filthy and flirty tweets and emails all day on those rare occasions when we're not busy working really hard.
A quick wee in the staff loo (which, I was informed, had ultra thin walls so maybe I would like to take a Doxy Wand with me to muffle any noises? No? Ok then) and it was on with the day's plans. A proper strategy was required. We organised a meeting with the team in the board room – complete with Crisco ass fisting lube biscuits (which were extremely tasty, thanks Vikki) and we had our plan of action ready in no time. I also took the opportunity to *ahem* point out my Fantasy by Cara Sutra Beginner's Bondage Kit while the Uber Kinky website was up on the big screen. And no, that's not the silver arrow of a vampire slaying archer, it's a prostate massager. Yes, really.
Hyped up for the tour to begin, we started off in customer services and the management offices. Admiring the Uber Kinky fish tank (I'm sure some of them were wearing ball gags if you look really closely) I then moved on to a customer service enquiry about a puppy play butt plug… I'm really good at this customer services lark as you can see from my ultra-calm and friendly facial expressions.
Next, it was warehouse time. I've been in quite a few sex toy warehouses now so it's all comfortable territory. The Uber Kinky warehouse was extremely well organised with section labels and clear aisles, enabling the product packers to find the items ordered by customers and get them packaged up ready for collection by Royal Mail and other couriers.
Amongst the bondage gear, sex dolls, masturbators, vibrators and other BDSM toys I spotted my favourite, the original Doxy Wand vibrator – and my Fantasy by Cara Sutra Beginner's Bondage kit which was a bit of a thrill to be honest. Seeing it in a warehouse of an ETO-award-nominated sex toy shop felt amazing!
Some quick whipping of the packing staff as I went by and we moved on to the office where Mistress Victoria works on a day-to-day basis, handling everything UberKinky, the community, the reviewers, the blog, the social media, the product photography, the affiliate scheme and a lot more besides. The office was also shared by the rest of the content, development and design team and it was great to meet them all. I also spied the Uber Kinky periodic table of kink proudly displayed on the wall (as it should be because it's excellent) and a few other funnies like Vikki's fanny magnet, a super-cute tiny dildo and a whole selection of Uber Kinky goodies; I wonder if you can spot the Vaseline.
Time for a bit of bondage – as you do in the office on Friday afternoons (don't you? Just me then) – and resident photographer Loryn was roped in as our dragged kicked and screaming willing and enthusiastic volunteer. Mistress Victoria and I really enjoyed tying him up in a Shibari rope harness while plenty of photographs were taken. Taking advantage of his predicament I brandished and wielded the whip yet again. I'm going to get a reputation at this rate.
After the raucous laughing (and scaring the rest of the company with the sounds emanating from the room) had subsided, it was time for a quick regroup with a revitalising glass of wine and satisfying ass fisting lube biscuits. I'd need my energy for what was coming next…
DILDO DUEL!
That's right, Mistress Victoria and I enjoyed a bouncing strap-on cock battle at the rear of the building (of course, where else) to the amusement of anyone who could see from the surrounding docks and the whole UberKinky team who made up our bemused, baffled and slightly terrified audience. At the end, our Vixen Creations/VixSkin dildos kissed and made up – and we even spotted our fantasy Dildo Duel Tour Wagon – a 'Stubbs' truck!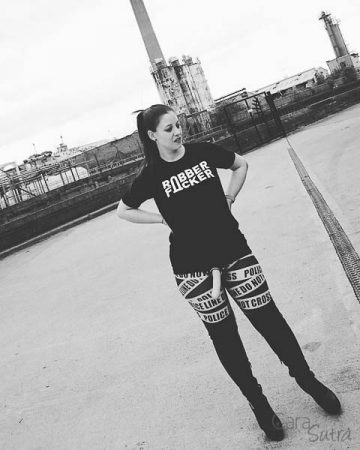 Enjoy this short Dildo Duel clip created by Uber Kinky on Instagram:
We ended the tour with some Serious Business Chat and uber exciting plans to work together on projects over the coming months. At this point I must say a huge thank you to some surprise gifts from the team as well – an Uber Kinky red and black flogger (our colours <3) and the renowned Svakom Siime vaginal video camera vibrator – reviews coming soon. I also have some Swiss Navy Massage Cream and Masturbation Cream sachets for which I'd really like reviews from a willing member of the Pleasure Panel – please comment below or email if you can help out.
THANK YOU Uber Kinky for welcoming me into the ample, warm and jizz-covered bosom of your HQ. Hopefully most of the team are just about recovered from the terrifying experience by now. Your ass fisting lube biscuits were gorgeous and I can't wait to see what other tasty treats are sculpted and devoured in honour of your 9th birthday celebration this month.
You can read the Uber Kinky blog post about my tour here!