What is a Cashback Site?
If you're new to online shopping or just starting to use websites as a main way to buy products, you might not be savvy to cashback websites yet. What is a cashback site? These huge shopping portals allow you to recoup a percentage of your online spend when you shop online with their merchants.
How Do Cashback Sites Work?
Cashback sites all carry affiliate links, just like sites discussed in my affiliate blog. Every time you shop online using one of these sites, you earn a percentage of the total spend – and so does the cashback site. Because cashback sites are so popular, there are lots of big eCommerce names offering free money back on purchases and you can easily claim your share.
All you need to do is create an account and remember to visit the website before you do any shopping. Every time you buy something online from a shop linked within the cashback account, you'll earn a percentage of what you spend back which you withdraw from the account and pay straight into yours.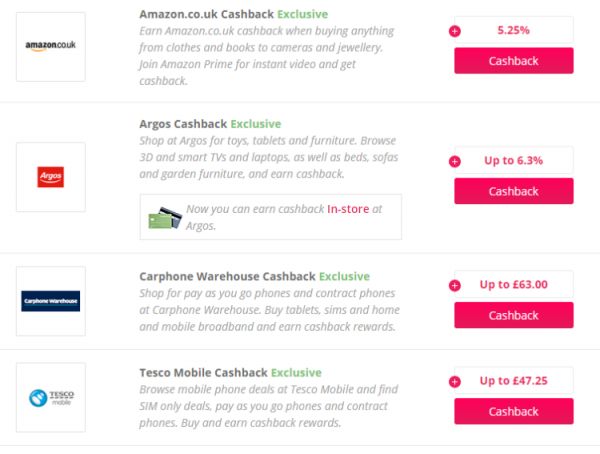 Why Should Customers Use Cashback Sites?
Once users become accustomed to using cashback sites, they find that they're able to claim a significant amount of money back on their online shopping. The best deals are usually found when you're shopping with a merchant for the first time, so you can get up to 20% back on a first purchase. Switching service suppliers can pay well over £100 but you usually have to wait longer for payment to fulfill the terms and conditions.
I've been using cashback websites for around 10 years and in that time, I've been paid out close to £650 in cashback on various platforms. During the early days providers weren't so big, but now the big guns have some of the biggest names in business offering them exclusive deals. It's become a big industry.
My favourite cashback service is Topcashback as it consistently offers great rates on a variety of really useful online shops. My favourites are Just Eat, National Express, The Train Line, Debenhams, Argos, Amazon, New Look, Oasis and Missguided. I have also earned cashback by switching mobile phone supplier and energy supplier and will be checking out the options when I switch my ISP later in the year.
All you need to do is remember to visit Top Cashback before you start your shopping, login to your account and use the on-site search box to find the merchant by name or keyword. You could search for 'mobile phone recycling' to find recycling services that offer you cashback or go straight for a brand name to return results. Just remember if you click a link in newsletter marketing or elsewhere on the web to check for cashback links and click them before you checkout.
If you're mainly an mCommerce bod, the mobile app for Android, Apple and Windows is the best way to record your purchases. You will need to checkout and pay using your phone to successfully record the purchase.
– Hella Rude
---
The screenshots in this article are taken from Hella's current Topcashback account, which is her preferred cashback service of choice. There are multiple cashback services available. This article is not paid for or sponsored.
---