Sexhibition 2015 – The Cara Sutra Report
Sexhibition 2015 was a memorable experience, for various reasons. The erotic event of the year took place at Event City Manchester, which is right by the Trafford Centre, and promised to bring together adult industry exhibitors, porn stars and other adult entertainers in one glamorous, spectacular event.
Manchester is just a couple of hours away from my home near Lincoln, which made travel an absolute delight compared to the long slog down to London for most other appointments. Sexhibition was open to the public on Saturday and Sunday, 21 and 22 August, with Friday 20 August reserved as 'industry' day. Exhibitors and other crew were allowed entry from around midday on Friday in order to set up, and there was a networking cocktail party planned for the evening.
Travel to Manchester
My driver minnie and I hit Event City at about 1pm. After stating at the door we were there for the erotica book stand set up, we were allowed in without any problem and made our way over the stands B45 and 46 where the erotica book stand team would be in residence for the event. The team hadn't arrived yet but were en route. Cheryl, the First Lady and manager of Sexhibition, was darting around the exhibition hall looking incredibly busy but still as gorgeous as ever. We were welcomed and promised our press/exhibitor passes (as appropriate) sometime that day.
Friday Set Up
We got to work setting up the Smut UK stand – complete with sponsors' roller banners, tables, erotic books and smutty merch for sale and the heavily advertised Smut for Good raffle. Half the proceeds from this raffle would be donated to Macmillan Cancer Support, giving visitors even more incentive to take part – as if the sensational prizes weren't enough. Thank you to the prize sponsors, including Crowned Jewels, Sheets of San Francisco, Sh Store, Uber Kinky, Drop of Sweden, KinkCraft, Lovehoney, Nice n Naughty, Bondara and many more. I also donated a Fantasy by Cara Sutra Bondage Kit and other prizes.
Seating for the famous Smut readings eventually turned up, the final goodies were dropped into the free goody bags for visitors, and the stand was ready to reveal to the visitors on Saturday. It was time to take our leave and get ready for the industry cocktail party Friday night.
Most people I'd spoken to at set-up were going to the cocktail party, but no one seemed to definitively know where it was. I'm sure I'd looked on the site for the location previously but a final scour of the site Friday afternoon gleaned that it would be at Event City, and we assumed it was in the same place as the main expo. After changing into something more glam, minnie and I headed over to hook up with Hella Rude at her nearby hotel for lots of frenzied chat (yay, catch up IRL) and a couple of pre-drinks then made our way back to Event City, unsure exactly what would be taking place.
Industry Cocktail Party
Following a group of people who did seem to know where they were going we entered Event City through the same entrance as earlier. We were told to 'just wait' in the foyer area – and we still didn't know where this party was or when, really. By this point it was after 7pm and the general consensus was that the party would be starting at half seven. Sadly there were no seats in this foyer area so many of the ladies (and some gents) were waiting somewhat uncomfortably in heels, desperately hoping that there'd be enough seating when we did finally get into wherever the party was.
Eventually the foyer crowd seemed to move as one and we followed along, through an opening to a very dimly lit partitioned off section of what I assume was the main expo hall. Sexhibition and the trading stands we'd set up earlier were beyond the far curtain, we worked out. I just about made it into the networking party area as I was stopped at the door and I hadn't been given any press pass. I was told before the event that my name would be 'on the door' for everything but the security didn't have any lists, they were relying on people wearing press or exhibitor wrist bands and I simply hadn't been given anything. Luckily they decided we looked as if we should be there, so we were waved in after my slightly indignant response that "I was told my name would be on the door, and this is my plus one" and managed to totter over to the tables and chairs in the centre of the space.
There was a very pretty cocktail bar in one corner of the slightly warehouse-feeling area, and a small stage with some speakers and mics set up at the other end. A scattering of tables and chairs formed the centre of the space, which were quickly filled with people (mostly women) relieved to take the weight off their heels. Then it was time to get the drinks in. Our table (Hella, minnie and I) were joined by the Sex Directory, who we enjoyed an all too brief chat with, and we reserved the remaining chairs for the rest of the Electrastim team who were due to join us in a little while.
The evening progressed in a haze of low lighting and deafening babble – not helped by the incredibly loud techno music in the background which wasn't to my taste but I guess was better than silence at a party. The music was eventually turned off, though, when the debate began on stage. I recognised Jerry Barnett, who was joined by three other people, and a discussion ensued on the pros and cons of putting porn behind a paywall. Unfortunately the combination of acoustics and my terrible hearing meant that the title of the debate was all I could take from the chat. Most in the room were engrossed in their own conversations and trying to hear the person directly in front of them, never mind the noise coming from the stage. Quite a few people assured me that it wasn't just my hearing loss, the stage debate was sadly unintelligible due to possibly an inadequate sound system combined with the rest of the babble from the room. It's definitely a project which needs rethinking for future Sexhibition events in my opinion.
A quick chat with Paul from ETO, and reintroductions to the Love Arc creators (lovely couple) and then Hella and I decided it was time to call it a night. We were quite tired and couldn't hear much beyond shouting, so after a quick nightcap with the Love Arc couple in our hotel bar we went to bed and looked forward to Saturday – the first official day of Sexhibition.
Saturday morning
Donning thigh boots, fishnets, mini skirt and shiny corset I felt more than ready to tackle Sexhibition on Saturday morning. I arrived at around 9.30 am and although I still didn't have any tangible evidence of a press pass I remembered being reassured that my 'name will be on the door'. Unfortunately this didn't prove to be true – although I have since learned that the door security 'lost' the press list (unfortunate!) – and loud radioing to the management had to then take place to make sure that 'this Cara Sutra' was 'allowed in'. Not really anyone's fault, aside from the person who lost the press list, but not exactly the welcome I'd been expecting, nor the one Sexhibition had undoubtedly wanted for their press visitors.
After it being confirmed that yes, Cara Sutra was indeed allowed in, my driver and I were duly tagged as press with yellow press pass bracelets. My suggestion for next year and onwards would be to print press and exhibitors cards instead, which can be inserted into a lanyard. A paper bracelet didn't even survive one shower very well, never mind the several that I needed to have over the weekend of events.
What didn't add to my mood was learning en route to Sexhibition Saturday morning that a certain cupcake vibrator company woman had been at the Smut UK stand before I arrived demanding to know their connection to me and loudly and at length slating me and my work. This unprofessional attitude makes me wonder how such a company can survive at all in this industry (or any) and why anyone would want to work with someone so underhanded. Strangely enough this woman wouldn't look me in the face once I was actually at the event. Sex toy manufacturers: if you don't want negative reviews then create sex toys which are reliable and not just a pretty ornament without orgasmic substance. Also, threatening the writers of less than 100% positive resounding reviews for your product with legal action or spreading slander about them through the industry probably isn't the best way to work either.
No, I wasn't in a very good mood when I did finally make it into the Sexhibition hall. So of course, who should choose that moment to interview me than Paul from ETO magazine? I swear he knows just the right time to get some choice quotes from me 😉 It will be interesting to read ETO Magazine's report from the event.
Settling in with wine, thrones and squeezy-penis
Very happily (oh god was I relieved) the central bar at Sexhibition was serving alcohol right from the start – so a bit of stalking about in my boots clutching a glass of chilled white wine and the smile was back on my face in no time. It's a good job really as I think I was starting to scare people, especially the very lovely Sheets of San Francisco team who took my arm-waving in their stride and offered me a seat on their very glamorous throne. Love it, want one.
There were quite a few thrones for my bossy butt to try at Sexhibition, the most famous of which, of course, is the Game of Bones Dildo Throne. I seem to recall that this was originally created by Bondara but is now owned by Sexhibition. The Dildo Throne proved incredibly popular during the event with hundreds of photos circulating on social media of people proud to take a pew on this famous seat. The dildos are actually squishy (think Mr Limpy softness) rather than the hard plastic I was expecting. I loved everything about it – and I think squeezing the life out of a couple of penises finally cemented my good mood back in place.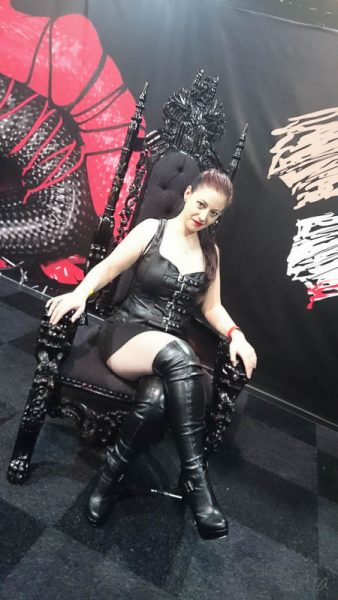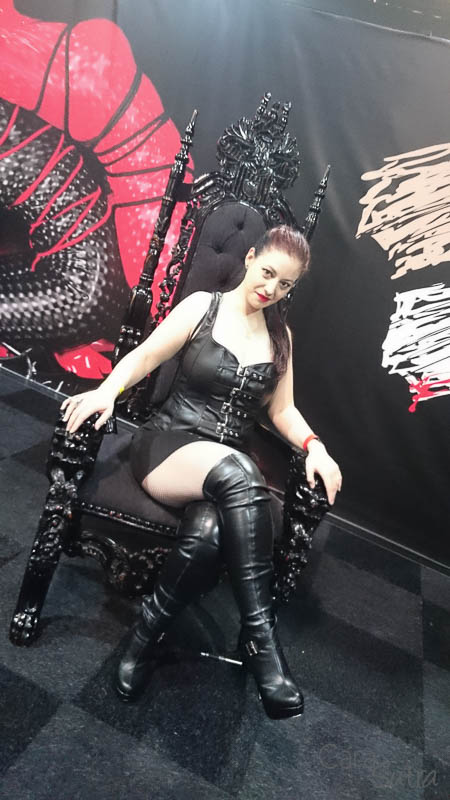 Saturday was a busy day of chatting to the exhibitors (reminiscent of the ETO Show) and enjoying various catwalk shows and performances on the insanely gorgeous Sexhibition main stage. This thing is beautiful. Whoever designed and put that stage and sign together, I applaud you. The red backing with the lit spread letters of Sexhibition not only made a glamorous backdrop to all the stage events, it was also a dazzling backdrop to the many photographs taken by media and visitors alike. The backdrop therefore wasn't simply a decadent visual to add to the atmosphere, it acted as very effective marketing of Sexhibition through every single photo taken directed at the stage. Clever. Much admiration.
My first experience of the stage shows was a catwalk fashion show featuring gothic lingerie and clothing by Battie Clothing. Our compere for the day was the incomparable Alix Fox who has my eternal respect for her confident stride, loud communication that even I could hear from the back of the expo hall, and tight, revealing and sexy outfit with, and I quote, "the Arabian night of all camel toes". Funny lady.
It was during this first show that I spotted Mel MacFarlane of Voluptasse making her entrance – sadly not on stage, despite having the figure for it – in the crowd. We had a lovely catch up and made our way back to the Smut UK stand once the fashion show was finished.
Smut Stand and Charity Raffle 
Back at Smut we reconnected with several familiar faces: Lucy Felthouse, Jay and Bea Noir, Zak Jane Keir, Liv Honeywell, Anna Sky and I also met the wonderful Lola Sparkles, Kinky Kitten Kim, Rebecca Black and Sarah Berry (read her recent guest feature) for the first time too. Another couple of people who really made the weekend flow beautifully are Just Indecerous and Horny Geek Girl, who shared some adventures later that day – more on that in a while.
With the Smut Raffle and book sales in full swing, I took the opportunity to head out into the hall and mingle again. I really enjoyed talking to familiar faces such as Rebecca Lowrie, KinkCraft, Rachael Mccoy, ElectraStim, E-Stim, Latex Leather & Lace, Divine Desire, Kinky Monkey, Sheets of San Francisco, Rocks Off, Cocoa London, Ann Summers, Pleasure Emporium, Lee & Jonny from Carnal Creative/Sexpo (use CARASUTRA for 20% off tix!). I also spied That's The Spot that evening but sadly didn't get much chance to chat – the stand was too busy!
I also met some businesses for the very first time such as Peachy Keen, MysteryVibe, Rouge Fetish, LoveSwingers.co.uk, Corsetry & Couture, Temptations Direct, Libidex, The Pantie Purse, Pure Diva, SubSpace Leathers, The Adult Awards, Mistress Buffy Brown and erotic author KL Stockton with her new book Awakened By You.
Mingling
A new product was unveiled at the show that I hadn't heard much about – in fact, no one had been told any information about it, but we knew whatever *it* was would be at Sexhibition – and this was unveiled by Luvsense London. I can see why no information was released via email previous to the show – I mean how can you make a mirror seem that interesting in words alone? This isn't an ordinary mirror though – it's an incredibly light (portable, even) circular mirror which is fixed to a ceiling fixture and can be angled as you desire. The potential for sensual and erotic fun with this mirror is amazing – and it's much cheaper than a certain £10,000 hand mirror you might have heard about too. Watch this space for a review over the next couple of months. The LUVVU mirror team were very welcoming and friendly, and I'm not just saying that because they were giving away free shots of delicious vodka from pretty light-up bottles. Although that definitely helped. It was fantastic meeting you, Luvsense, and I can't wait to reflect your pleasure potential to my readers.
Memorable conversations were also had with glamorous characters and stars of the industry, such as the Great British Sexpert Rebecca Dakin (who interviewed me on video – eek!), the elegant and sexy steampunk-clad couple from Gothianna who my partner Sable seriously needs to meet some day, Sister Jacqui Moff (who is a squeal to be around) and the literally breathtaking beauty herself Zara Du Rose who I admire for her ability to wear a latex catsuit and not look like a black pudding. I'd hate her if she wasn't so darn lovely with it. Zara also helped promote Ainsley T shoes on her stand in the Sexhibition XXX – porn star / cam girl – room; I really do need these butt plug heel stilettos in my life.
Another highlight of the day was being pounced upon by Latex Leather and Lace. I'd met the trade side of the business for the first time at the ETO Show in June. They work very closely with the scary/hilarious/gorgeous Dom Strap On, who I count as one of my closest friends in the Domme scene. Before I knew it I was in the changing cubicle at the Latex Leather and Lace stand (yes, they had a changing cubicle, very impressive) and being thrust garments to try on so that I could either wear on the day or take home with me. I did want to wear one of their datex pieces immediately, but couldn't agree to a catsuit unfortunately as it was just too hot. A red vest top was about all I could handle – and I think it suits me very well indeed. A full review will be published in the next couple of weeks. Thanks Latex Leather and Lace!
By the way – yes, it is datex not latex. It's not a typo, it's a completely different material. Datex is like a latex covered piece of lycra. As a result the material is stronger (I've been challenged by the company owner to try and put a stiletto heel through it, so watch out for that) and it's easier to fit and more comfortable to wear. On top of all that, it's machine washable at 30 degrees max. Sounds like a winner to me! It was easy to shine as well with the included bottle of shiner liquid. None of that hours of scrub-buffing. Perfect.
Dom Strap On also caught up with me later on at the Smut UK stand, along with her CD and butt fun addict companion, Dolly Dee. I am reliably informed that she's an 'anal slut' who loves to 'ride it like she stole it'. This beautiful partnership posed for some pics – DSO's enormous cock was of course the star of the show yet again. Great to meet you again DSO – it was too brief, let's get together properly soon. It was fab to also meet up with Miss Hamilton again, who I caught up with earlier in the year at the ETO Show.
All in all Saturday show day one was a winner despite the teething troubles at the start of the day. One major problem was the overwhelming heat. A few folk even fainted due to it; if you had arrived in rubber then you were pretty doomed. Apparently air conditioning *was* on, but it simply wasn't strong enough to tackle the crowds in the expo hall. I was sweltering, and so was everyone else I spoke to. It impacted on the enjoyment of the day, sadly – hopefully next year the hall can be at a fridge-like temperature so we can all enjoy our rubber outfits in comfort. Another problem was the lack of food. The only food available at the event (which was host to several thousand people) was a sandwich or small snack bars. This simply isn't enough – and the price of a sandwich and a hot drink on a tray was £15 each, far too expensive. Most people I spoke to were forced to leave and head to the nearby ASDA to stock up with food supplies. Next year, I'd love to see this resolved with a proper catering company who can handle the demands of several thousand people at such an event.
Saturday wasn't even over yet. There was the promise of parties in the evening, until the small hours of Sunday.
Party Outfit
We headed back to the hotel to get changed into something more befitting a glamorous soiree. The evening's plans promised stage shows, Sexhibition After Dark entertainment which would dazzle and captivate the lucky audience. I wore a long, sparkling evening dress with heels, and dared to wear my hair down despite the intense heat from earlier in the day. I didn't dare remove my press pass band, considering the trouble I'd had getting into the event that morning, but it just about managed to survive the thorough shower I needed after the sweltering heat combined with a datex top and thigh boots.
Upon returning back to the Sexhibition hall, I realised an issue immediately. Many of the traders had expected that Saturday evening's parties would be in a separate or at least cordoned off area than their stands. In actual fact, the party was in exactly the same place and layout as the day. This meant that many traders and exhibitors, despite having worked a long day in intense heat since 9am, had to then continue to protect and man their stalls until the 1pm close of the party. Some I spoke to had managed an hour's break for some food and a sit down, others had not. I was also informed of some problems with the models that evening, who were complaining that they weren't paid for the evening part of the show. Whether this reflects reality or not I am not able to say; I'd hope that the Sexhibition management team would ensure that everyone working to make the event a success was adequately fed, watered and remunerated. There were definitely a fair few less-than-happy faces about the place when we first entered the party, although this changed over the course of the next couple of hours with the welcome help of much alcohol from the bar.
Sexhibition After Dark Party
There was just the one bar in the centre of the Sexhibition hall, as in the day time. This meant that the queues to get a drink were far too long to be enjoyable; our first drink took 45 minutes to get and a subsequent visit took closer to an hour. In the end we bought bottles of wine and plenty of glasses on the second visit, worried that we'd never be able to get a third drink otherwise. More drinks outlets were needed, and/or more serving staff.
I'd been looking forward to seeing the entertainment on the main stage but sadly there was nowhere for me to sit and watch. The tables and chairs in front of the main stage were full of people who'd snapped up the 'pre-booked dining experience' and they certainly weren't moving for the rest of the evening. The area did look glamorous, elegant and fancy, with tables full of decoration and lit candelabra centrepieces, but those of us who didn't have one of the too few tables booked had to choose between standing to watch the show all night or finding somewhere else in the expo hall to sit – but where we couldn't see the stage. I wasn't going to stand and watch the show in my 5 inch heels, nor was I going to sit on the floor in my long evening gown. It's a real shame because I missed the, by all accounts, dazzling Torture Garden finale as well as the rest of the entertainment on stage for the night.
Our little group made our home at the Smut UK stand again where we made the most of the small are of seating allocated to us for the day's readings. Just Indecerous, Horny Geek Girl, Anna Sky, Lola Sparkles, Sarah Berry, Zak Jane Keir, minnie and I had our own little party, using the empty-for-the-evening smut tables to share our hastily bought several bottles of wine amongst ourselves.
It was a very enjoyable night in this regard, although probably not the one Sexhibition intended for us to have. I was challenged by the bratty (but lovely) Anna Sky to give her a spanking, which I did (and almost broke my hand – steel butt woman!) which set the tone from that point on. Justin followed up on her arse with an implement brought by Lola Sparkles. I don't know what it's called but it was flappy and spiky and elicited some pleasing noises from Anna. Having been privileged to see the resulting bruises I can safely say it was a successful spanking session.
The dungeon area was almost audibly calling us in by this point. Located conveniently next to the Smut UK Stand, this area was curtained off with a steady stream of visitors and people exiting with an even split of expressions between terrified and delighted. Horny Geek Girl wasn't sure about going in so I grabbed her hand – she gratefully accepted – and we stalked inside the room to see what was going on. This turned out to be my favourite area of the show. Low but adequate lighting highlighted various activities taking place, some which people outside the room could hear and wonder about too. Spankings over spanking benches or large St Andrews crosses, a woman on a rack enjoying the torment of external and internal electro stimulation, a Domme flogging and whipping her female submissive, a shibari rope session – it was all going on. I felt very much at home, and our little party (who'd trailed in after Horny Geek Girl and I) said that they did too. People in the dungeon looked genuinely happy to be there and were having an amazing time. The power exchange atmosphere, and consensual giving and taking of trust, was beautiful to behold and be a part of.
Sadly my evening was cut short soon after the dungeon visit. I went to the ladies and suffered a fall as a result of being knocked over by a t-girl. Due to sustaining an injury from that fall on the tiled floor I wasn't able to return on Sunday – but I felt like I'd been around almost everyone on Saturday already, thankfully. I was most upset about letting down forum member pinkgilly15 who I'd promised to meet on Sunday, but sadly it just wasn't possible. Sexhibition have since expressed their distress at my unfortunate incident, but it's not their fault in the slightest. You can't account for people acting like idiots, and you can't regulate everyone's behaviour either (although how brilliant would that be?!). Not your fault Sexhibition! Just rotten luck. Don't let that person in next time, though, is my advice.
Saturday night ended rather late, after a private party in Just Indecerous' hotel room – accompanied by yet wine and some incredibly welcome pizza for Horny Geek Girl, Lola Sparkles, a sore-butted Anna Sky and sore-elbowed me. After a shower I finally staggered into bed around 3am Sunday morning.
*** ** *** ***
Thanks to the Sexhibition team for featuring one of my erotic stories in the official Sexhibition booklet too.
I have a few suggestions for improvements at next year's incarnation of Sexhibition:
A smaller room without a stage debate for the networking re-event industry party (we just need a bar and seating, we do all our own chatting!)
Press and exhibitor passes sent via post prior to the event so we have them upon arrival
Press & exhibitor information stand to communicate/resolve any issues which may arise
A large easel, rollerbanner or other highly visible sign at the entrance to the expo showing the location & times of all parties/itinerary of the day's events
Absolutely as close to refrigerated temperature for the expo hall as humanly possible
A catering company to deal with the demand for FOOD all day and night
Cordoned off area for the evening entertainment so traders don't have to work all night as well as the day
An auditorium or theatre with seating for the evening entertainment so people can sit down and see the stage and enjoy everything on offer
More bars for the evening event so people can get a drink in a decent time frame
Security placed around the toilets so activities and people can be monitored for dangerous or inappropriate behaviour
Despite the few issues I had with this year's event, don't assume I didn't have an amazing time at Sexhibition. I did – and I think it was, overall, a roaring success. Hats off to Cheryl and all the Sexhibition team for putting together the very first Sexhibition, trade, porn stars, parties, entertainment and all, and I wish you the very best of luck for Sexhibition 2016. Thank you once again for my invite. I can't wait to see what you have in store for an even bigger and more amazing erotic event of the year.


Day Shows & Stage Events