Beginner's Marketing: How To Sell On Ebay
Day 0 – Listing Day
I have had the least restful Sunday ever, delving through bags and boxes to find some easy sells for Ebay. As part of my online shopping hacks, I'm writing a quick-fire guide to selling online using the Ebay online auction platform.
As one of the biggest selling platforms in the world that's open to any individual, Ebay is a fantastic testing platform for product ranges and is used by several leading High Street names to clear excess stock. If you're thinking about starting a business with your own products, you'll find Ebay's platform much more friendly than the nightmarish spreadsheet you need to complete for Amazon Marketplace – it's the best place to test small runs of new designs or clear out sample stock.
Today I put up 26 items for sale and I'll be tracking their progress over the next 5 days and making tweaks to their titles, descriptions and photos where required. The products I've used are all women's fashion pieces (I have a minor shopping habit) and other than a couple of 'buy it now items' (new jewellery sells better this way), they are all up for sale with a 99p and no reserve to curb the listing fees. The auctions run for 5 days and are staggered to end between the early afternoon and late evening on Thursday. You can list items to start at pretty much the same time, simply save your completed listings as drafts and go in one at a time to send live. This way they should all end within a few minutes of each other. I don't do this with my auctions as I prefer to encourage multiple purchases and that means giving space between the auction end times to allow users to browse my other items.
All of the photos were taken using a photography lamp (£20 on ebay) and were photographed on my charming mannequin, Claudia (£25 from a local seller). Initially I didn't edit the product images, so some are stronger than others.
You can follow the progress of the auctions on ebay.
Overview of Auctions by Title & Main Image
Day 1 – Overview
The first listings are now approaching their 24 hour mark and this is when I do the most revisions. You will now have a rough idea of how much attention your auctions are attracting and can make tweaks to help gain them more views, more watches and more bids. You'll find all of your listing statistics under My Ebay> Selling
I have 2 items with initial bids, 13 items (50%) with watchers and 0 items with 0 bids. There's no need to track items with bids at this stage, but you can boost bids later by adding additional info.
When you're looking into the effectiveness of your auctions, there are 3 things to consider:
– Which items had low views?
– Which items had good views but low watcher clicks?
– Which items had a good watcher rate but no bids?
Low Views
If your item hasn't had many views then your auction isn't getting the attention it needs to sell. I have 10 items with less than 10 bids each, so I will be looking at these in closer detail to analyse why they might not be getting views.
Good Views, Low Watchers
You're doing well in the search and you're getting clicks through to the auction page, but people aren't watching your item? They liked it enough to click, what's going wrong? My highest view:watcher ratios are 25% for the Dior bag and 22.22% for the Austin Reed dress., so these are good models to look at in terms of click satisfaction.
11 of my auctions had no watchers, so I will look at these in more detail to see what could be causing the on-page drop off.
If you need a quick way to discover the view:watcher ratio, use percentage calculator. It's a God send!
Good Watcher Rate, No Bids
Online auctions encourage people to delay making their bid in the hope of keeping down the price. Many people use snipers that they can switch on and off if a better option comes up with another seller. Snipers bid within the last 5 seconds of an auction, so they're designed to catch people out with a very last-minute high bid.
Having not many bids but a good number of watchers is indicative that your item should sell for a good price, as decided by those who want it. You can still boost those bids by adding further enticements in the form of new pictures or adding more information to tempt a bid.
My Analysis
Three items have obvious issues and were listed with this in mind. The H&M green top, H&M white shirt and Crew Clothing Co. top are either creased or displayed on a mannequin that's too big, and that's reflected by poor views. They clock 2, 10 and 9 for page views and 0% for watcher ratio.
Other bad performers for views are the Miso floral top, Whistles vest, Apricot top, Kookai top, Fenn Wright Manson top, H&M Divided top, QED London dress, Prodigy Red dress and Austin Reed dress. These also have poor choices for the main product image but there could be other factors at play.
There are 3 key reasons items don't attract clicks:
– The brand/style is very popular, so there are lots of auctions similar to yours ending sooner
– The photo doesn't show off the product effectively
– You don't have good keywords in your title
As a first port of call, I opt to improve the images. It's important that you keep your original images after upload as you can't edit pictures already live on the site, you have to start from scratch! I'm reuploading photos utilising Ebay's photo editor to lift the brightness/contrast and crop the images to better frame the item for sale. You will need to use the Ebay desktop site to use the photo editor.
Of those auctions attracting good views, there was a reasonable view:watch ratio of between 15% and 25%. 3 auctions were letting the side down on the view:watch stats; L.A.M.B shirt, Zara cotton dress and Fenn Wright Manson cardigan.These edits will be reviewed in 24 hours to see if there are further improvements to the titles I can add to boost clicks. Hopefully by tomorrow the view counts for the problem products will be climbing and we may even see watchers or bids.
The L.A.M.B shirt has fault, so I'm confident it's a reasonable drop off to achieve a 11.11% watch rate. The Fenn Wright Manson listing has clear issues with 16 views and 0 watchers, as does the Zara dress with a 7.69% follow rate. As the drop-off happened after the clicks on these items, I need to look at the listing pages in more detail.
The Fenn Wright Manson listing has obvious cues for improvement. The description is short and lacks information and the pictures need to show more detail. I spend a couple more minutes on the description and added some additional images to better show off the item.
Before
After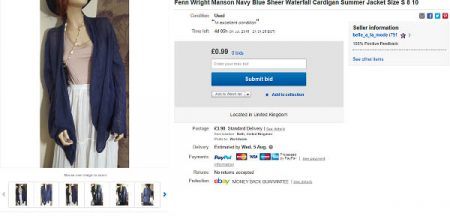 The Zara listing has a similar sparse listing and less-flattering product images, so I repeated the improvement process as above – adding better photographs and enhancing the product descriptions.
We'll see if it helped on day 2/5!
---
Day 2 – Overview
i'm in the midst of a catastrophic home computer failure, so I'm doing my work between a keyboard, 10-inch notebook and a large TV on the sofa. Far from ideal!
Ebay day 2 has some interesting stats. 8 / 36 items now have bids and the changes have seen an improvement in view numbers and watcher counts.
The key problem items from day 1 have been addressed, with the exception of the crumpled clothes. The satisfaction rate is still low for these items. The H&M green top is languishing with 4 views and 0 watchers while the and Crew Clothing Co. top is doing marginally better with 14 reviews and 0 watchers.
The H&M white shirt has received a boost with 26 viewers and 1 watcher. The only amendment made was lifting the brightness and cropping the image.
The Miso floral top, is on 6 views and 0 watchers – still poor.
Whistles vest has doubled views to 10, with 2 watchers and a bid.
Apricot top is only up to 9 views with 0 watchers – still poor.
Kookai top is up to 6 views with 1 watcher – a great improvement from 1/0
Fenn Wright Manson top is up to 48 views with 1 watcher
H&M Divided top Up to 7 views, still no watchers
QED London dress Up to 10 views, still no watchers
Prodigy Red dress Up to 11 views, still no watchers
Austin Reed dress Up to 28 views with 4 watcher and 5 bids
I'm confident that the photos and titles detail the items well, so I'm happy to leave those as they are – albeit for those crumpled ones which I'm re-shooting today. So why are the stats still low?
Whether or not someone sees an item is down to how many similar items are also for sale, so I feel confident that this is a contributing factor in some of the items gaining low interest.
High Street fashion is one of the most popular selling categories on Ebay and items by brand or design type can take a while to appear. You have to do some serious scrolling to get onto day 2 and these auctions still have 3 days left to run! Terms like polkadot, floral and stripy are also popular searches and will turn out more results than an individual brand. It's fair to say that traffic should pick up over the next 1.5 days and hopefully I'll start seeing more interest.
The Fenn Wright Manson top is cause for concern as it has lots of views (48 compared to 2 yesterday) but is still not gaining interest. I've therefore made some minor tweaks to the product description to make it clearer but it may be that I need to add more photos to make this listing more appealing after the click.
Otherwise, things are looking good overall! The overall total is at £16.41 and there have been 20 bids made at the time of writing. All of the items with bids are at the higher end of the High Street price point, with the exception of the silver woven bag which is storming ahead with over 100 views, 15 watchers and 2 bids at £1.30.
Tomorrow evening should be a game changer for bidding frequency, so hopefully I'll be back with a proper computer set-up to better analyse the stats and make my last minute changes before the final 24 hours kicks in!
---
Post Sale Breakdown
Most of my auctions didn't see much action until the last 24 hours. Other than with my designer items, there was not a last-minute bidding frenzy that significantly altered the selling prices.
My final results are in and 18/26 items sold. Several sold for low sums and this is well reflected by the number of products available. I have decided to relist those that didn't sell for 10 days to see if they attract more interest. Others have been added as 30 day buy it now auctions with the option to submit a best offer.
You have to remember that in eBay auctions, buyers will pay what they think items are worth and you need at least 2 people interested for it to go anywhere. Overall I'm happy to have put over £100 in the bank and have one less bag of stuff I don't need in the way. 🙂
Selling online using auctions serves to bring in money quickly and to sell off unwanted things when you need to clear out. If you know how much you want for an item, you should list it as a buy it now listing and forgo the auction process. This will allow you to create a listing at a set price for 30 days, with the option for the potential buyer to submit a best offer price for less than the sum you've listed the item at. Doing things this way is similar to a shop and it's very economical if you don't mind waiting to make sales.
– Hella Rude
---