Did you know there's a special day to celebrate the magic of literature? World Book Day is March 5th (in the UK). What's your relationship with books? Have you always loved them since you were a child, or did you only discover their delights as an adult?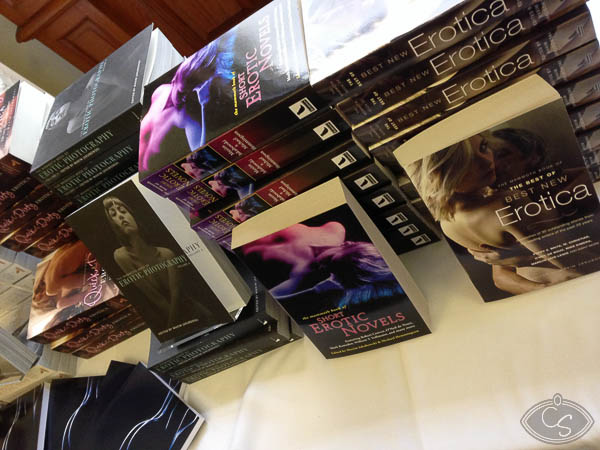 Reading was a beautiful escape for me as a child. When times were difficult and I wanted to leave a situation, but couldn't, I'd escape into the fantastical worlds of Enid Blyton, Roald Dahl, CS Lewis, the Nancy Drew books, the Babysitters Club or numerous other series. The Choose Your Own Adventure Series were repeatedly on loan from the town library. My love of both reading and writing has continued into my adulthood, although now it's for pleasure not as an escape. As you can see from my blog, time and experience has woven my passion for sexuality and sensuality into both of those interests.
Erotic World Book Day
The world of erotic authors have united to create Erotic World Book Day. It is also being held on March 5th and it's a cause that I fully support and hope you will be involved with too.
If you want to learn more about your favourite erotic authors and read free sexy excerpts you will definitely enjoy my Erotic Author Spotlight Series. You can also buy erotic books here (I promise they're not all shades of grey).
Our book
Aside from a general celebratory aspect and sex bloggers and erotica authors blog-hopping about Erotic World Book Day, there is an even bigger project in place. Erotic World Book Day plans to release an Education themed erotic book, an anthology of short stories from the world of erotic authors. This will not be sold for profit; instead the proceeds raised from book sales will be donated to Brook, the sexual health charity.
Call for submissions
I am hoping to contribute to the erotic anthology which is very exciting. How can you get involved? Well if you'd like to contribute to the anthology please join the Facebook group and ask about submissions.
Sexy prize donations
We are also looking for sex toy companies to donate prizes for competitions and giveaways surrounding Erotic World Book Day, and I will be listing the competition sponsors/prize donators in a list below with a dofollow link to last the life of the site. You will also be thanked publicly via my own twitter which has over 9k followers.
Please email me if you can contribute any prizes to the cause, we would be very grateful.
Bloggers Giveaway
Any bloggers who add a Brook donate button to their blog will be entered into a giveaway to win some sexy prizes – details to come soon. The link to add is the Brook donations page.
Giveaway sponsors
The Cara Sutra Collection
the Fantasy by Cara Sutra Beginner's Bondage Kit in black or red
2 tickets for Smut Luton
2 tickets for Smut by the Sea (Scarborough)
2 x Goody bags worth £20 each
Durex
£150 of sexy goodies
win a Vibease vibrator
E-Stim Systems electrosex toys
£100 voucher
Pleasure PULSE by Hot Octopuss
PULSE II Duo
Nice 'n' Naughty
LELO Ora 2 in Deep Rose
Revel Body
x2 Revel Body SOL in gift box with candle & wine
Blue Mondays by Emily Dubberley: 6 copies of Blue Mondays, RRP £10.99 each
Give Lube
Main Prize Bundle worth over £60!
1 x Premium Aqua Gel lubeshot £1.99
1 x Premium Aqua Gel 30ml £5.99
1 x Premium Aqua Gel 100ml £7.99
1 x Premium Aqua Gel 250ml £10.99
1 x Silicone+ lubeshot £1.99
1 x Silicone+ 30ml £5.99
1 x Silicone+ 100ml £10.99
1 x Oral Pleasure Gel – Raspberry Kiss 100ml £7.99
1 x Oral Pleasure Gel – Cheeky Cherry 100ml £7.99
plus 3 x Runner Up Prizes of Cheeky Weekenders worth £9.99 each
Go Deeper Press
The Shameless Behaviour e-book ($6.96)
Lucy Felthouse
An erotic e-book from Lucy's impressive titles list
Tabitha Rayne
The Clockwork Butterfly erotic trilogy e-book series
Mills & Boon
5x Tiffany Reisz novels to give away:
2x The Saint by Tiffany Reisz
3x The King by Tiffany Reisz
You can also download Unforgettable by Samantha Hunter FREE this month
Tamsin Flowers
A subscription for all 12 episodes of Alchemy XII (read my info post here)
AM Hartnett
Carried Away – erotica e-book series
Uncover Me – erotic e-book (novel)
Jill Boyd
A signed copy of APPETITES: Tales of Lesbian Lust, and copy of Flappers, Jazz and Valentino
Helen J Perry
Nothing Too Personal erotic e-book of 5 short stories
Brighton Fetish Weekend
2 weekend tickets to the event, which includes an erotica reading slam including Kristina Lloyd, Zak Keir & Molly Moore
(find the Facebook group here)
Oleander Plume
2x erotic e-books: Chemical Sex & Best Women's Erotica 2014
Lily Harlem
10x erotic e-books from Lily's Ellora's Cave back catalogue
Charlotte Stein
2x erotic e-books from Charlotte's titles
HK Carlton
2x erotic e-books: Memories of Us & Next Weekend (Romance on the Go)
Charlotte Howard
Erotic short story (digital edition): One Night in Edinburgh
Black Lace
4x prize bundles comprising of four erotic books in each one:
Garden of Desires by Emily Dubberley
Diamond by Justine Elyot
Undone by Kristina Lloyd
How to Seduce a Billionaire by Portia Da Costa
Nano Vaslen
Erotic books: Fifty Shades of Green and Adventures in Fetishland, & a signed photo of the Red Queen
KD Grace
eBook copy of the entire Lakeland Witches Trilogy
Zak Jane Keir
Signed copy of Spring in My Step, the Morris Dancer erotica, by Sallyann Rogers
Liv Honeywell
Coming, Ready or Not by Liv Honeywell (e-book)
Cleis Press
Best Bondage Erotica edited by Rachel Kramer Bussel
Sh Store
Sh! Curved G-spot Vibe
Lush Pure Lube
Sex Toy Cleaner
Batteries
A is for Amour book (edited by Alison Tyler)
A £20 gift voucher
Gift from Donna of (sadly closed down) Vibrator Kingdom
sex toys & sexy gift bundle worth over £170!
Ann Summers
The Mighty One Rechargeable Rabbit Vibrator worth £65
Beverley Cooper
5x paperback copies of Bed of Roses (UK only)
Pam Rosenthal
x2 erotic books: Carrie's Story and Safe Word
F. Leonora Solomon
Upcoming Tie me Up anthology
PicoBong
Transformer vibrator worth $129
LELO
Dare Me Pleasure Set worth £79
---
Current Competitions
Win this sensational bundle of prizes including erotica from Emily Dubberley and Tiffany Reisz, as well as a fun kit from Give Lube/Cheeky Weekend
An enviable mountain of sexy goodies, including a signed novel