Adult Sex Ed Month 2014
June is Adult Sex Education Month and June 2014 promises to be more resourceful, education, fun and sexy than ever before. I am sponsoring Adult Sex Ed Month 2014 along with a host of other sex positive adult companies and communities, to share the best in sex education as far and wide as possible.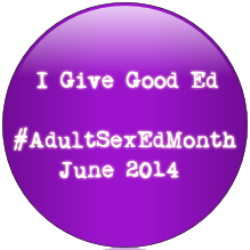 Using the hashtag #AdultSexEdMonth, relevant and appropriate adult sex education articles (some dating as far back as July 2013) will be shared on Twitter and Facebook. That's not all. Excerpts and links back to the original site can be found on the dedicated Adult Sex Ed Month (dot) com website, acting as the main hub of all Adult Sex Education for the month of June 2014.
There are various ways to be involved with the Adult Sex Ed Month project. As a blogger you can contribute your own (pre-written or brand new) sex education articles simply by using the #AdultSexEdMonth hashtag when sharing the URLs on Twitter and/or Facebook. For commercial or professional companies and websites there are sponsor options to make the most of this promotional and information sharing opportunity.
I will be sharing many of my pre-written sex advice articles, Ask Cara advice column, BDSM and bondage guides such as Fetish Friday and articles from my brand new Sex Basics project too.
Here's a few quotes from my past adult sex ed articles which you can enjoy during Adult Sex Ed Month 2014:
Being Shouted At: Kink Or Abuse?
Shouting at a slave or submissive ties in with their internal desire, or need really, to be psychologically reduced to complete vulnerability. Shouting at a submissive brings out the natural reaction of feeling intimidated and/or threatened by the one doing the shouting. Many male submissives have a penchant for humiliation by a Female Dominant, or Domme; shouting at a male submissive, particularly along the lines of humiliating abuse, deals with this desire nicely.
What To Do When You're No Longer Attracted To Your Partner
If stress is the reason, spicing up your love life can relieve stress, but stress tends to make people not want to even get close to the idea of sex. If you are not accustomed to letting your partner vent, it is time to do so. By letting him get what's bothering him off of his chest and giving him the understanding he needs, he will feel closer to you and this can ultimately lead to a better sex life. This can take time, but the two of you can work out a remedy to the situation that is causing the stress. Sometimes, eliminating the source or changing a routine can bring a person back to themselves.
Life After A Relationship: Can You Ever Move On?
There are many other ways in which you can receive adult affection and even no-strings sex without having to pull a random from a club or other location under false pretences. As we've discussed, rebound sex and relationships are quite harshly dishonest and disrespectful to the other person involved, who may believe this is the real deal.
Adult Sex Ed Month 2014 Links
Follow AdultSexEdMonth on Twitter
Follow the #AdultSexEdMonth hashtag
Like the Adult Sex Ed Month Facebook page
Adult Sex Ed Month (dot) com website


There are no affiliate links in this post. 
Links to the Adult Sex Ed Month 2014 website have been removed as the site no longer exists (July 2016)