EroFame 2013
eroFame in Hannover, Germany was yet again, an exciting, enlightening and thoroughly enjoyable experience.
My partner and I had travelled down to London on Tuesday morning, as we were going to a non adult industry expo held at ExCEL London; Plasa. All about stage equipment, lighting, audio, visual and rigging. Not really my thing but I have some freelance to complete and my man works as site dev for a major player in this field. It was fun, regardless of my lack of experience in this industry, and we even bought a huge flight case with handle and wheels for the bargain price of £30. You wouldn't get that price if it was labelled 'sex toys storage'!
In the evening we were taken for an interesting meal at one of the company's favourite "nom-spots" in central London, Kilikya's. It's a Turkish deli and once inside, it was easy to imagine being far from London, with an atmosphere reminiscent of Paris or at least, somewhere on the continent. Although the food was unfamiliar to me, it was still delicious and they even offered a seabass course for main, so that was a no-brainer.
Walking back to our ride afterwards, past the Tower of London and plenty of other London landmarks, we stopped into the Chamberlain hotel for a swift libation before heading back to the hotel. It was an early start Wednesday morning and a flight to Germany for eroFame, so sensibly I had only a couple of glasses of wine all evening and went to bed pretty sober, like a good girl.
I wasn't joking about the early start. 4am I had to get up, shower, dress, pack and be driven to Heathrow from Central London (Beckton). Pink eyed, I gazed out sleepily into the rain spattered blackness. Visual highlights streamed across my eyes, from the dotted lines of streetlamps to the bright, towering dawn chorus of Canary Wharf.
We were flying with British Airways (hurrah) so had cases to check in. We met our travel companions in the departure lounge. We were travelling with Vic from Select E Products / Adult Toys UK, the same company who opened La Boudoir Boutique back in August.
I'd been worried that we may only be able to take cabin bags, but as someone stated, "we don't do sleazy jet, darling." Good! A girl can't travel without an emergency pile of shoes and make up.
After a much needed strong coffee in Café Nero, it was time to head to our gate. Our seats had been chosen well in advance, right at the front. Very posh. The flight took off smoothly, and we began conversing about all things industry, much to the delight of our fellow passengers, I am sure. The refreshments on board the flight were delicious and the service, outstanding.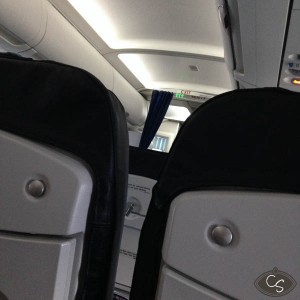 Touching down in Hannover, at 10.30am local time, I was pretty much ready for bed already. I'd been up since 4am and the day hadn't really even started!
After we collected our luggage I popped to the ladies and upon entering was immediately greeted with a welcoming, "Cara!" What the heck? I thought. I'm in Germany and in the loos in the airport. Not even I can kid myself that I'm that famous. It was Nina Saini, Erotica UK PR lady and all round friend!
We stopped and chatted for a while, being the first time we'd met in person. Then, on towards eroFame 2013 courtesy of a luxurious taxi.
We had the most hilarious cab ride ever. Two cabs were required as the first one took us to ground 1, in the Hannover fairgrounds. Apparently there are lots. This was despite the fact we told the driver we needed to be at number 27. The lady at the desk of ground 1 said we could just walk the short distance to number 27. We got a cab anyway and wow: we were glad we did. Another 15 minutes on a dual carriageway… no way could we have walked that with two bags and a suitcase each!
Eventually we pulled up outside ground 27, proudly displaying the largest eroFame banners you can imagine. Dragging our luggage behind us, Ellie, Vic and I entered the building to a mass of industry chatter and queues waiting to get in on the action. We picked up our pre-arranged lanyards and happily dumped our luggage and coats in the cloakroom. Finally, it was time to wander the adult industry expo.
The eroFame expo opened with a large stand devoted to OVO sex toys. Their space wasn't the best. There was a small corner with what looked like a white dance floor, while the rest of their humongous area was home to just 2 or 3 floor stands and no chairs and tables. They'd completely saturated all eroFame promotional material with their advertising (how about the first 50 pages – approx – of the official eroFame book dedicated to OVO adverts), I would have expected a much better stand at the actual event. More money than sense. But then, it was the same with Baci Lingerie (same parent company) back in 2010 at Venus. Saturation marketing without any substance.
[Edit: I have since learned that OVO were let down by their stand contractors! So I feel a bit guilty now. I wonder what the stand was meant to look like? Quite a few people commented to me that they were disappointed in the stand but it would appear only one or two people know the reasons behind the lack of furnishing. – Cara ]
Speaking of Baci Lingerie, I took some time out to visit their stand as I wanted to catch up with the evolution of the lingerie and clothing they offer. When they launched in 2010, there was a sense of disappointment in the industry, both from distributors and customers, about the quality of the garments. Although the packaging and product images were decadent and luxurious, the end product felt cheap and as if it would fall apart after one wear. Happily, Baci have taken all critique and feedback on board and their new range is manufactured to a much higher standard, with a varied selection of lingerie and clothing for mainstream, dress up and fetish.
The most impressive stands were Pipedream, Orion and Pjur. I noticed that what I said back in 2010 must have become apparent to exhibiting companies too; people walking round an expo all day are more likely to love your stand if you have comfy seats. If you have snacks too, even better. Back then, there were about 2 companies who had a couple of seats. Now, most stands at least had a table or two with a sprinkling of chairs.
If you do it right, like Pipedream, you book the centre of the hall and turn it into a mini club, along with banging tunes, a large visual display with video, free bar with food and alcohol, soft drinks, coffee and more, as well as freebie t-shirts, fluffy topped pens, goodie bags, freshly laid on pretzels and a friendly team. I was amused that at lunch time the Pipedream team obviously didn't care for the German laid on catering and instead decided to go out and rob a McDonalds for their hard working crew members. Doing it right.
We enjoyed sharing a pretzel with Paul Waudby of Sexshop 365 (IDWEB Ltd), great to meet & chat once again. Then on the way out I bumped into Chris from Bondara, who had actually recognised me on the way into the expo (feel like such a celeb!) but I hadn't seen him. Unfortunately we didn't get much of a chance to chat but I am sure we will be meeting up again soon.
Orion had a genius idea: give a box on wheels to visitors to their stand. Looking like a cross between a large sex doll box displaying the Orion logo and a luggage case on wheels, this box contained a large Orion catalogue but something even more precious to visitors. Space. Hauling round several bags, catalogues, business cards and samples gets wearying, and I can't describe how much of a joy it was to be able to pack my goodies into a box on wheels, extend the handle and simply roll it around behind me for the rest of the day. Advertising for them, a perfect solution for me. Genius.
Lunch was provided by the eroFame organisers, another bonus we weren't expecting. The entire length of one end of the massive hall was devoted to refreshments and food, and during the hours of lunch, the staff laid up two huge tables with vats of hot, tasty, sumptuous… something. I didn't recognise a lot of the dishes but they tasted nice. Chicken stew type things, German salads, rice dishes, chickpeas and more. Not a bratwurst or bowl of sauerkraut in sight, though.
I had a meeting with Elisabeth Dahmen from Pjur in the afternoon, so we headed there after lunch. Elisabeth was lovely and worked extra hard to communicate the range of Pjur lubricants and sexual products to me, despite English not being her first language. Pjur as a company is based in Luxembourg and the products are made in Germany.
I had to apologise for my habit of supplying the word she was searching for! However, I had a lesson of my own when it was made clear that Pjur is actually pronounced "pure". Makes sense now. My English eyes just didn't previously make that connection with the European pronunciation of the letter "J". As in, "ja".
I felt like such a big silly. Getting used to that.
The Pjur range is indeed very 'pure', with paraben free lubes which do not contain glycerin, the first delay spray to not include lidocaine or benzocaine as well as using natural ingredients such as gingko, ginseng and jojoba. There are over 40 products in the Pjur range over 6 different categories, including condoms, stimulation and delay products, lubricant and massage gels, silicone, water based, hybrid – as well as the Pjur Med Line for a medical and physical approach to body needs instead of purely sexual.
I have much of the Pjur range from Elisabeth and look forward to reviewing them in due course.
Over the course of the first day I was also pleased to speak to Rocks Off. I was introduced to brand new Rocks Off products by Ian and I also met the new social media boy-wonder, Kenzo.
Kenzo has a bubbly, naughty personality and is so gay it hurts. I mean that in the best way, of course! Think of a cross between Graham Norton, Alan Carr and Gok Wan and you're not far wrong. This lively, entertaining character is certain to be a popular and positive addition to the Rocks Off team.
Other highlights of the first day was catching up  with my friend Nigel of Give Lube, and now Cheeky Wash – as well as hopping to the stand next door to meet some of the people at Lovehoney in real life for the first time. How I have been in the industry so many years and only just met Neal, I don't know. Merlin is an amazing character and I love him even more for his initial, "Oh! You're THE Cara Sutra?!" So yeah, that of course won me over immediately. Hey, I'm easy.
I only wish I'd responded with, "are you THE Merlin?" …always after the event!
The Bettie Page range, Fifty Shades and Sqweel 2 and Mini were on full display, with so much interest you could hardly fit in the stand. Although the Bettie Page range is lovely, it's quite costly but then as always, it's the name you're paying for really. First impressions are of high quality, well made goods, but £29.99 for bondage rope is a little high in my opinion.
The mini USB powered Sqweel is very cute (or is that kawaii?) and I must have one of these at some point. The Sqweel is the Marmite of the industry, people either love it or hate it.
Give Lube proudly displayed their recently acquired ETO Award on the front of their stand, next door, along with some new products that Nigel had quite evilly kept a secret from me. Raspberry and Cherry flavoured lubes (hope that shipment finally arrived!) and the Cheeky Wash.  The bottle of Cheeky Wash is for personal and intimate washing purposes, while you can also get a small pouch containing 4… well they look like mints at first glance. Squeeze a few drops of the Cheeky Wash over one in your palm though and it unfurls to become an immediately usable, hygienic and body safe towelette for a 'Cheeky Wash' whenever you need!
Ditch that penis beaker, folks.
I'll be reviewing all these products in due course.
All too soon it was the end of the first day and we stumbled hotel-wards. We'd been up since 4am and the show ended at 7pm, so you can imagine how I was feeling. Ellie had been taking photos all the way round and was also shattered. Vic had kindly put us up in the Marriott Courtyard (that's the name, we weren't out in the yard) and we were very impressed upon arrival after a (thankfully uneventful) taxi ride.
Swish reception, large glistening bar and once in our room, a grand view over the lake outside. I could have stayed for a week! It was beautiful.
After sprucing up for dinner, we headed down to the bar with a view to having a lovely meal in the hotel restaurant afterwards. The evening went beautifully and much conversation was had about future plans and exciting possibilities. Ellie sensibly went up to bed after the meal, which was late enough as it was, while I stayed up to an embarrassingly late hour propping up the hotel bar and living up to my reputation as industry lush. (Thanks Dale/ETO Magazine)
Being up for 24 hours straight was an experience I won't be rushing into again!
The morning dawned all too soon and we packed up, ready for another day at eroFame. Our last day there before returning home. We weren't able to visit Oktoberfest in the evening, probably a good thing by all accounts (5.40am bedtimes? shocking *winks*) as we were already shattered from our adventures since Tuesday morning.
Thursday was a great day at the eroFame expo, where we caught up with Adam and Monika from ThatPosition as well as Monique Carty and Chloe Pearce at the Nexus Male Range stand. After being plied with the Nexus iStim pack, RevO 2 (new edition) and the brand new, already prolific Nexus Femme Bisous rabbit vibrator to review, it was great to sit at the tables on their pretty stand and have a good old catch up.
Adam and Monika from ThatPosition were great fun as usual and Monika looked radiant and blooming being at midterm in her pregnancy. Good luck Monika! There are many exciting plans going on at ThatPosition HQ too, so watch out over there for the best in the world of strap on sex and related sex toys.
It was Adam who informed be about an exciting product on a stand near to the Nexus tables. Revel Body. He spoke animatedly about it and I just had to go check it out after seeing his excitement over a new sex toy. You do get a bit jaded in this industry so seeing someone so excited over a new sex toy was intriguing. Curious, I went to check it out. This new style of sex toy is truly innovative. Review coming soon, of course, but for a brief overview, this toy doesn't vibrate or thrust, it oscillates. There is a central magnetic area with a silicone tip (you can buy different styles of this attachment too) which oscillates fast or thuddy, as you prefer, to give a clitoral stimulator or body massager unlike any other.
As you all already know, I'm a huge fan of my Doxy Wand Massager (hey Will! Great catching up at eroFame) but this stimulation felt completely different. In fact, placing my fingertip on the oscillating silicone pad of the Revel Body, I couldn't see my finger at all. it was just a blur. I've created a bit of a stir already by tweeting a picture of their graph from the promotional material they gave me, but here it is again anyway. With comparisons to the likes of LELO and Jimmyjane you can see why this product is of great interest not only to me, but to the entire reviewing community and adult product distributors.
After Revel Body I passed by a stand filled with Cupcakes and couldn't resist. Unfortunately the lady at Shiri Zinn became busy once I approached so we couldn't have a conversation. Future plans involve a review of one of the Shiri Zinn leather strap on harnesses, thanks to one of my favourite sex toy companies, so that will be interesting.
Two companies I couldn't miss out on visiting were LELO and We Vibe. Strangely, they weren't located close to each other.
The We Vibe stand was quite small, whereas the LELO stand was huge. LELO are celebrating a decade in the business, so have a LELO Ten Years special book which I have a few copies of.
I spoke to Steve Thomson at LELO who was very knowledgeable and friendly. The book is very glossy, goes behind the scenes at LELO and gives you a more rounded knowledge of the company as a whole as well as some of the people behind this giant of the adult industry.
The lady over at We-Vibe gave me a very in-depth look at the new We Vibe 4 and hinted that there are even more new additions to the We Vibe range to come next year. I'm hoping it's not just a We Vibe 5 as that would be pretty boring. I am receiving the We Vibe 4 shortly and will be giving it the Cara Sutra review treatment. I told you that I'm busy! ~phew~
We had a nice surprise at the ABS Holdings (home of Simply Pleasure) stand: Sam Hewson had made it over to Germany! She is of course the best person at ABS Holdings, approach her for your every need, forget the rest.
(That cheque's cleared, Sam)
I'm joking, of course. Sam, Kate, Symon, Glenn and the rest of the team are wonderful and it was great to meet up again and have a tour of what's new at ABS and Simply Pleasure. ABS Holdings are the largest and best distributor in the UK and therefore had all the relevant news from the industry and are the first distributors of the Sqweel from Lovehoney.  If you haven't checked out the brand new Simply Pleasure site, by the way, you should.
Andy Smith of ElectraStim (Cyrex Ltd) was very grateful for the three reviews I have just completed, including one for the brand new electro sex paddle which I hooked up to the ElectraStim Flick EM-60. There are plans for a new website in place, thankfully, as the present one is quite outdated. We discussed our mutual contact, Hella, who has been very friendly, helpful and an all round fab contact to have in the industry.
I've already written far too much in this write up and I haven't been able to mention so many wonderful people, like the helpful man in hot leather trousers at the Mr B stand, the sensual collection of Petits JouJoux from MyStim, Bijoux Indiscrets, the laquered eggshell ceramic vibrators from Bonque, the amazing new magnetic silicone love balls from LAID, wonderful lingerie and fetish clothing from Maison Close and Peter Domenie, Shiatsu, Shunga and HOT, Fun Factory, ns novelties, Scala and EroPartner Distribution who of course now carry the iGino One women's vibrator.
The busy few days were finally drawing to a close but the trip wasn't yet over for us. After the last chance to win an iPad from Pjur at 6pm (it was fixed! jokes) we rushed to grab our cases from the cloakroom, stuffed the rest of our freebies and catalogues inside the luggage then grabbed a cab to the airport for the flight home.
Incredibly tired, we finally touched down in Heathrow, London at 9pm and were collected by minnie, at which point we parted ways with our host for the journey, Vic of Select E Products (Adult Toys UK and La Boudoir Boutique). As we were driven home, we didn't arrive back in Lincolnshire til gone 1am.
I've only just about woken up and not sure I have fully recovered yet!
eroFame 2013 completely blew my expectations out of the water; an incredible adult industry expo which showcased both the strongest presences in the world of sex toys as well as allowing a loud introduction for bold and innovative concepts, new sex toys which I can't wait to use and review.
Were you at eroFame 2013? What were your thoughts? I'd love to hear your comments below.


Contains affiliate links
Cara Sutra pics: