What Does BDSM Stand For?
BDSM is a term you may have already heard, perhaps conjuring up thoughts of dark, mysterious sex acts that good boys and girls like you would never get up to. Or perhaps you have an inkling, but you're still not sure what it stands for. So, what does BDSM stand for?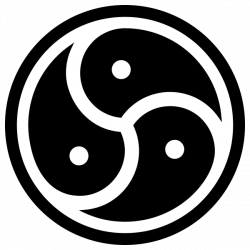 There's a growing number of people who enjoy a different kind of experience in life. Not necessarily sexual, these experiences help them greater fulfil who they are, as well as assisting them with an emotional, mental and yes, sometimes sexual satisfaction.
Put simply, BDSM is an acronym. It has three parts to it, which is why the BDSM logo (shown above) has the three segments.
Bondage and Discipline
Dominance and submission
Sadism and Masochism
I would be surprised if you had not heard of any of those terms before. But don't be scared, we will examine them in greater detail and put to rest any myths and misconceptions.
The True Meaning Of BDSM
Bondage
The enjoyment of being restrained physically in some way, or restraining another in some way. There are many Bondage techniques, which we will discuss in a future article. The main methods used are cuffs (hand and ankle), rope – including the Japanese art of Shibari rope bondage, full body such as body bags and partial body such as arm binders, thumb cuffs and the like.
Discipline
The art of ruling another by rules and methods, keeping someone in line, or being kept in line with various control techniques. These rules are made by the Dominant in the scene or relationship, with the consent of the submissive. If these are broken then the Dominant may punish the submissive by way of physical discipline, humiliation, bondage or any number of other chastening acts.
Dominance
The trait of being Dominant over another, or having a Dominant personality. An orientation in the Fetish scene. A Dominant person enjoys the control over another, whether for a session only, in the bedroom for sexual partners, or as part of everyday life (TPE – Total Power Exchange).
Submission
The trait of submission, whether to one individual or as your own personality characteristic. An orientation in the Fetish scene. A submissive may enjoy only submitting in a BDSM session, or to a sexual partner in the bedroom, or at all times in a TPE relationship.
Sadism
Inflicting pain on another (a submissive or masochist) for enjoyment (usually, of both parties). This will always be consensual and involve a 'safeword' for the one receiving pain to be able to stop the action at any time.
Masochism
The enjoyment of receiving pain. In this context, this pain is not any physical hurt, but pain inflicted by one who enjoys giving pain to a masochist for sensual, mental and/or sexual fulfilment (a Sadist or Dominant).
The main rule that needs to be remembered in all aspects of BDSM is consent. Each act, regardless of your orientation, should be fully consensual. This is just as it would be for any other act in life involving another adult or human being.
There are two methods of BDSM that are subscribed to: SSC (Safe, Sane and Consensual) and RACK (Risk Aware Consensual Kink). We will discuss these in detail in a future article. However you will note that they both have consent at their very core.
For most in the BDSM scene (shortened by many to simply 'the scene'), the above facets form part of their actual consciousness and the interest in them and fascination with them is something they cannot change. You may also hear reference to someone being 'kinky' or 'into Fetish.'
A person without the interest in (or indeed, knowledge of) BDSM is described by those in the scene as being 'vanilla'. Sexual acts without power play or exchange is also referred to as vanilla sex, the same with relationships.
Have you been intrigued by any of the topics mentioned here? Perhaps this is the start of your journey into BDSM.
Which orientation appeals to you most, Dominant or submissive? If you would enjoy one or the other perhaps you are a 'switch' (a person that can be Dom or sub depending on desires and situation).
Is it giving pain or receiving pain that sparks your interest? Ever enjoyed a spanking, from whichever side?
These are all questions you should give serious thought to, and I look forward to making new kinky friends within the scene.
After reading through this info piece hopefully I've answered that common question, what does BDSM stand for? BDSM is an enormous area of discussion and I hope that I have given a brief but thorough overview to this stimulating, fascinating area of adult life. I will soon be writing a series of articles within my Kink Advice area to explore this lifestyle on a deeper level.

Contains affiliate links