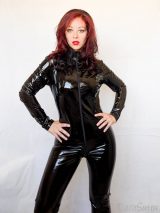 I must confess that when contacted by Vawn and Boon, I was extremely excited. Um, hello... PVC clothing? Talk about right up my street! I was offered the beautiful looking signature piece from the range, the Vawn and Boon Vortex PVC Catsuit, and of course I accepted without any hesitation.  

I like comparing products, and with a bit of experience with masks, I thought it was the perfect product for me to cast my eyes over this month and so here are my thoughts on the Leg Avenue Kink Faux Leather Studded Eye Mask.

One of the great things about the Pleasure Panel is the variety of items that are available to review; it's not just about vibrators and dildos! This month I was really taken by the Bijoux Indiscrets Body Decorations Flash Glitter Pasties, and was delighted to be given the chance to test these nipple covers out.

Nipple pasties are one of those things that I have always been intrigued by, yet never tried, so this month I was thrilled to be given the chance to review the Bijoux Indiscrets Skin Jewelry Mimi Rhinestone Pasties for the Pleasure Panel.

I have never tried Starline lingerie, so that's why I was very happy to review this cute nurse costume (the Starline Lingerie Heartbreaker Nurse Set) for Cara Sutra. I hoped to discover a new quality brand I could add to my "trusted" list.

Gaining a bit of weight finally worked in my favour as it meant I was just the right size to fit into the Starline Devilish Dominatrix Fishnet Caged Bra Set. Cara selected me to review this set for the Pleasure Panel and I am very grateful for the opportunity.

By K: I was lucky enough to get a chance to review part of the Bijoux Indiscrets nipple caps/pasties line. As with all other Bijoux Indiscrets products, the Bijoux Indiscrets Sequin Burlesque Pasties come beautifully packaged; this time in a small, flat black box with gold accents and a nature-inspired motif.

By My Tickle Trunk: I'd always wanted a mask like this, and with its flexible and versatile form, it seemed like the perfect starter mask to dip into the world of masquerade sex. Unfortunately, the RIANNE-S Masque II Brigitte has missed the mark and instead leaves me exposed and well… with a bit of a beak.

By LilyPalmer I like getting dressed-up. I like costumes, accessories, wigs, make-up. They make me feel confident. They allow me to become someone else for a short while. You can imagine how excited I was when I received this gorgeous Black Filigree Masquerade Mask (Liona, from Sassy Amour) to review. And I was not disappointed.

By Cara Sutra: The UberKinky Leather Dog Hood is presented nicely enough, in a glossy cardboard box with images and info. It's not simply in a cellophane wrapper, or with just a swing tag attached. It feels like a deluxe, professional item from the off.

Why this one in particular? A few reasons. I love pinstripes, I think they're adorable, whether on a woman's suit or dress, a hat, or a man's suit. There's something very gangster and gangster's moll about them. Also, this dress seemed to be a decent length, unlike many outfits I have tried from roleplay categories on sex toy sites before, which seem to stop about an inch south of my navel. I don't feel this is a flattering or seductive length for a dress. The front of the Fever Secretary outfit zips up with no hidden side zips or rear hooks and eyes or ties to worry about. You don't have to remove the whole thing to go to the toilet, and with black leggings or even thick enough tights and boots I can imagine wearing this on a fun night out or to a fancy dress party, making it much more versatile than a definitely-bedroom-only choice.

I received the Asylum Medical Fetish Doctors Kit to test and review from Magic Moments online sex shop, free of charge, in exchange for this fair and honest review. As mentioned in my Asylum Hook Mouth Spreader Gag review (also kindly provided by Magic Moments) I had wanted to try products from the Topco Asylum Medical Fetish sex toys range for quite some time.

By Cara Sutra: I was sent the Black Level Long PVC Gloves free of charge in exchange for my fair and honest review.

By Cara Sutra: The Kinklab Leather Vampire Gloves are made from the most gorgeous, butter-soft black leather and in that way, they're beautifully soft. These spiky fetish gloves are made from genuine sheep leather.