Courtesy of Cara Sutra and sextoys.co.uk, I was lucky enough to review this Toy Joy Amazing Bondage Sex Toy Kit, which is definitely good in many ways.
Are you looking to bring some bondage play into your sex life? Not sure where to begin? The Bondara Black Collar and Leash would be a suitable place to begin this adventure.
By Minxy Mischief: I would like to thank Cara Sutra for sending me the House of Eros Mini Brown Swirl Collar (available from AmazingO.co.uk) free of charge for me to test and review as part of the Pleasure Panel.
By Mistress Pippa So where do I start? Oh yes, received this Kiotos Deluxe Leather Collar (5cm) as part of the Cara Sutra Pleasure Panel in return for an honest review.
By Minxy Mischief I'd like to thank Cara for sending me the Fantasy By Cara Sutra Beginners Bondage Kit (Black) to test and review. The Fantasy By Cara Sutra Beginners Bondage Kit comes with everything you need to delve into the world of bondage. The 8 piece kit comprises of wrist cuffs, ankle cuffs, collar and leash, blindfold, breathable ball gag, 10 meters of bondage rope and a flogger.
By Kali Rose The Fantasy by Cara Sutra Beginner's Bondage Kit 8 piece set includes: wrist cuffs, ankle cuffs, collar and attachable leash, blindfold, breathable ball gag, bondage rope and flogger.
By Edn The Fantasy by Cara Sutra Beginner's Bondage Kit is an eight piece collection which covers most of the basics. In it you will find ankle and wrist cuffs, a collar and leash, a length of rope, a blindfold, a breathable ball gag, a flogger and (heaven be praised!) a set of safety instructions.
By LouiseLace I have lusted after the Fantasy by Cara Sutra Beginner's Bondage Kit since Cara released it, I remember seeing her launch party tweets and following the success of the launch through her blog. So when I spotted the kit on Cara's February Pleasure Panel product list, I jumped at the possibility of receiving a kit of my own to review. I nervously awaited the update as to which Pleasure Panel reviewers would be sent which items.
Collars have long been seen as the symbol of submission. Although worn by others as well – Dominants, goths, alternative types – that is usually for fashion rather than BDSM reasons. A collar around the neck of a male or female submissive is an instantly recognisable and prominent symbol of their submissive orientation in the world of BDSM.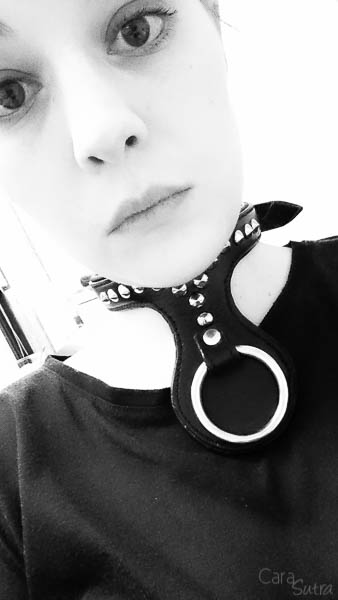 By Cara Sutra: Testing time came around again for the eager reviewers of UberKinky sex toys and bondage gederar. I chose the UberKinky Spiked Leather Bondage Collar with Large O Ring from the list supplied and put in a request for something else which is a little bit different.
The main two things I love about this collar is obviously the look of it (look at it, it's beautiful) and secondly that you can wear is as subtly kinky jewellery to give a flash of fetish tone to your look even beneath your other clothes on a night out. The chain collar has the black mesh, fairly wide area which fits around the neck, and three gold chain strands coming from the centre of the front. There's a gold chain from the centre of the back as well. The collar attachments did and still do confuse me somewhat, but I have come to the conclusion that you can simply attach or detach them and arrange them however you wish. It's great to be able to use this collar with the matching cuffs of course, which are available separately.
by Hella Rude To those aspiring to make a living out of their passion for writing, multi award-winning journalist Cara is a source of knowledge and inspiration. Now she's putting her money where her red lipstick lives and has created the first of a range of products under The Cara Sutra Collection Ltd brand. Welcome to the Fantasy by Cara Sutra Beginner's Bondage Kit.
DOMINIX Deluxe Heavy Leather Rotational Collar Review This beautiful, heavy duty collar was sent to me for testing and review purposes, free of charge from...
I was absolutely thrilled to receive this package from the quite honestly, stunning M'Lady's Chamber hand crafted items shop. From the packaging to the...