Wicked Aqua Sweet Peach Lube Review
By Pleasure Panel reviewer Gia
I was extremely excited to receive the Wicked Aqua Sweet Peach Lube this round, this is the first peach flavor lube I've tried. Peaches are my absolute favorite fruit, this lube tastes almost exactly like a peach but this smell is spot on. Usually, flavored lube has a watered down taste or some gross after taste but Sweet Peach just has a great taste. It smells sooo good, not the peach smell like you'd find in a peach lotion, it smells like straight fresh peach juice.
Wicked Aqua Sweet Peach Lube comes in a pump bottle. I consider dispensing by a pump the best way and the least messy. Just turn the nozzle to unlock and dispense, then turn it back to lock so it doesn't leak out.
The look of the bottle is very inconspicuous. I've had this bottle in our restroom for 2 weeks now and unless you really look at it, you can't tell it's a bottle of lube. The front of the Wicked Aqua Sweet Peach Lube bottle has a cute, simple picture of a peach and the back of the bottle hosts the ingredients list and features.
Wicked Aqua Sweet Peach Lube is paraben-free, latex friendly, water-based and vegan (meaning no animal testing was done).  Keep in mind though that it does contain glycerin. Glycerin, when used vaginally, could possibly create a breeding ground for yeast. It's best for oral use then wash off before sex, just to be safe.
The consistency and texture of this Wicked Aqua Sweet Peach Lube really won us over. It is super thin and has a silky gloss like feeling, but surprisingly not runny. I can't stand a lube that slides off right after you apply it. Containing glycerin, I figured it would leave a really sticky residue but we didn't have a huge problem with that. It left a somewhat sticky feeling afterward but not enough to cause drag.
Wicked Aqua Sweet Peach Lube lasts for a whole session, no need to reapply. Just 1-2 pumps and you're good to go. Wicked Aqua offers a wide range of flavors and I can't wait to try more of them.
9/10
– Gia
---
Where To Buy
Thanks to Pleasure Panel reviewer Gia for this review of the Wicked Aqua Sweet Peach Lube. Find more info on the range at wickedsensualcare.com. 
You can also buy the Wicked Lubes Collection from Shevibe.com.
The Wicked Aqua Sweet Peach Lube was sent free of charge, in exchange for a fair and honest review by the Pleasure Panel, by Wicked Lubes. Thank you! 🙂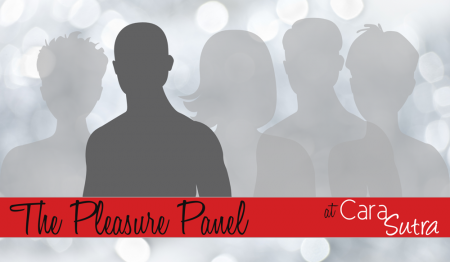 This review contains affiliate links.