Wicked Aqua Candy Apple Flavoured Lube Review
By Pleasure Panel reviewer kittycat102
As a child, I frequently visited fairs, or carnivals as they're more commonly known in other parts of the world. One of my most favourite things to eat at a fair was a candy apple. You can imagine my delight and slight surprise when I noticed the Wicked Aqua Candy Apple Flavoured Lube (available from SheVibe) up for grabs for the Pleasure Panel. My fingers had never typed so fast as I eagerly volunteered to try it!
Appearance
The bottle of Wicked Aqua Candy Apple Flavoured Lube is a pump style – which I love, as it's much easier to get the lube out and a decent amount is produced. The bottle is also lockable so there's no worry about it leaking! There's a cute little candy apple on the front of the label, making it easy to identify if you have more than one flavour of Wicked Sensual Care lube.
The label on the back of the Wicked Aqua Candy Apple Flavoured Lube bottle gives you a description of the lube, the ingredients, and some key features. Some of the features that seem most important to me are that the lube is gluten-free, paraben-free, suitable for vegans and there has been no testing on animals.
As I looked over the ingredients, I noticed that this lube contains glycerine so that might be something to take into consideration as I know a lot of people avoid lubes that contain glycerine.
Scent and Taste
I really was so excited to try the Wicked Aqua Candy Apple Flavoured Lube; but I was a little apprehensive as a lot of flavoured lubes are disgusting and never really taste how they're supposed to. I was disappointed, but not all that surprised to find that this lube doesn't taste like a candy apple.
Don't get me wrong, there is a sudden burst of flavour that reminds me of watered down apple juice, but that's about it.
The watered down apple juice flavour disappeared as quickly as it appeared, and then all I could taste was this kind of nasty synthetic flavour. It quickly went away but I gagged a little from it.
The label on the bottle describes the Wicked Aqua Candy Apple Flavoured Lube to be kissable, lickable and delicious. I can honestly say that to me, it is none of those things it claims to be.
During Use
I don't think flavoured lubes are specifically designed for use with a toy, but I know some excel more with a toy than as an addition to oral sex. So, I squeezed a fair amount of the Wicked Aqua Candy Apple Flavoured Lube onto a dildo, hoping that maybe this lube could be good for something since it tastes disgusting to me.
The label claims that the lube is long lasting and never sticky. My skin did feel very silky and smooth to begin with after I had rubbed the lube into my dildo, but once the lube had dried on my skin, I was left feeling pretty sticky. So… I guess we can throw 'never sticky' out the window.
I also found that the lube was a little annoying to apply to my dildo because it just drips everywher. The majority of the Wicked Aqua Candy Apple Flavoured Lube ended up on me, rather than on the dildo.
The only positive thing I have to say about this lube is how it seemed to last longer than some other water based lubes I've tried. I only had to re apply it once during use. I did expect the lube to cause friction given how it gets sticky once it's dried out but thankfully, I didn't experience any friction.
Summary
I honestly can't recommend this lube. To me it tastes disgusting, made me gag a little and it got sticky once it dried. It did do much better with a toy, but I didn't find the Wicked Aqua Candy Apple Flavoured Lube thick enough when applying. In my opinion, there are much better lubes out there.
Rating: 5/10
– kittycat102
---
Thanks to Pleasure Panel reviewer kittycat102 for this review of the Wicked Aqua Candy Apple Flavoured Lube. Buy yours from SheVibe for $7.99.
Find out more about this lube at the Wicked Sensual Care website.
The Wicked Aqua Candy Apple Flavoured Lube was sent free of charge, in exchange for a fair and honest review by the Pleasure Panel, by Wicked Sensual Care. Thank you! 🙂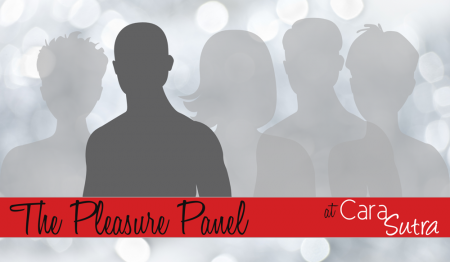 This review contains affiliate links.