We-Vibe Pivot Cock Ring Review
By Pleasure Panel reviewer Gia
The We-Vibe Pivot is a cock ring intended for couples play. Wearing a cock ring restricts blood flow to the penis in order to produce a stronger erection or delay ejaculation to ultimately increase the length of sex. It has a stretchy ring and a clitoral vibrator. You can run the We-Vibe Pivot Cock Ring directly with the button or it can be connected to We-Connect, the We-Vibe mobile app.
I'm not a huge fan of mobile apps for sex toys but this one is off the beaten path. You can control the We-Vibe Pivot Cock Ring with the app in the same room or across the world. Choose from the 10 different vibration modes or create your own.
Draw a vibration pattern, make personal "playlists" of your favorite modes. The features of the app give you so many options. You can use the cock ring as a personal clit vibrator for a solo session or as an enhancement for sex.
The We-Vibe Pivot Cock Ring is made of body-safe silicone, it's free from phthalates and BPA and made without latex. The seamless silicone is 100% waterproof, but I'm always too careful and wouldn't advise using it underwater. Steamy shower sessions, yes, but submerged underwater, too risky.
It is USB rechargeable, it's the magnet click-and-go charger. It has a low power alert – I love this because the last thing you want in the middle of a heated moment is for your toy to die. The vibes are pretty strong, I was pleasantly surprised by the power as I consider myself a "power queen".
The ring of the We-Vibe Pivot Cock Ring has a width of around 2.5 cm and height of around 3 cm, it fit my husband well and didn't slide around in use. Make sure you use lube when sliding the ring on, yes it's stretchy but it's a task to get it on at first.
I believe We-Vibe knocked it out of the park with the We-Vibe Pivot Cock Ring. It's priced at $110, a good value with this one. I would like to thank Cara Sutra and We-Vibe for the opportunity to review the We-Vibe Pivot.
10/10
– Gia
---
Where To Buy
Many thanks to Pleasure Panel reviewer Gia for this review of the We-Vibe Pivot Cock Ring.

The We-Vibe Pivot Cock Ring was sent free of charge, in exchange for a fair and honest review by the Pleasure Panel, by Simply Pleasure. Thank you! 🙂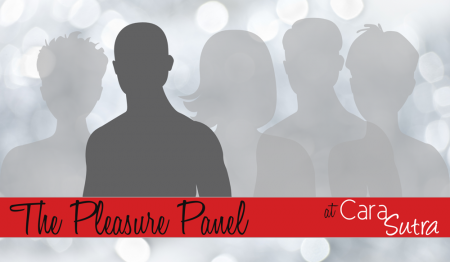 This review contains affiliate links.